The V12-powered grand tourer is dying.
Bentley has already committed to a fully electric future by the turn of the next decade, and Ferrari and Lamborghini are set to unveil new hybrid models in the coming years with EV-only lineups soon thereafter. While Aston Martin will be doing the same — 90 percent of their lineup is planned to be electric by 2030 — they won't be leaving the internal combustion world without a memorable swan song. The newly released Aston Martin V12 Vantage may be the last 12-cylinder grand tourer of its kind.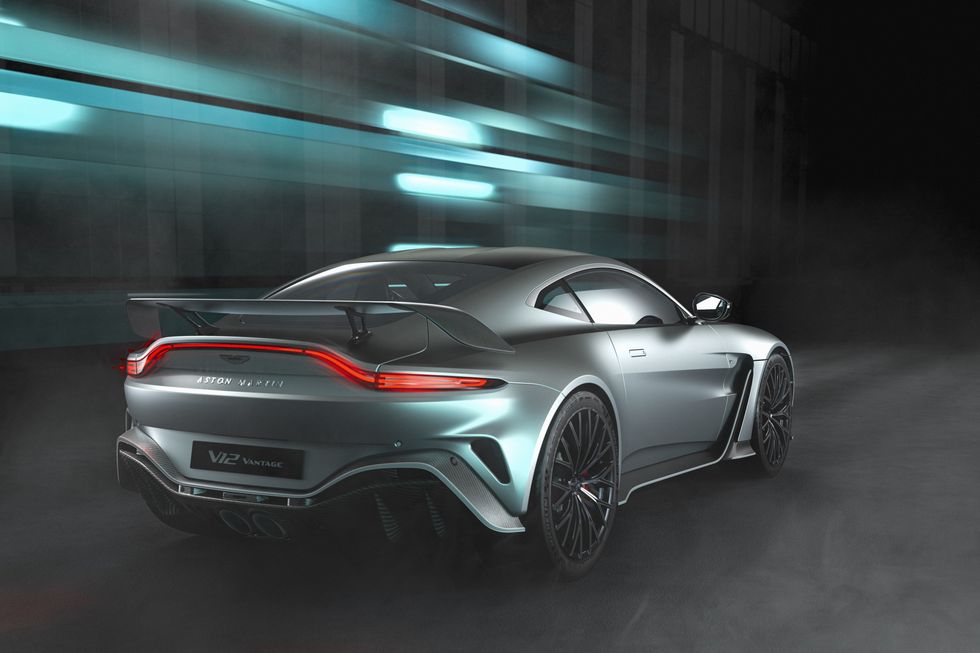 The Vantage's V12 power plant is sourced from Aston Martin's flagship, the DBS Superleggera. Consequently, and unlike the previous generation V12 Vantage, the freshly released model uses a smaller displacement, 5.2 liters, and twin turbochargers. The new V12 Vantage churns out an enormous 690 horsepower and 555 pounds/feet of torque (752 nm). These figures are down 25 and 108 respectively in comparison to the DBS, yet the V12 Vantage is good for a 0-60 sprint of just 3.4 seconds thanks to a lightning-quick, eight-speed dual clutch gearbox and rear-wheel-drive. A 20 percent-plus better power-to-weight ratio and enhanced chassis further amplifies performance.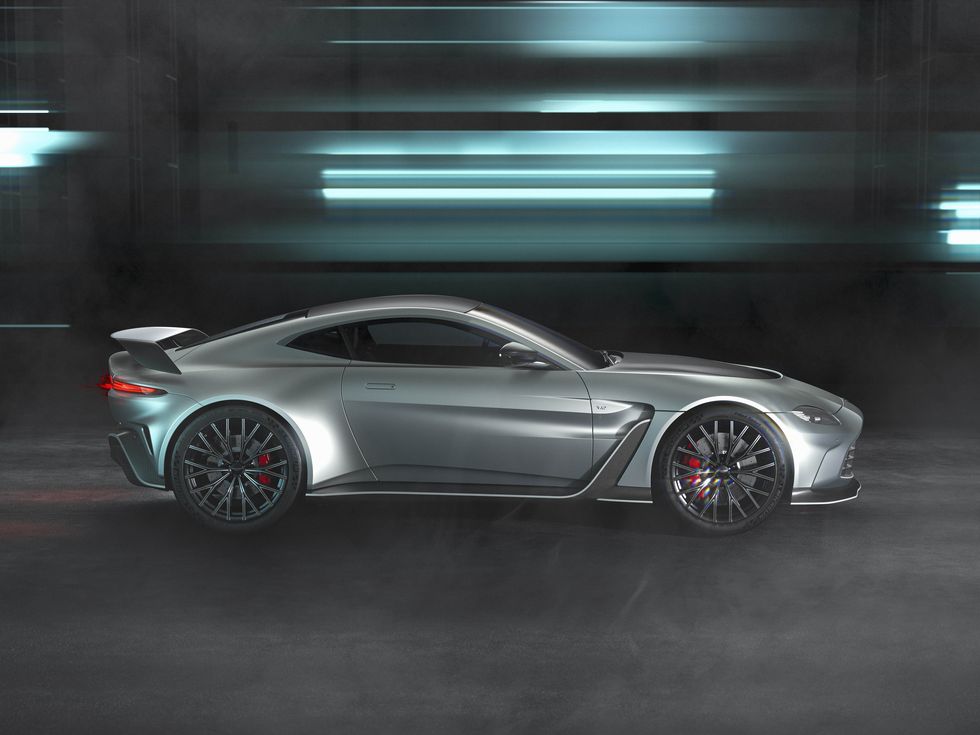 Aston Martin has heavily reinforced the chassis to oblige a larger engine. They have stiffened the suspension — by 50 percent in the front and 40 percent in the rear — and paired the springs new anti-roll bars, bushes, and spring and damper systems. Its carbon ceramic brakes (six piston in the front and four in the rear) not only allow for 51 pounds of weight saving (23 kg), they are also better withstanding fade.
The V12 Vantage has also been given a makeover in relation to its V8-powered older brother. Among the most notable are its 1.6-inch-wider body (40mm), larger rear diffuser, brand new rear wing producing over 400 pounds of downforce (a delete is optional), and central exhaust. The V12 Vantage has also been treated with a 25 percent larger grille and similarly increased side vents, paired with a colossal "horseshoe" vent on the hood and more massive side skirts. Twenty one-inch forged alloy wheels come standard, with a lightweight counterpart serving as an option.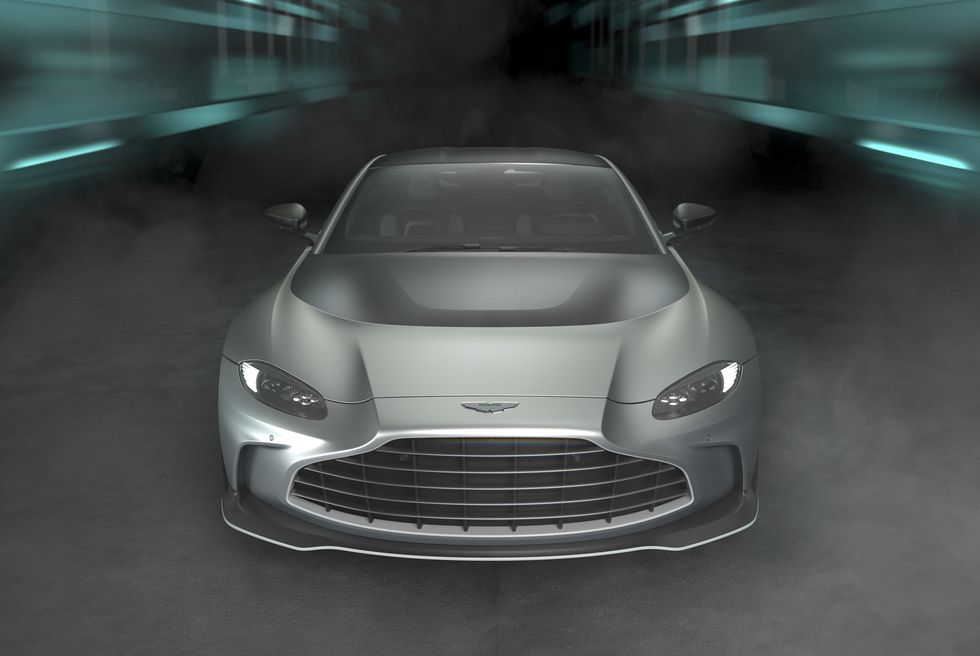 Inside, you are given the option between leather-clad sports seats or manually-adjustable, lightweight buckets with exposed carbon. The latter option saves some 16 pounds (7 kg). Buyers can also opt for Aston Martin's unique "Q" customization service where they can select unique paint and trim colors.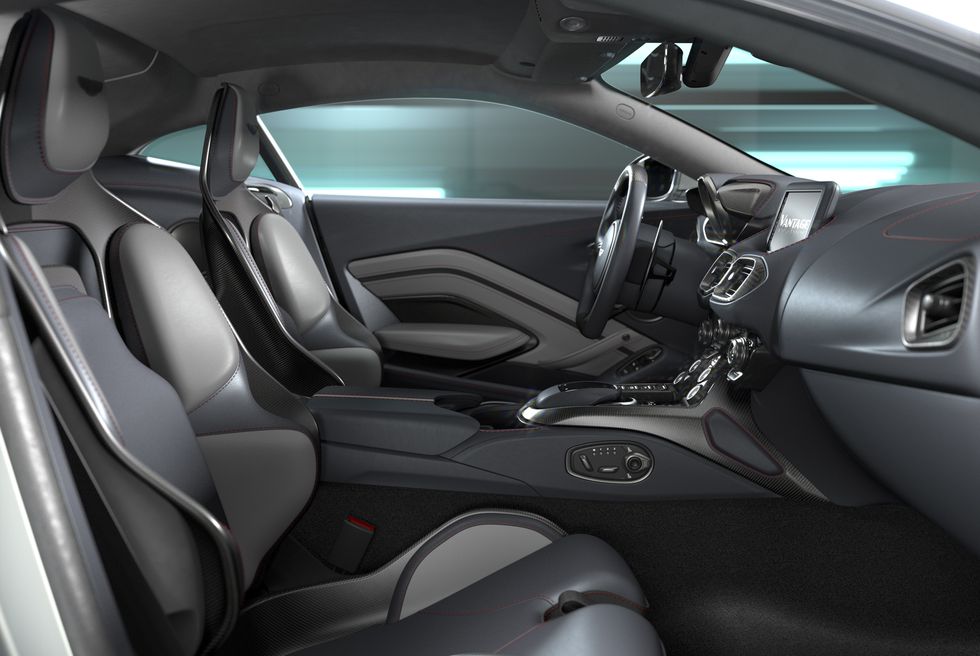 The price is yet to be announced, but speculation tells us it should be hovering around $300,000 in the United States. Regardless, the V12 Vantage has already sold out. Customers can expect to see their cars this Spring.