The odds of electric vehicles completely eclipsing their gas-powered counterparts in sales is becoming increasingly likely day by day. Even Cadillac has added an EV to its lineup with the Lyriq SUV. Despite the inevitable electrification of the industry, Cadillac has continued to pump out brawny, V8-powered monsters. The Escalade is the latest of these American brutes to join Cadillac's V-badged performance lineup.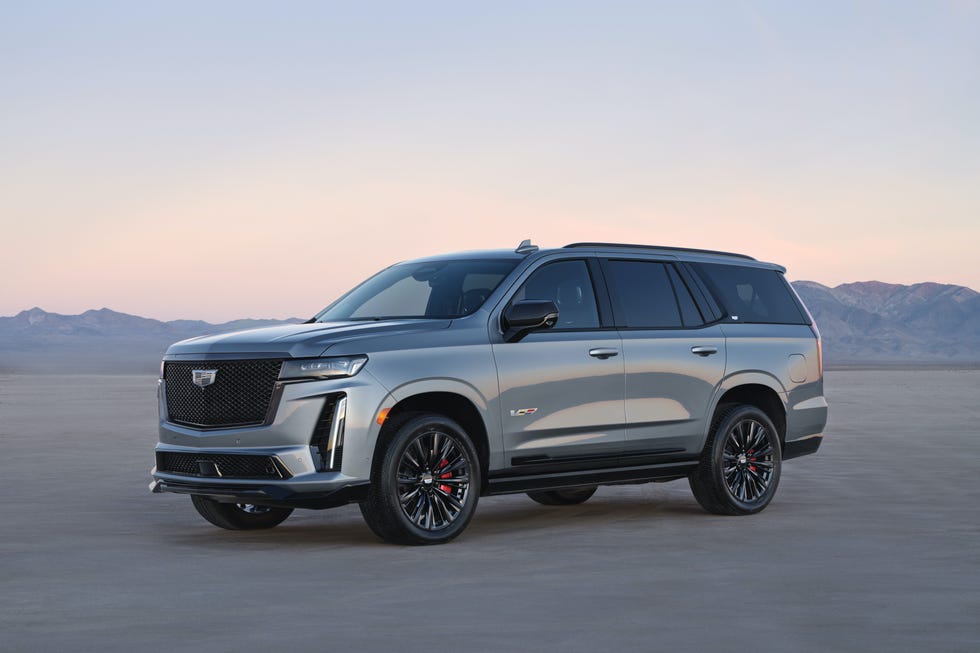 Cadillac claims the Escalade-V to be "the industry's most powerful full-size SUV," and not without good reason. Whereas the standard Escalade utilizes a 3.0-liter, diesel inline-6 or 6.2-liter, 420-horsepower V8, the Escalade-V turns up the V8 power to 682 horses and 653 lbs/ft of torque. The power plant is very similar to that found in the CT5-V Blackwing; the motor underwent a handful of tweaks and modifications to perform best in the Escalade-V. This hand-built V8 features an upgraded 2.7-liter supercharger, forged steel crankshaft and connecting rods, forged aluminum pistons, and the list goes on.
Not just any transmission can be mated to a power unit of this capacity; that's why General Motors' 10-speed automatic gearbox has been tailored to the Escalade-V for optimum gear changes. Full-time all-wheel-drive — as opposed to two- and four-wheel drive — and adjustable weight distribution are also equipped to the flagship Escalade. Cadillac estimates a 4.4-second sprint to 60 with launch control (yes, launch control in a vehicle this large) and a 12.74, 110-mph quarter mile. A pair of six-piston Brembo brakes clamp upon the massive 16.1-inch iron front rotors, with single-piston calipers pressing against the 13.5-inch rotors in the rear have been fitted to stop this 6,000-pound behemoth.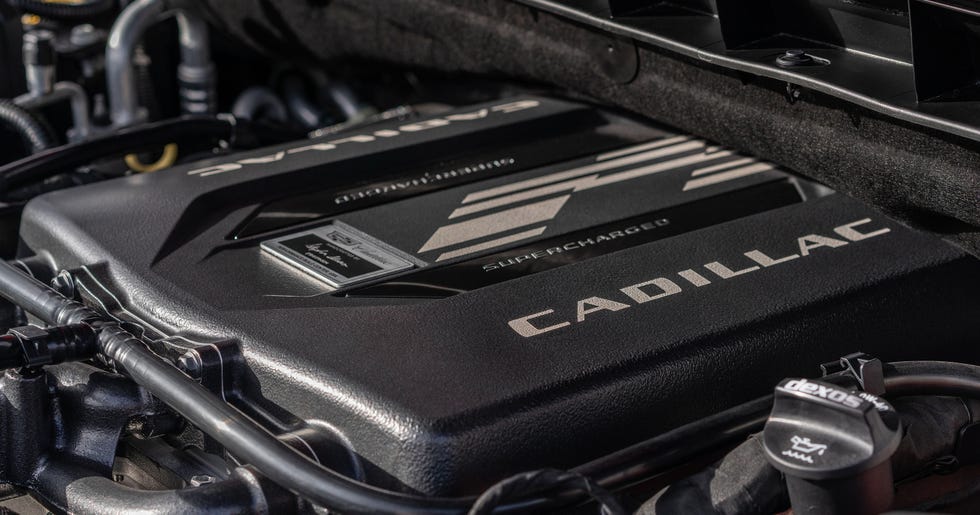 Outside of increased power and torque outputs, Cadillac has specially tuned the chassis and suspension to support greater performance figures. Combination magnetic shocks and air suspension come standard, and those piloting the Escalade-V have the option of Sport or Tour driving modes to configure suspension stiffness, engine noise prevalence, and the feeling of the brake pedal. Feeling confident enough to send this thing around the twisty backroads? Flip the Escalade into V-Mode to automatically lower the suspension by 0.8 inches.
It wouldn't be a Cadillac V-model without an aggressive appearance. The Escalade-V has swapped its chrome pieces for blacked-out trim on its windows, vents, and lower trim. A brand-new diffuser design and quad exhaust has been supplied to the Escalade's updated rear, too. Humongous, 22-inch wheels accompany all season, 275/55R-22 rubber.
For the $149,990 price tag this Escalade carries, there's no way Cadillac would have overlooked the cabin. All V-model Escalades receive full leather upholstery, zebrawood trim, and if you choose to move up front, you'll find heated, ventilated with massage-capable seats. You'll also find the 38-inch, OLED display where you control most of the vehicle's interior functions such as the 36-speaker, AKG audio system.
Cadillac hasn't disclosed future production numbers of either the "short"-wheelbase or the extended ESV Escalade-V; instead, both will remain "exclusive and exciting," or limited availability. You're going to have to wait to reserve your $149,990 Escalade as they will be closed until sometime this summer.