Shifting Lanes was started in May of 2013 after a brief conversation between 3 gear-head friends. All we cared about at the time was creating a sounding board for our sometimes incoherent ramblings on whatever automotive topic du jour popped into our brains that day. Lots of times it was just how cars were evolving or writing a review if we got the off chance to drive a friend's car. Now, it's much more. Shifting Lanes is becoming a name that's synonymous with the ever shifting and changing culture of the new automotive landscape. We have the opportunity to bring news, unique opinions, and more to the always shifting and changing world of online media. With the dawn of the internet age came greater flexibility and tools to enhance automotive education and enthusiasm. This is what we're all about as we provide engaging, easy to digest media on a daily basis to a broad audience of auto enthusiasts.
Cars mean freedom, adventure, love, and we're here to remind people of that fact.
To reach us, click here or send us an email at contact@shiftinglanes.com
[the_ad id="11425″]
Meet the team
Car History: 1998 Ford Taurus, 2006 Honda Accord Coupe, 2014 Subaru WRX Hatchback
Gregson's love affair with cars began at a young age thanks to his father who introduced him to racing. He's been a fan ever since he saw his first race live at Watkins Glenn at the age of 5. He loves GT3, F1, Rally, Touring, and Le Mans styles of racing. Intermediate knowledge of internal combustion engines. Any reading done for pleasure is devoted to automotive journalism. Gregson owns a WRX and can 4-wheel drift directly into your hedges, no sweat. He currently is a Senior Copywriter for McCann Torre Lazur specializing in pharmaceutical advertising and lives in New Jersey with his wife and their dog.
Checkout Gregson's Drivetribe page here
Contact Greg at Gregson@shiftinglanes.com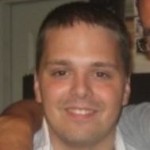 Chad
Car History: Two 2001 Ford Focus' (Foci? Focusis?), 2002 Lexus IS 300
Chad burst from the womb wearing a racing suit and a helmet. Chad's passion for cars is in his very DNA. His father was a gear head and passed on the tradition through owning such classics as a '66 Mustang and a '59 Corvette all while taking him to various race tracks in the area. Chad likes to wrench on his rides whenever possible, forgoing the stealership. Chad is an avid motorsports fan with particular interest in endurance/sports car racing. When not online writing for Shifting Lanes, you can find him working at the local golf course teaching people how to swing or hooning a golf cart at impossible speeds.
Checkout Chad's Drivetribe page here
Contact Chad at Chad@shiftinglanes.com
Car History: 1994 Ford Tempo, 1999 Honda Civic, 2006 Mitsubishi Lancer Evolution IX, 2007 BMW 335i
The engineer among the crew, Hansen once built a mini baja car with his bare hands. He had the opportunity to join Honda's R&D team in Ohio, but chose the life of the east coast and the defense industry instead. A die hard auto enthusiast he religiously follows the automotive anything and loves long walks in auto shows.
Checkout Hansen's Drivetribe page here
Contact Hansen at Hansen@shiftinglanes.com
UPDATE: Since May 2017, we've begun another chapter in our Shifting Lanes life. We have now partnered with DriveTribe to deliver you News, Reviews, and even more Automotive Chatter. Come check out our Drivetribe page and Jeremy Clarkson's, Richard Hammond's, and James May's Drivetribe pages at the links below!