Birthdays and Holidays used to be SOOOOO AMAZING. As a kid, you'd wait in anticipation and yearning the weeks and days leading up to that rare event. And once the moment arrives you rabidly tear into the carefully wrapped presents to uncover that thing you've always wanted and begged for. Those birthdays and holidays… Damn, they were amazing. What happened?!

You grew up and you started earning money. That's what happened. Now you do less receiving, do more giving, and as an added perk, you no longer have to wait to get that gadget/gizmo/thing that you've always wanted, because you can just go out and put it on a credit card.
The real victim of that convenience (besides your net worth) is how your birthdays and holidays have gotten a lot less epic than the ones in your childhood. Just ask all of the dads out there who have amassed a gigantic tie collection in the closet because his family members don't know what else to get him.
Now, thanks to EngravedBluePrintArt.com, gifts are going to be a lot more awesome from now on. This is the PERFECT gift for all gearheads! Excuse us while we drain our wallets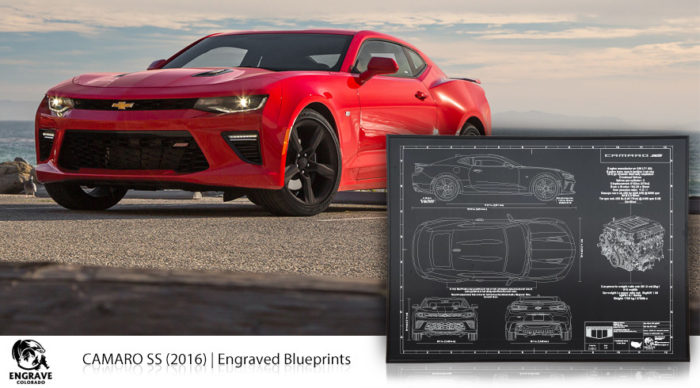 They've very kindly supplied us with our very own a 24″ by 18″ laser engraved blueprint of a 2013 Nissan GTR, and it looks GORGEOUS! It even has our ShiftingLanes.com logo on it!

When the shipping box arrived at my doorstep, those feelings of anticipation I had as a kid, suddenly came rushing back. I quickly tore the cardboard apart and the first thing I noticed was the weight of the product; This thing is pretty solid.
The metal frame is minimalistic and was cold to the touch from sitting in a cardboard box for quite sometime outside my house. The white acrylic medium is thick, explaining for the heft. And the engraving is just deep enough that you can feel the hard lines of the Nissan GTR on your fingertips.

The laser engraved piece of art displays the Side, Top, Front, and Rear views of the car with no hidden lines. The venerable VR38DETT Twin Turbo V6 engine that powers Godzilla is also on display in isometric view. In addition, the laser engraving contains various GTR information such as the track length, wheelbase, brake and engine components, etc. Couple all of that with a properly filled title block and this piece of artwork looks like it might have sat beside the Takumi, as they assembled the GTR's engines by hand.
The frame was already equipped with all the necessary hardware for hanging so I quickly mounted it in my hallway where it would serve visitors with critical Nissan GTR factoids as they make their way to the bathroom.

Perhaps the best thing about this product is how customizable the entire process is, and we recommend visiting their website at EngravedBluePrintArt.com to see what's really possible. The Nissan GTR print that we received was not a run-of-the-mill product. All of the engravings are unique and can be customized with your choice of car. You can even add in your own name, your VIN, other texts, and logos. They can also reproduce your own custom car, as long as you send in the proper photos. Hell, you can even have it engraved on a piece of clear acrylic that has an LED backlight.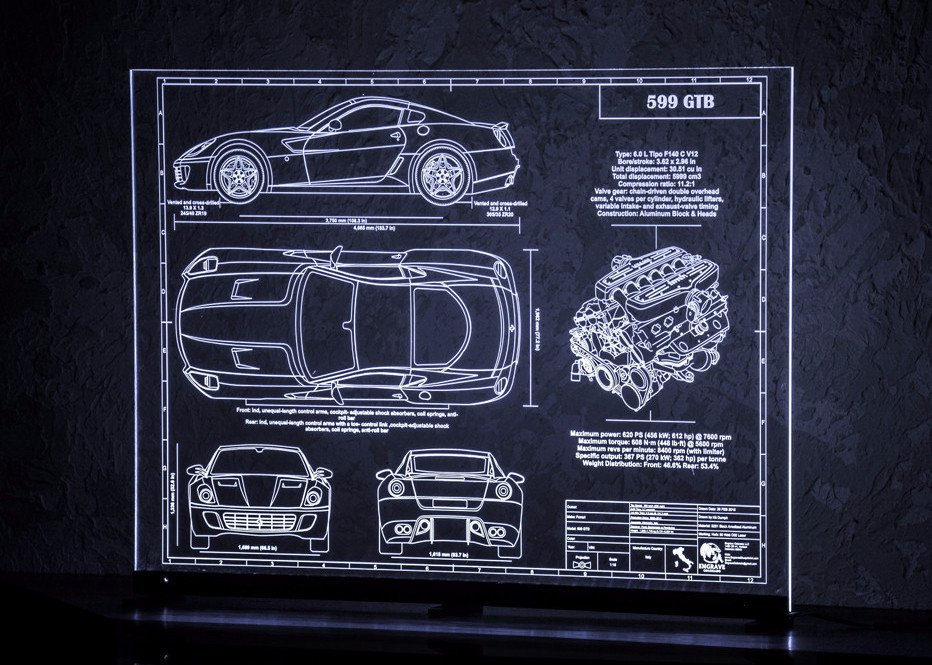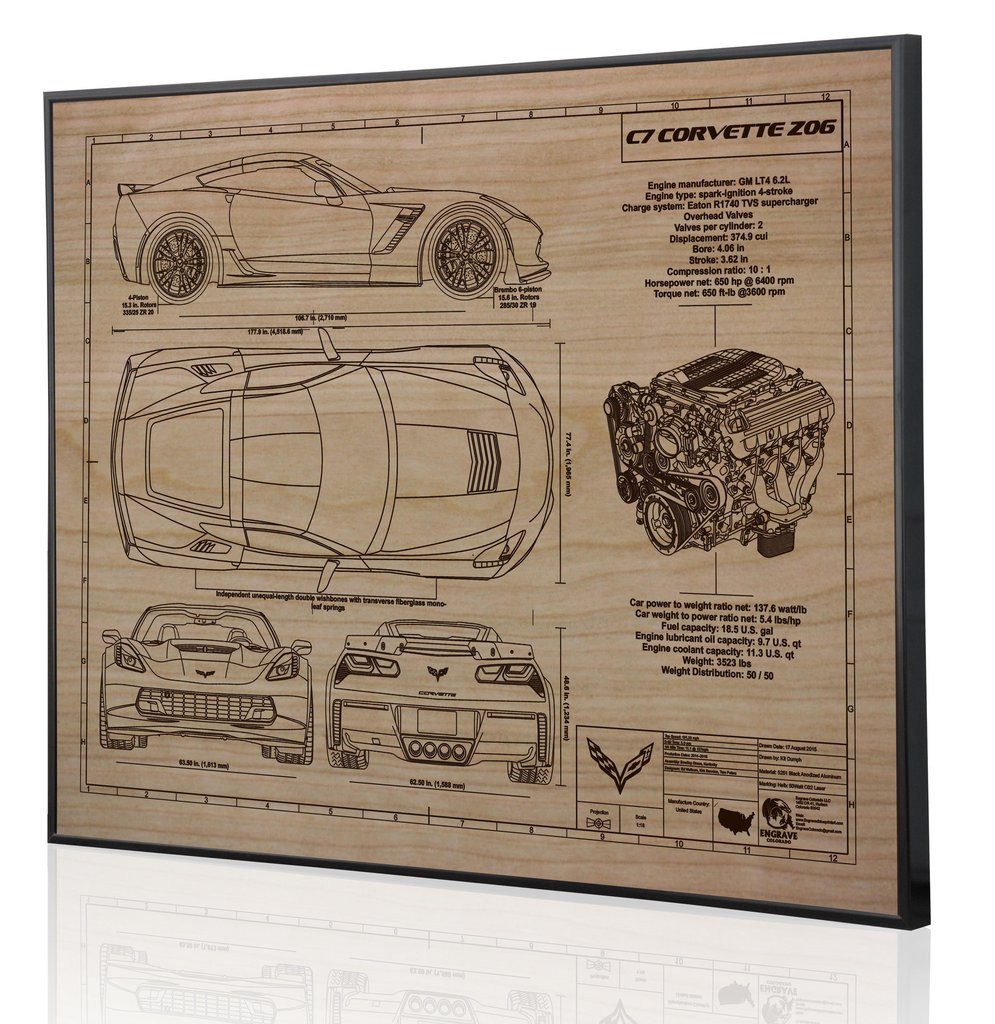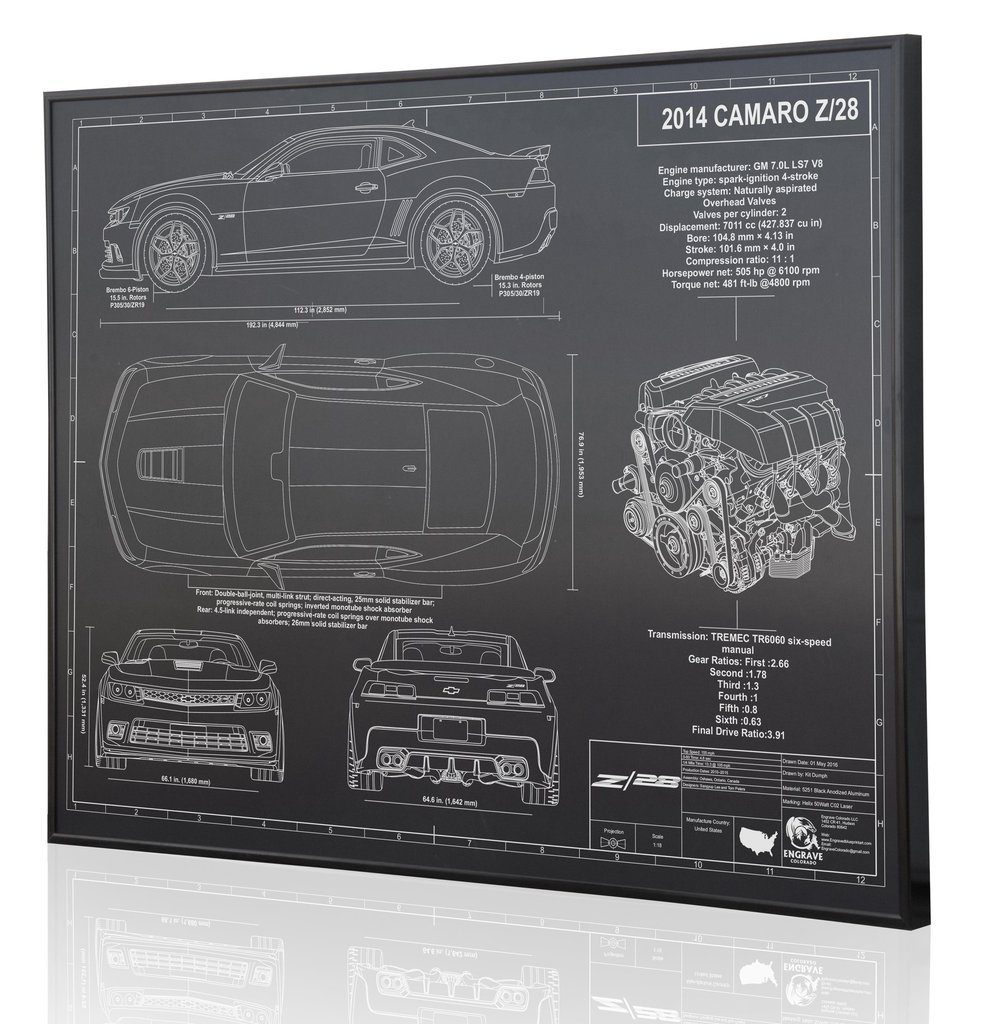 We're definitely making room in our hallways to fill with future engraved blueprints of our favored cars, and are immediately putting more of these onto our wish lists. We want to thank EngravedBluePrintArt.com for sending us the gorgeous Nissan GTR artwork. Please give them a visit to see what else they have to offer.