Finding the right balance between tradition and modernity is no easy task. A certain German manufacturer gave us a good example of the price that is to pay when you alter certain codes such as iconic kidney grilles in extreme ways. DNA, heritage, roots or whatever you want to name it, rare are the manufacturers that don't look back into their past during the creation process of a new model. However in the Morgan Motor Company' case, heritage is not just a source of inspiration, it is the essential core of their creations. If a 1970s Morgan +4 drove by followed by the new 2020 Plus Four, it would almost seem as if things were left unchanged but as it goes for most things, it goes beyond appearances. Underneath the 2020 Morgan Plus Four's elegantly shaped aluminium body is a German sourced engine. No one else does it like they do. Their ability to create an almost paradoxical common ground for both modern performance and timeless looks is the source of Morgan's success. We spent some time with a 2020 Morgan Plus Four to find out for ourselves what makes it all so special.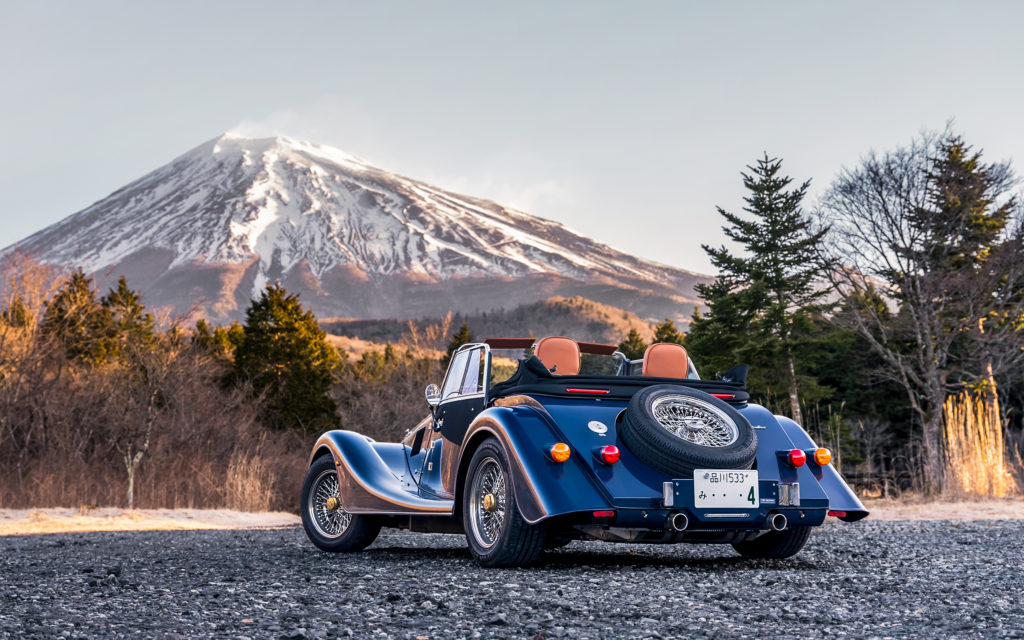 The long bonnet, the short windscreen, these classic, curvaceous arches…
What is there not to love about the Plus Four? Our eyes feast on all of these classic details that we cannot find on modern cars anymore. The overall silhouette with the elongated bonnet and the small cabin followed by a short and slanted back, the panel doors and a set of classic wheels; all of these elements contribute to this design that was so common back then. Even looking at the Plus Four from above, you will notice its perfect rectangular shape, something rare nowadays as angular shapes have been sacrificed to more aerodynamic designs.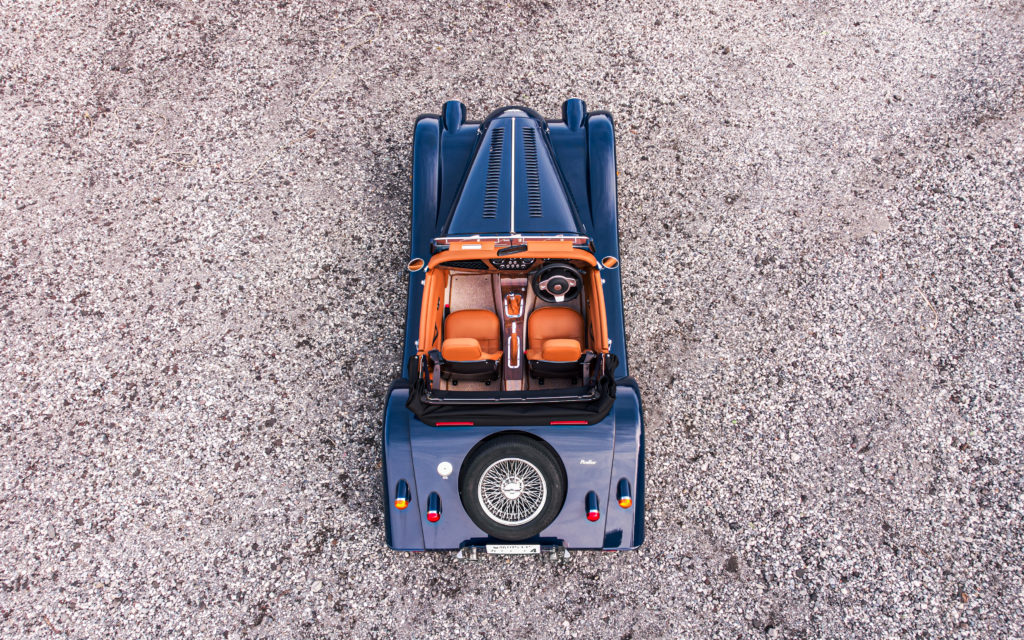 We have become so accustomed to modern cars that everything stands out to us in a Morgan. The three metallic windscreen wipers and the perfectly round side view mirrors are captivating. The wide, curvaceous side sills that connect to the front fenders are just as incredible. Yet, what is perhaps most fascinating is how all of what we see here has been shaped by hand with no big machinery involved. The aluminium panels are hand beaten, the slats on the bonnet have been cut by hand with the help of a cutting machine and if you open the bonnet, you will notice the ash wood frame underneath. Quite a unique sight for a 21st century car!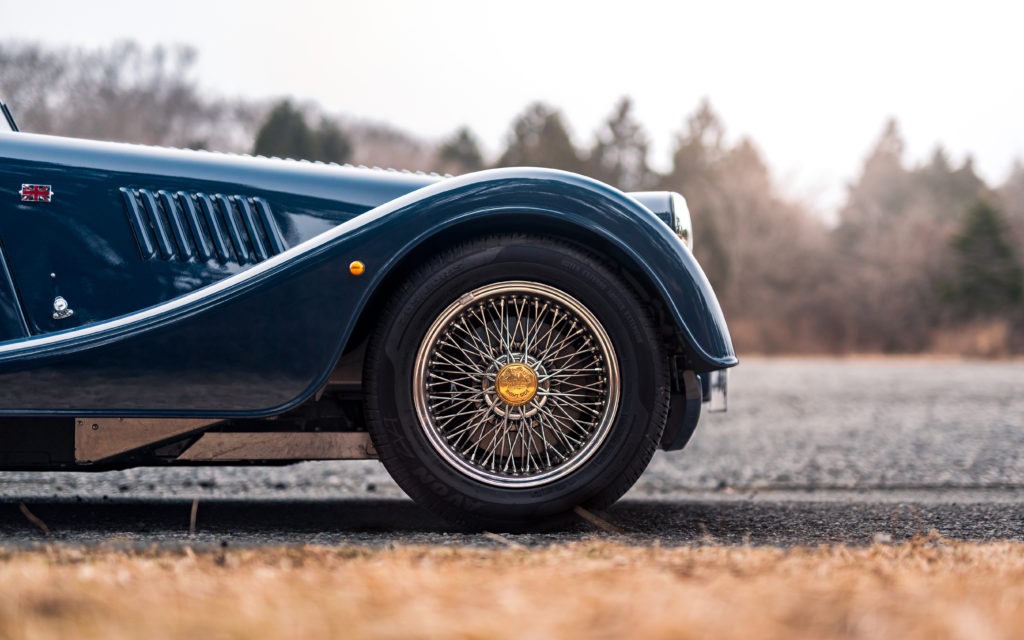 Our attention then jumps to the Morgan's wire rims, another classic touch to the car but if that is too much of a classic taste for you, you can always opt for a modern set of alloy wheels. To complete the look, this Plus Four was painted in an elegant Sport Blue paint.

Contrary to its appearance, the Morgan Plus Four is just as fun and effortless
to drive as your average modern car. With a BMW-sourced inline four, TwinPower Turbo engine producing 255 bhp and 258 lb-ft, it can even be compared to the entry level Z4 or the Supra as they share the same engines. It is also relatively fast as it can execute a 0-100 in 5.2 seconds. A Plus Four is more than just its numbers, but switching from a Ford to BMW engine was a smart move in order to convey an emotion-packed drive.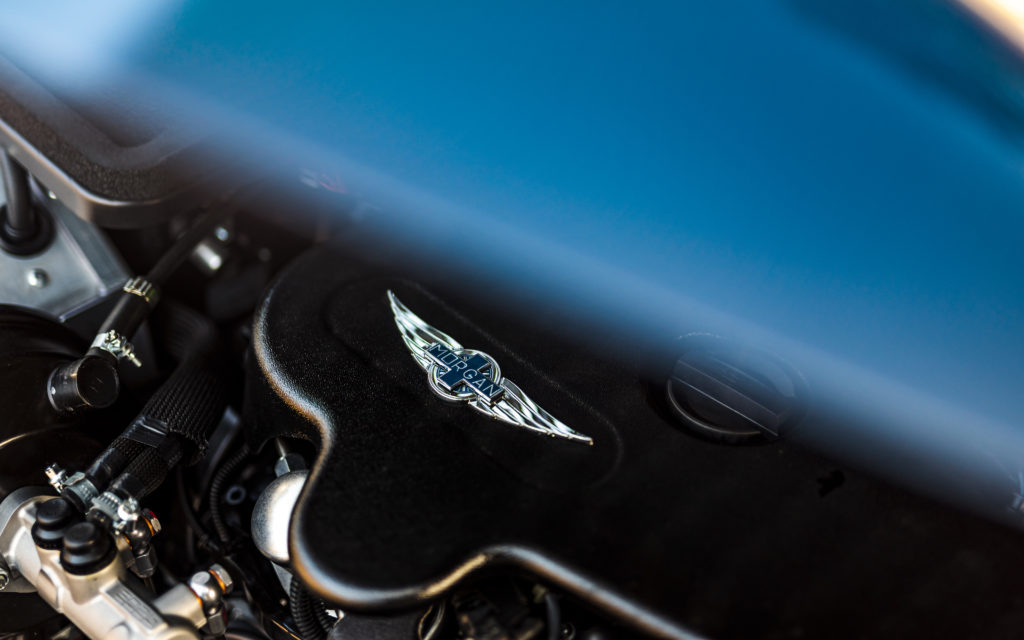 In this newly rebuilt Plus Four, only 3% of the components are carried from the previous generation. The brand new "CX" chassis is now made of bonded aluminium instead of steel and helps provide a much stiffer base. Though we personally have not experienced the "pre-CX era" for ourselves, we can only imagine how noticeably more balanced, responsive and refined this Plus Four has gotten.
On open roads, this car is a delight to drive. Barely weighing a ton (1,013 kg), it glides on the asphalt and it feels fast and agile in corners. With thin tires, little weight, no traction control and only ABS, you may wonder what actually holds you to the ground but the new double wishbone suspension does help increase the overall grip of the car. As for the brakes, we do wish they were slightly more sensitive to keep up with the car's playfulness.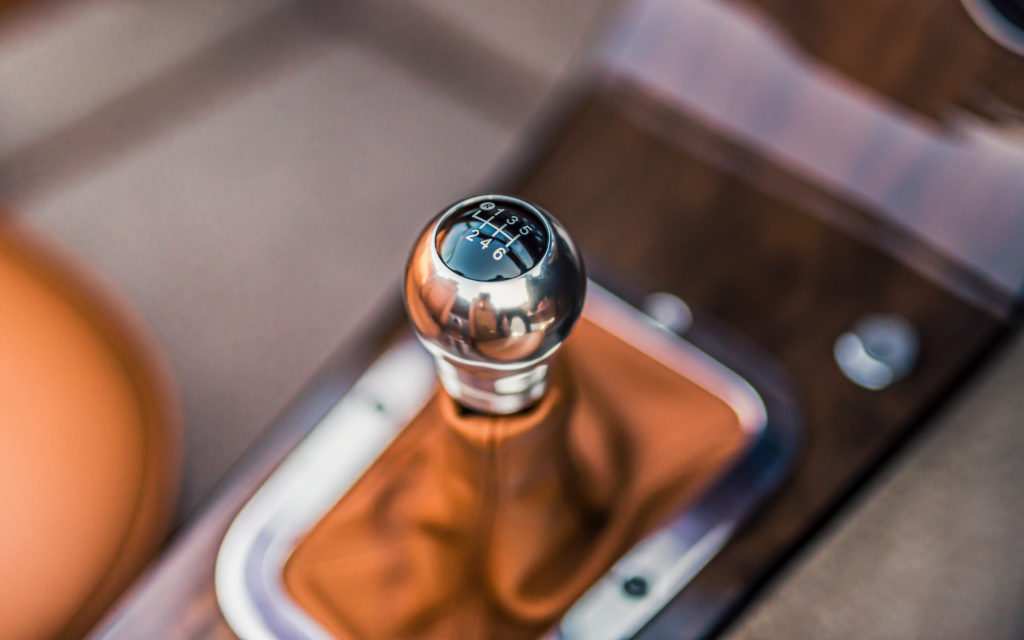 With tall gear ratios, the manual 6-speed gearbox feels very smooth and so does the clutch. Though we would personally choose the manual transmission without a blink of an eye, an automatic version is also available, weighing 4kg less, doing its 0-100 0.4 seconds faster and equipped with a gear knob straight out of a BMW.
The steering is light and though it could benefit from a little more precision, there is plenty more to enjoy. The placement of the pedals is perfect for a bit of 'heel and toe' action and if you're hungry for something more, you can also press the S+ button for sharper throttle response. The back of the Morgan is short enough that you will be able to hear very clearly all of the satisfying pops and bangs, which are intensified with the optional sport exhaust.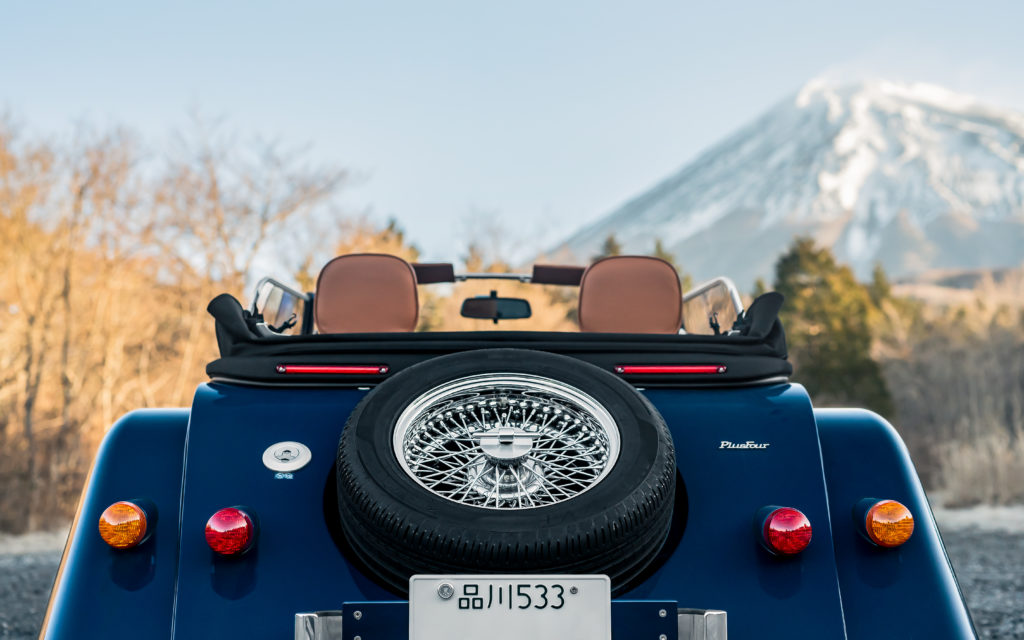 The Plus Four also scores big points when it comes to fuel efficiency with its 14km/L average, though we could have sworn it felt even more efficient than that. The 46L fuel tank may be 9L smaller than its predecessor but this remains quite generous for a car of this size.
The only real challenge with the Morgan is driving it on the highway. The roof offers little visibility and the small side view mirrors will make you check two, three or even four times before overtaking and yes, it does get worse at night. If you can get past this hurdle, driving the Morgan for long distances is something that is very much doable. The car may be light, nimble and agile but like a true GT car, the ride is gentle and comfortable thanks to its soft suspension.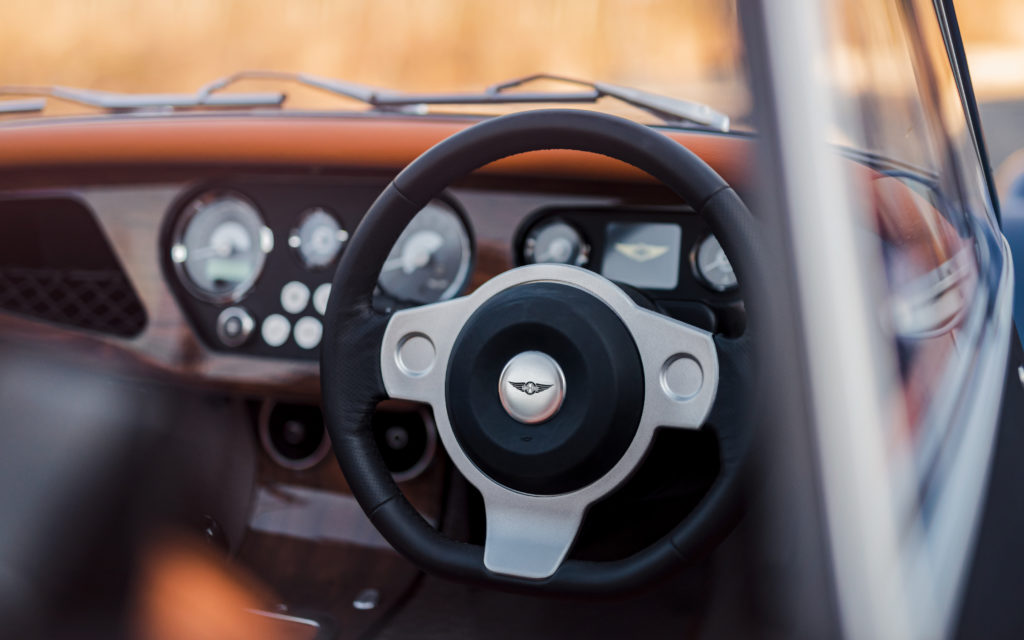 The Plus Four knows how to challenge preconceived images and the interior is no exception.
Despite looking quite compact and displaying a vintage look, the interior is more spacious and modern than what one could think. From the endless customization opportunities, this specific Morgan featured tan leather on the seats, walnut wood trim on the dashboard and center console and oatmeal box woven carpets. Just like on the outside, everything here is either hand-made or hand-stitched and if you look closely, you will be able to have a few glimpses of the Ashwood frame. The stitching is precise and the quality of the materials used is especially enjoyable. Shapes and materials may give a vintage feel to the interior but it is overall a very modern place to sit in. The seats are comfortable for long drives and are equipped with extremely efficient seat heating – with an emphasis on the adverb 'extremely'.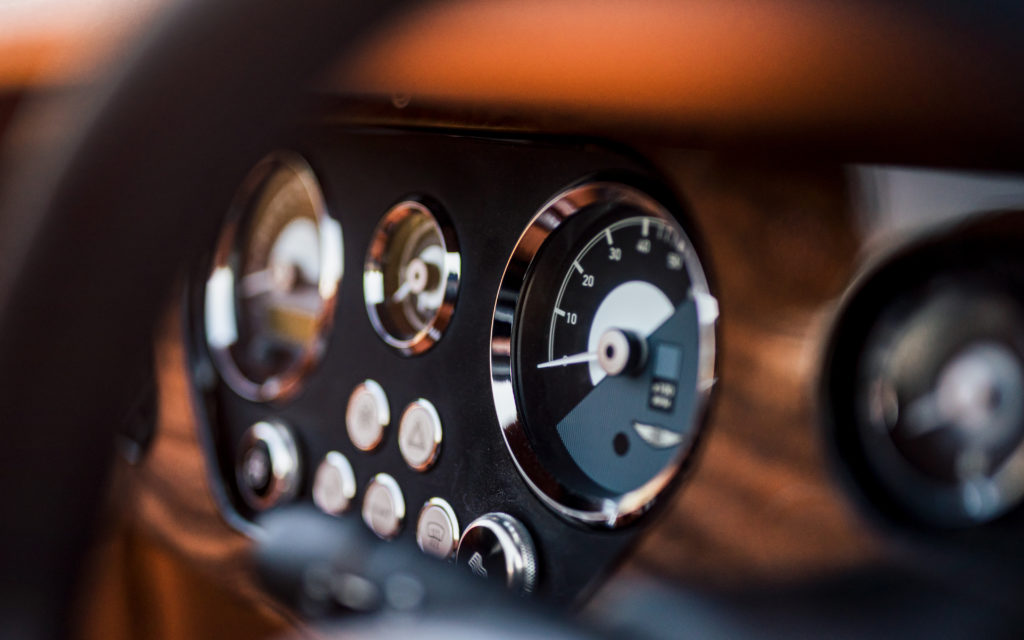 There are no infotainment screens on the horizon but when it comes to technology, the Plus Four gives us all of the essentials. On the instrument cluster, the small, digital square screen indicates speed, fuel efficiency and outside temperatures, while analog dials on the center of the dashboard will indicate speed and revs; an interesting placement that you do get used to. The climate control buttons below have a simple, modern and satisfying design. Overall, everything is here because it has a purpose and no buttons are left unused.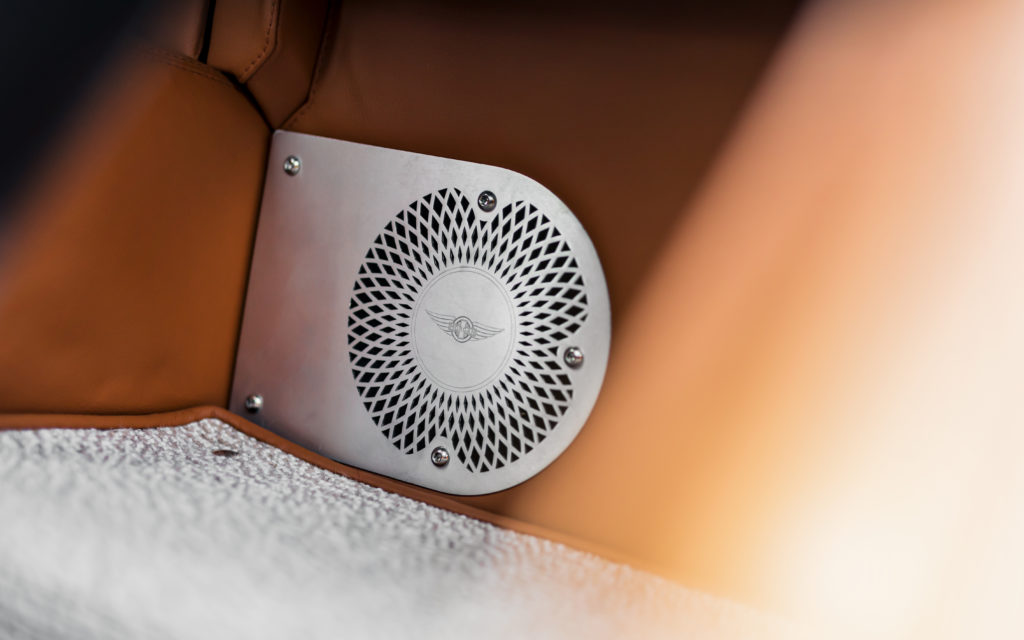 The most pleasant surprise is perhaps the sound system
that is made available via Bluetooth connectivity, meaning you do get to listen to music even though there is no infotainment system. If you can't find the volume button, it's hidden underneath the dashboard and right next to it is a 12V plug in case your phone runs low on battery!
Last but not least, let's talk about the actual space inside the Plus Four, which is slightly more spacious than the previous generation all thanks to the new chassis. It is surprisingly roomy and cozy but the real trick to creating the illusion of space is to simply fold the roof off. You can even take the window panels off by twisting the metallic knobs, in order to feel even more connected with the road or whatever environment you are in. There is nothing behind you, nothing above your head and you can now even use the doors as armrests.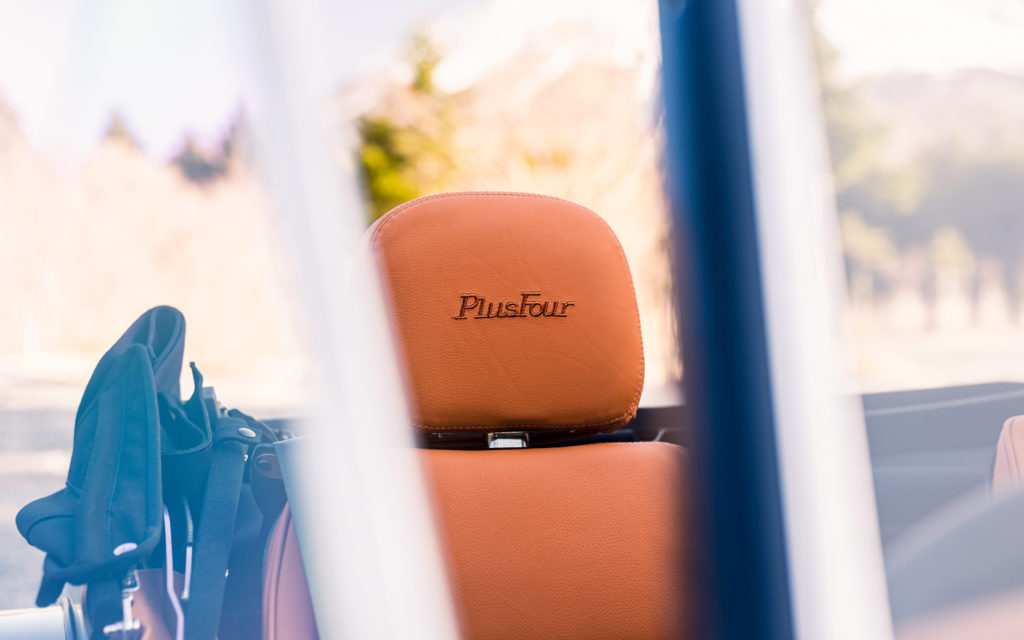 Right behind the seats and to everybody's delight, there is decent storage space and to our surprise, this space did very well in helping us carry all of our camera gear and a bag full of personal belongings for two nights. If you do need to carry something as big as a suitcase, then you will likely want to create more room outside of the car with the help of the optional luggage rack.
According to automotive standards, the Morgan Plus Four isn't a perfect car.
The overall car could be more precise and the sound system could greatly benefit from an upgrade. It has no airbags and no traction control. The Plus Four doesn't achieve a 0-100 km/h in a record time and craftsmanship doesn't always match the detail and reliability machines can provide but the Plus Four does not really need any of these to offer an experience that feels far more superior.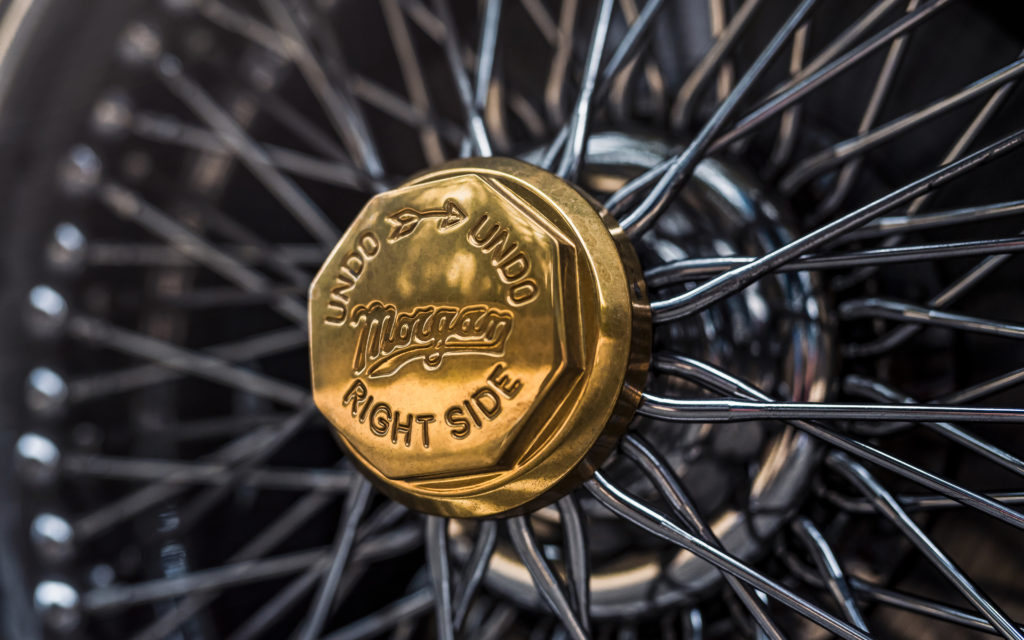 While staying true to its Morgan spirit, the Plus Four came a long way from its predecessor (the Plus 4) by bringing massive improvements both on the performance and practicality aspects. Of course, all of this comes at a price and an expensive one mind you. In Japan, an entry level Morgan Plus Four starts at ¥11,550,000 (approx. $105,000; £75,000) but this base price quickly climbs as you start adding options. The body paint colour palette is infinite and there is also plenty to choose from when it comes to wheels customization, materials and stitching. Then, you will also need to add other necessary options such as sound system, seat heaters, air conditioning, and so on. In the case of this Morgan, options alone add up to ¥1,606,000 (approx. $15,000; £10,500).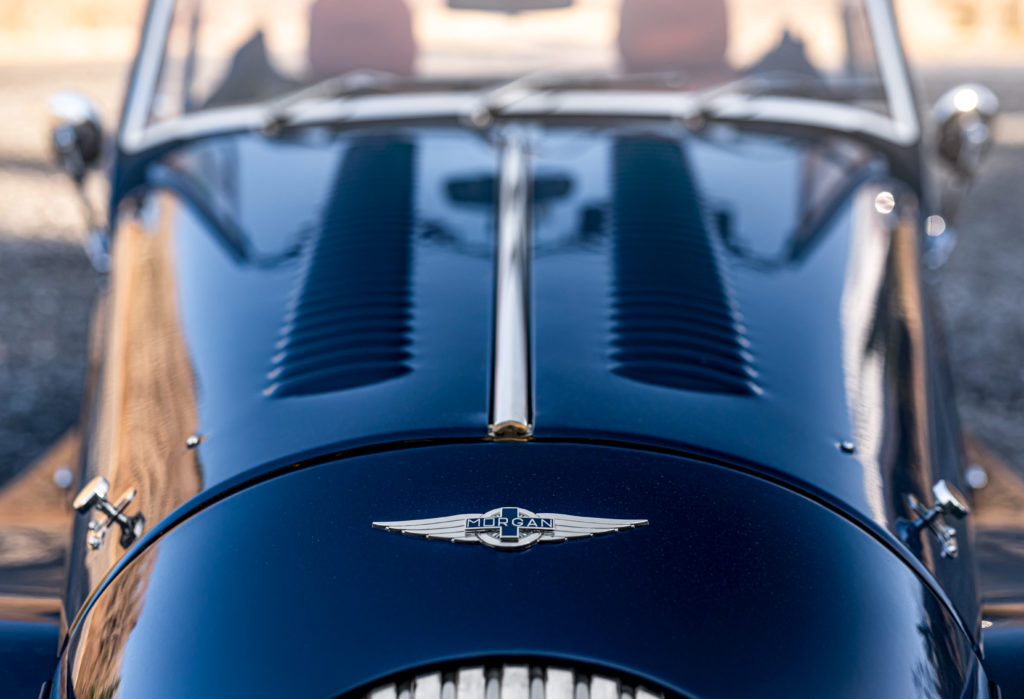 If price isn't an issue and if you can put up with a few imperfections, then the Morgan Plus Four will truly be one of the most wonderful cars you will have ever driven. What it offers is simple, but the pleasures it conveys are unmatched to any other modern car on the market. It can be quite hard to describe this feeling but this special combination of craftsmanship, beautiful design and quality materials all play their part into creating a wonderful driving experience. We often wonder what is left to drive after you've tried impressive, high horsepower, record-breaking machines. Well, we'd say: try a Morgan.