Recently, March 28th – April 1st, Mecum was at State Farm Stadium in Glendale, Arizona for their annual classic and collector car auction. Throughout the five day auction, a total of 1,667 lots were offered with 1,226 lots being sold, a 76% sell-through rate, bringing in a total of $56 million.
There were quite a few collections in this auction, in fact they were a highlight, with the headlining Mile High Collection selling all of its 19 vehicles for an overall total of $1.78 million. Similarly, the Premier Corvette Pace Car Collection saw 12 of their vehicles selling for a total of more than $1 million.
There was everything from prewar antiques to supercars that were nearly new but the individual sales were led by a gorgeous 1955 Mercedes-Benz 300SL Gullwing (Lot S132) that brought in $1.815 million.
This Gullwing is quite the car. Dressed in the rarely seen Mittelgrün green, it underwent a meticulous restoration by the Indianapolis Motor Speedway Museum in the late 2000s and was periodically on display there from 2015-2020.
The complete Top 10 in sales, reads as follows;
1.) 1955 Mercedes-Benz 300Sl Gullwing (Lot S132) – $1,815,000
2.) 2018 Porsche 911 GT2 RS (Lot S114.1) – $605,000
3.) 2022 Mercedes-Benz AMG G63 4×4 Squared (Lot S158) – $489,500
4.) 1963 Chevrolet Corvette Z06 Split Window Coupe (Lot F135) – $390,500
5.) 2005 Ford GT (Lot S98.1) – $374,000
6.) 1969 Chevrolet Yanko Camaro (Lot S142) – $363,000
7.) 1968 Chevrolet Yanko Camaro RS/SS (Lot F168) – $357,500
8.) 1959 Chevrolet Corvette Convertible (Lots S215.1) – $308,000
9.) 2023 Chevrolet Corvette Z06 70th Anniversary Convertible (Lot S87) – $302,500
10.) 2020 McLaren 720S Spider (Lot S144) – $302,500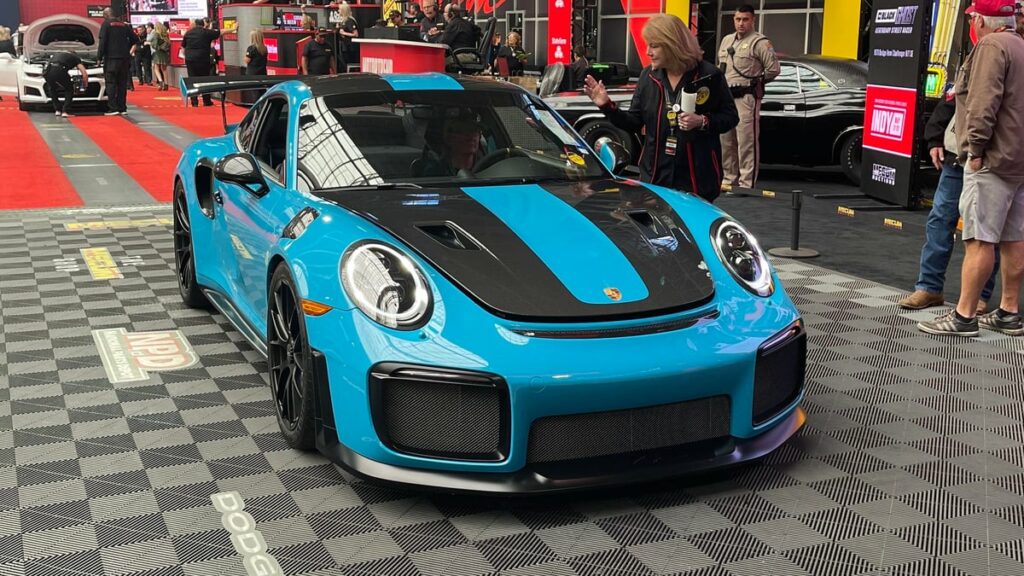 To see the complete auction results, you can sign up for a complimentary MyMecum account at Mecum.com.
The next classic and collector car auction will be April 13th – 15th in Houston, Texas and 1,000 vehicles are expected to cross the block. To consign a vehicle, or register as a bidder, you can visit Mecum.com or call (262) 275-5050.