The Global Rallycross in Atlantic City, New Jersey has wrapped up, and it was filled with aggressive maneuvers, a red flag restart, crashes, and plenty of tires de-beading in the 80-20 mix of asphalt and dirt track. The race in Bader Field was Global Rallycross' first visit to "The World's Famous Playground", but there was another first that occurred on this very hot Sunday race: #55 Chris Atkinson's Global Rallycross debut with Subaru Rally Team USA.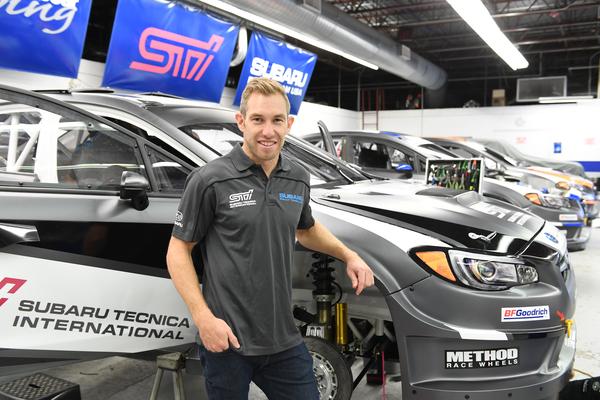 The 36 year old Australian has a long history with rallying and Subaru beginning in 2004 for Subaru Australia. Atkinson was later picked up by Subaru World Rally Team in 2005 and stayed until Subaru's withdrawal from the World Rally Championship series for the 2009 season. His rallying career continued with other manufacturers within WRC, netting 77 starts including 41 stage wins and six podiums.
For his debut with GRC, Atkinson drove in a completely new 2017 Subaru WRX STI that has been developed by both Vermont Sportscar and Subaru Tecnica International. Leading up to the weekend's events Atkinson had good things to say about his new homebase and his teammates #81 Bucky Lasek and #11 Sverre Isachsen:
"The team is great. It's impressive to see how much the car has evolved since I last saw the guys. It's really a great operation. They've come a long way since I first saw the guys 10 years ago. The team is a really good bunch of guys, good fun. Everyone is really motivated to succeed and to improve. I'm really excited to be part of the team. It's great to see everyone working hard and I'll do my part, and look forward to pushing for a good result."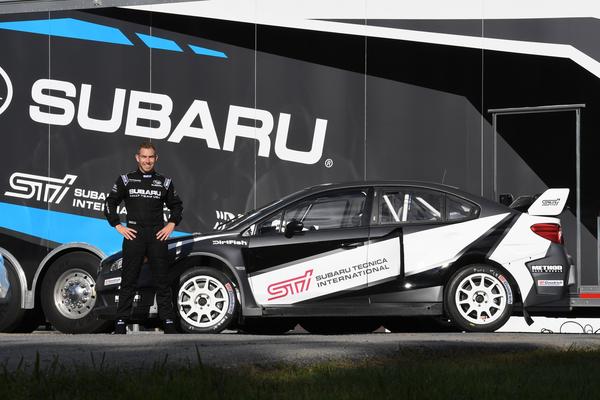 The WRX STI GRC car is quite a different beast than the cars Atkinson has driven throughout his rallying career. There's no 34 mm restrictor plate here to limit the engine's horsepower, instead all GRC cars are allowed to make 600 horsepower and capable of sprinting to 60 mph in under two seconds. But this power differential is an easy adjustment for the veteran driver:
"It's pretty mad. I'm used to a 340hp rally car and not a 600hp Supercar. It definitely goes well compared to what I'm used to. That was my biggest impression on the car. The rest is quite similar to a rally car in terms of handling and dynamics so I got used to it pretty quickly. I had a big smile on my face every time I got on the gas! That was pretty cool."
But with "great power comes great responsibility" as proven by the day's numerous tire shredding problems. The combination of excessive horsepower, hot weather, drifts, burms, and plenty of aggression, many drivers fell victim to wheel-tire divorces and punctures. In between the hectic day's Heats, Semis, and Finals, I got a chance to talk to Atkinson about his debut and him having to adjust to the GRC cars and the track:
"They're good fun to drive, but they're not easy to drive. You've got to look out for the tires, you've got to manage the speed, and you can't go flat out all the time." As for the Bader Field racetrack "it's pretty fast on the straights, the dirt section's not bad with only one or two real corners. Coming from a rally background I'd rather have more dirt." He continues "But it's a good track. It's not easy and it's a little bit spaced out."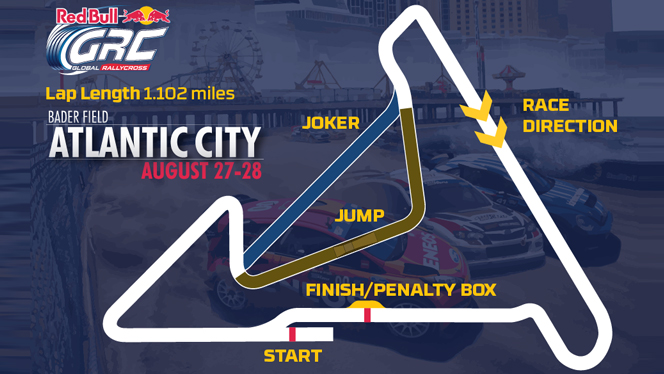 Just like the WRC series, GRC circuits contain a Joker section, which is an alternate route that can only be taken once per race. The Joker lap in the 1.1 mile Bader Field significantly cuts the lap time and avoids the 70 foot momentum robbing dirt jump. I asked Atkinson on how he strategizes for the Joker lap:
"With my spotter we work out a plan and even sometimes I'll make a last minute decision, because you're looking for clean air. You want to have good track position and get some laps in, so if you've got a good gap, I'll take the Joker early."
The ninth round of the 2016 GRC concluded with Scott Speed taking the checkered flag for the Volkswagen Andretti Rallycross team. Chris Atkinson managed to edge out his teammates, Lasek and Isachsen, in the Heats and Heat-Semifinals, with all three Subaru drivers making it to the main event. However, Atkinson registered a DNF due to a tire puncture early in the Finals and netting a 11th place finish.
The next GRC event is scheduled for September 17th in Seattle, Washington's Evergreen Speedway. The Subaru team is currently last in the Manufacturer standings but Sverre Isachsen gave Subaru Rally Team USA its first GRC supercar win in Seattle back in 2014. With Atkinson joining the Subaru stable it'll be interesting to see how the team close out their 2016 season and ramp up for 2017.
(Source: Subaru Of America & Red Bull GRC)