"You wanna come to the house and drive the R8 to the meet on Sunday?"
It's a message I could have never predicted would slide its way into my Instagram DMs. I've always expressed how much I love Volkswagen Auto Group's V10 platform, but I never explicitly asked nor even remotely alluded to driving either of my buddy's supercars. Despite being caught off-guard, I was already sure of my answer. "I'm 100% down" I replied, not even a minute after receiving his offer.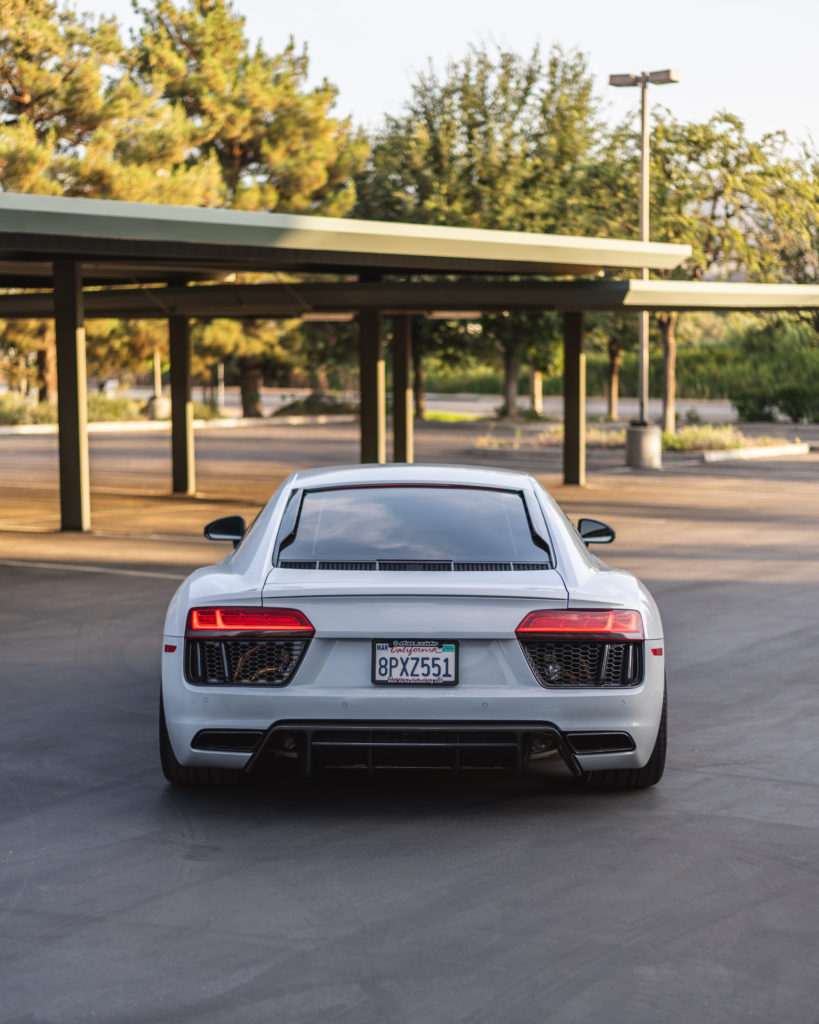 And so the day came. The hour-long drive to his house was the perfect warm-up. Open freeways and cruise control let me focus on downing enough water and Red Bull to overcome the less than 3 hours of sleep I had gotten the night before. My feelings were a precarious mix of excited and stressed, neither of which are helpful in trying to catch some shut eye. Despite my afflictions, I arrived alert and ready to pilot a $150,000 supercar.
The key exchange was non-chalant, which was definitely helpful given my usual tendency to over-think. Getting in wasn't easy, but I'm used to getting in and out of tight cars. I daily drive a lowered Mustang GT and the process is essentially the same; butt first and move the legs over.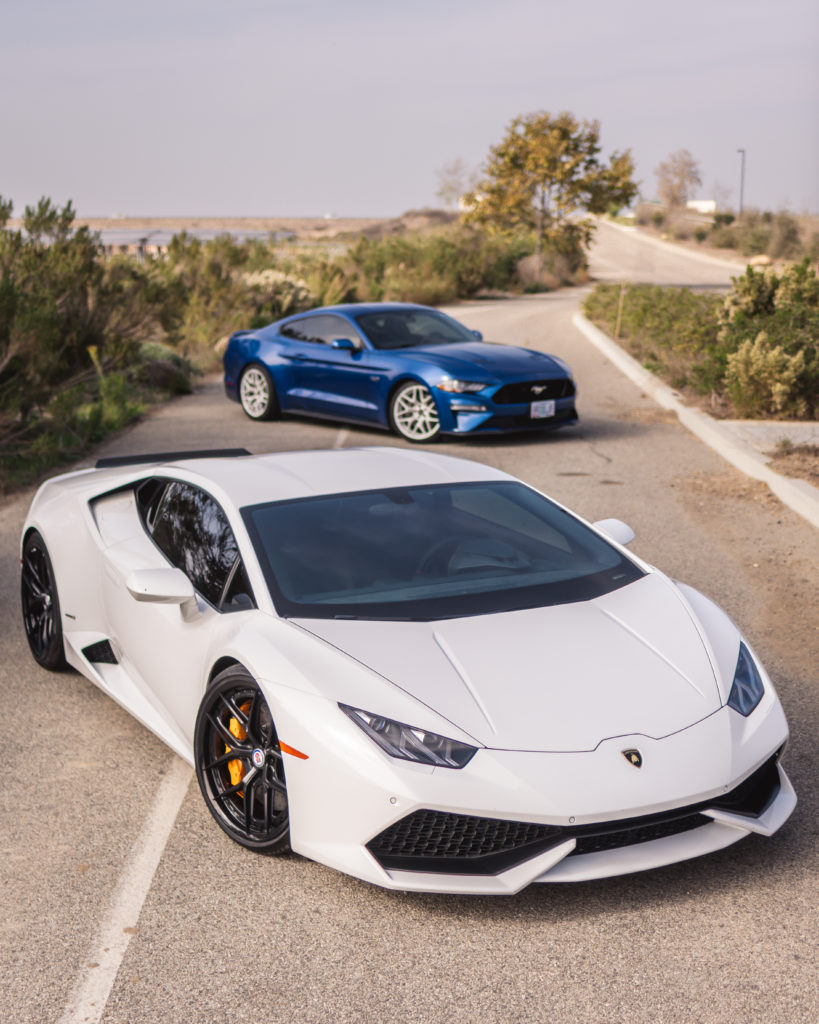 What wasn't the same was the 10-cylinder chorus that sang from the exhaust pipes and echoed off the garage walls when I started it up. It was rough and gritty yet beautiful too. Its idle sound alludes to the nature of these odd-firing V10s; as you climb through the revs, the rough sound melts into a melody that crescendos north of 8,000 revolutions per minute. It's truly unique and absolutely sublime.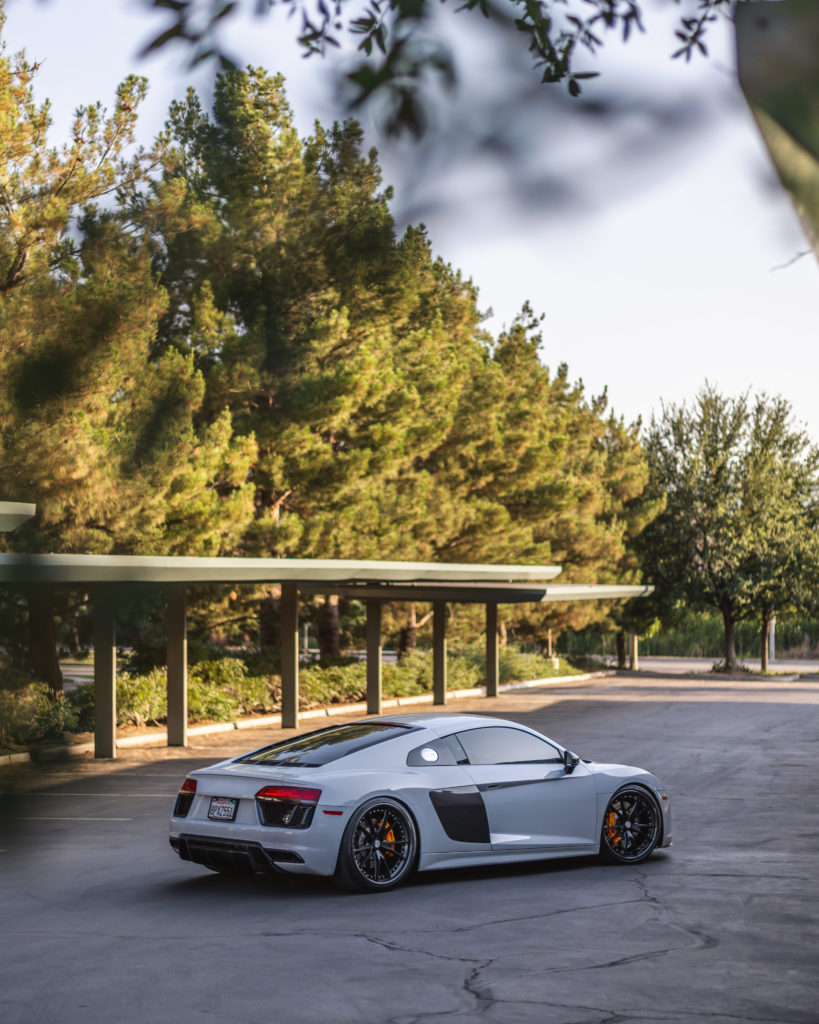 Aside from a halfhearted attempt to watch a POV drive on YouTube, I went into driving the R8 very uninformed. My first 10 minutes were spent pouring over the steering wheel button arrangement and sifting through the Audi MMI entertainment system that was displayed through the dash. By the time we'd reached the Starbucks next to the freeway, I'd managed to pair my phone via bluetooth. With navigation set up and my music playing, the nerves were dulled and I could put more focus on the driving experience.
And that's when it hit me.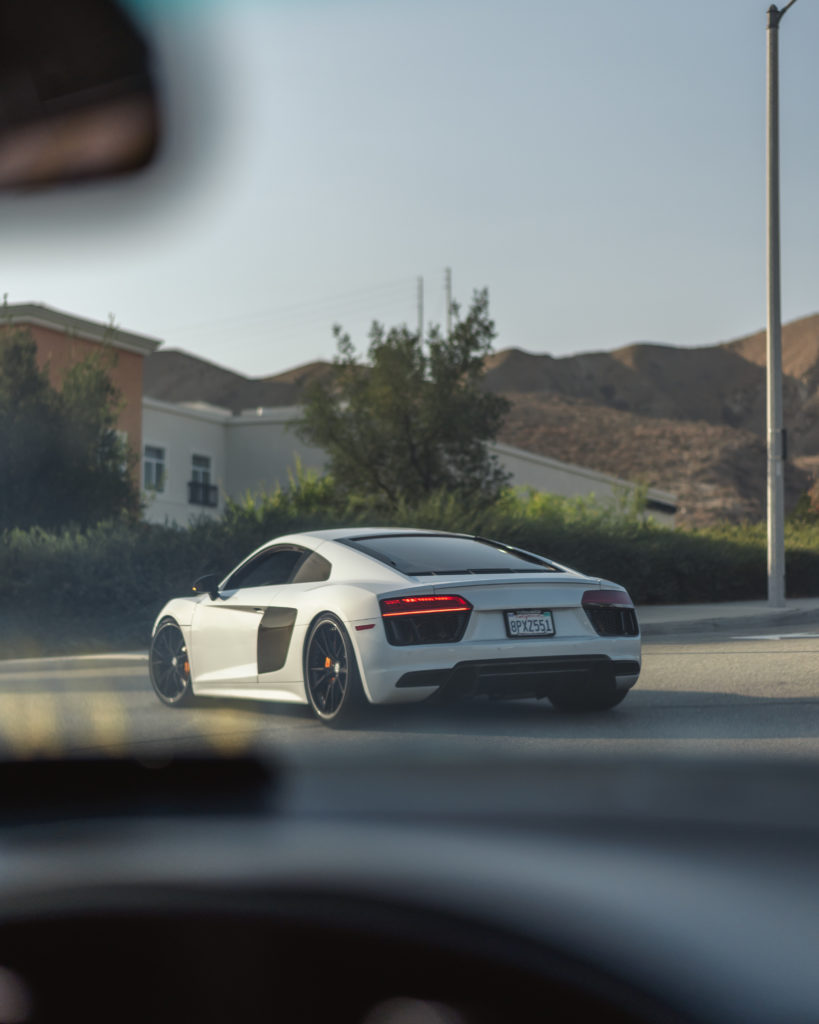 The Audi R8 is a phenomenal daily driver.
With my creature comforts restored, I felt right at home driving a supercar. The suspension was smooth, eating up all the little annoyances that had formed in the concrete highway over the years. When the bumps were bigger, they were much less jarring than what I was used to. The steering was tight, more so than my own car, but not so twitchy that the car wanted to dart left or right. It cruised dead straight, and only a slight but purposeful persuasion of the wheel was required to round the long sweeping bends of the interstate. This car eats up miles and loves doing it.
Despite its 398 lb-ft of peak torque occurring extremely high in the rev range at 6500rpm, the R8 never left me wanting for more while cruising in its 7th and highest gear. Gaining an extra 10mph for a highway maneuver was effortless. In fact so effortless that when I returned to the Mustang at the end of the day, I found myself pushing further into the pedal to get the power I had become accustomed to throughout the day's journey.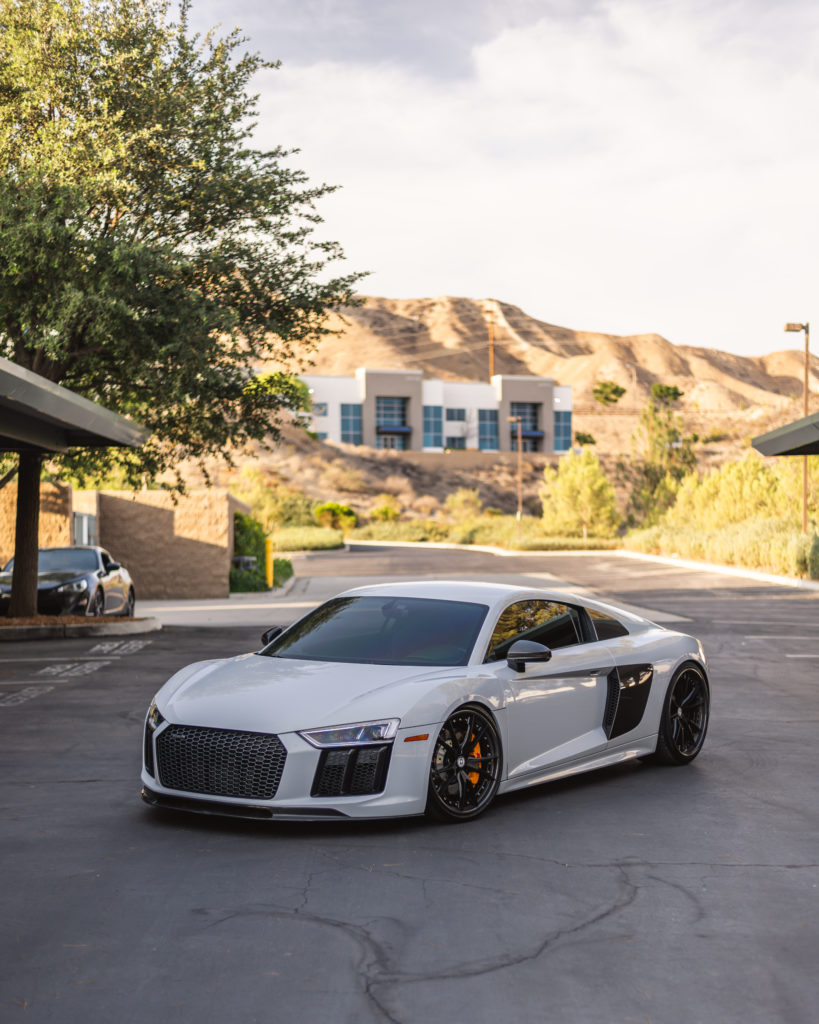 While I did get to properly experience the R8's highway temperament, I unfortunately didn't spend much time exploring the car's dynamic capabilities. During our drive into and out of Malibu, our canyon runs were almost entirely spoiled from the beginning by slow-moving traffic. I managed to salvage a partial run though Grimes Canyon on the way back but only after pulling off and waiting for traffic to make its way down the canyon. Even after descending at five tenths, we easily caught up to the truck that took up the back of the pack. He hustled as hard as he could once he saw us coming, but the damage was already done.
Even at that slower pace, I experienced enough for me to gauge the driving dynamics in some capacity. For such a large car, it's dead easy to place it where you want it. It corners flat and in a confidence-inspiring manner. Small dips and divots are dealt in such a way that you barely even notice them, allowing you to focus on task at hand instead of doing the mental calculus to make corrections. It's a truly wonderful experience.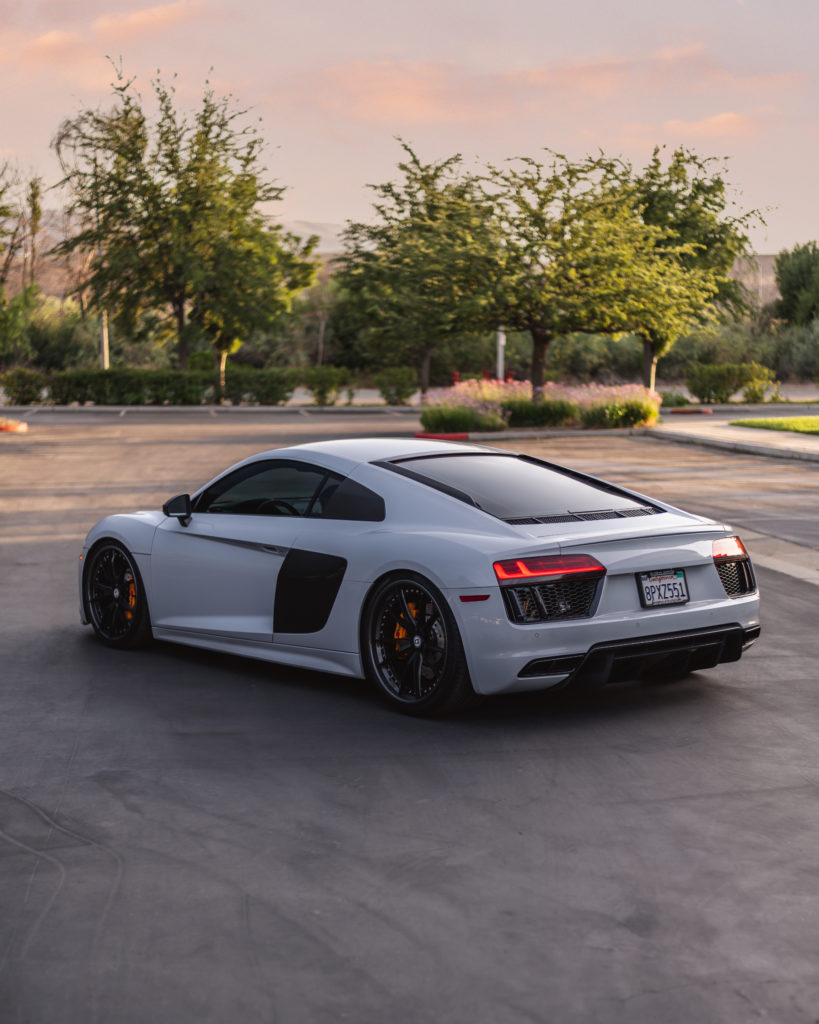 That phrase pretty much sums up my time with the R8. Nothing about what I experienced left me clamoring to get out. I wasn't sore from the seating position, nor was I dissatisfied with the sound system. The Bluetooth paired quickly every time I got back in. The navigation system was easy to use and I loved that it displayed directly in my gauge cluster. The engine didn't drone unless it was under high load. Road noise was definitely audible but it was nowhere near unbearable. And my goodness did this thing have oodles of power, more so than I know what to do with. If I could only ever own one car, the Audi R8 would be my choice.
If you liked the photos I posted throughout the article, feel free to check out my Instagram below!