Today, I took a drive into town for usual weekend errands and I could not help but stop and chat with the two gentlemen who were driving a 1960 Chevrolet Impala sports coupe. I have always had a dire interest in the days when Detriot was the capital of cars, Motown as so many knew it. This particular one captured in the cover image was built in Oakland, California, and is one of the few 204,467 sports coupes produced still on the road from the 1960 model year. In my opinion, automobiles of today lack the character and quality that this Chevrolet possesses. It is not perfect, but what car is truly bound by protection against flaws?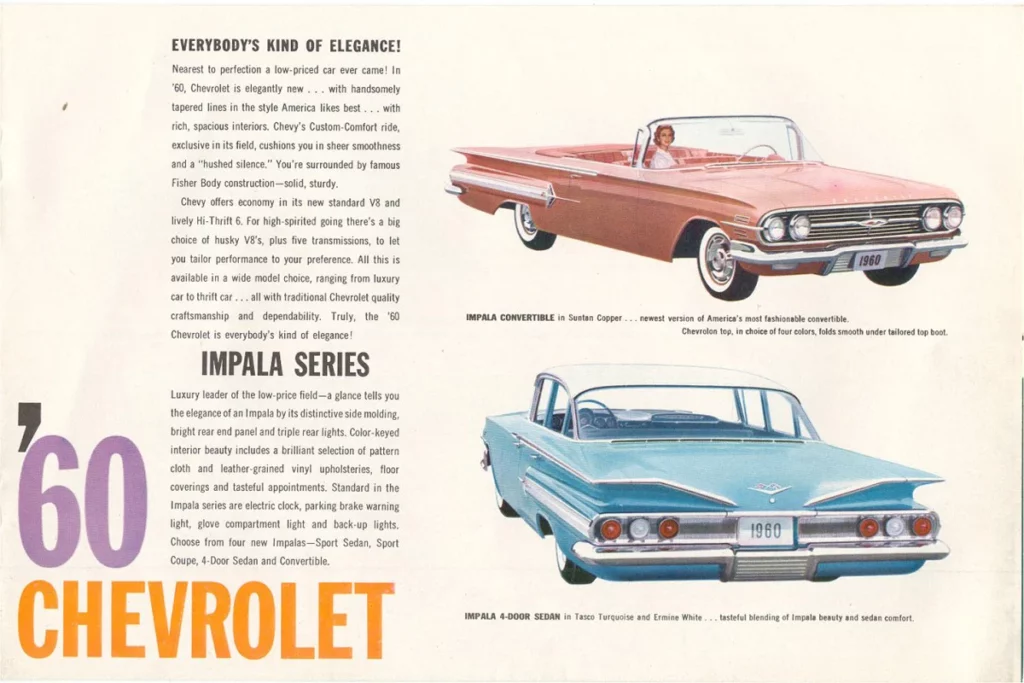 You look at a Chevrolet Impala today and compare it to the one from 1960 and you start to wonder what happened to make such a dire change. Obviously, the cultural shift away from big automobiles and the 1973 oil crisis played a huge part in where we are today in terms of automobile production. Although, new vehicles lack the charm that this Impala gave me when I took a tour of it.
Classic American cars to say the least present a unique feeling not just to the person that drives them but to those around them. You would not be surprised to know just how many people stopped and stared or made a compliment. I was of course one of them. Classic cars are a staple of who we were, what we stood for, and by, and truly captured the vision of society in its time. It may not be who we are now, but when we see a car like this we can not help but stop and stare. Even the least car inclined person would be curious about what this particular vehicle is and what year it was made.
Old American cars are in no way to say they are better because they are not. Modern technology has made vehicles faster, lighter, more comfortable, and above all safer. However, the character and charm of classic cars are something newer vehicles will never possess even after they have aged.
This 1960 Chevrolet Impala is just an example of Detriot's automotive heritage and a view back into the world we once were. American car ownership today of any brand is a chore more than an experience. Whereas when you are fortunate enough to grace in the presence of such classics or even own one there is a special type of enjoyment you get out of them, unlike any modern vehicle you may ever drive.
To end in summary, the joys of classic American car ownership are above all an experience like no other. Provides a unique lesson about the history of our society and gives us a glimpse back in time to the ways how automobiles used to be crafted without modern technology.
I want to give special recognition to Liam Tierney and Rudain Bahran for giving their time to chat with them about this amazing 1960 Chevrolet Impala. You can follow further and see additional pictures on their Instagram profiles.