Name a car that can be bought for $20,000 USD, 500 horsepower, and an available manual transmission. Go ahead, I'll wait… If you kept coming back to the e60 M5 (2005-2010 BMW M5) it's because there are few cars on the market that can compete in both price and power. So why haven't you bought one yet? Are you ready to miss the next boat?

I know what you're already saying to yourself. You're saying they're unreliable, flawed, and problematic, and you'd be right. This was the equivalent of owning a road-going Space Shuttle when it came out. It has double-VANOS, forty valves, four camshafts, an aluminum block and heads, ten electronic throttle bodies, a quasi-dry sump lubricating system, and even an "ionic current measuring system" for detecting knock; this is a complicated unit. AND that's just the engine.
The transmission on the other hand is commonly the 7-speed SMG III. In basic terms, it's a seven-speed manual with hydraulic actuators. There is no clutch pedal, although there is a clutch that is operated by a computer, hydraulics, and a pump. It is known to clunk, jerk, and slip. Driving at slow speeds can be uncomfortable—starting off on a hill from a dead stop is best achieved with both feet covering both pedals to prevent the classic manual transmission rollback. Clutches commonly last twenty to forty thousand miles with some people babying theirs to a bit more. It's a system that feels rushed and not fully developed.
Eliminating the SMG and opting for a manual transmission is best to eliminate one more chink in the armor. There were, however, a mere 1296 manual-equipped cars made. And unless you're in the US, you didn't get any. That number is included in the worldwide total of 20,548 cars made. Nearly fifteen years since production ended, how many of these cars exist? How many are in good shape? Based on the retail value and the fact they've landed into the hands of 'less than maintenance-oriented peoples' over the past decade, I'm willing to bet the good cars are few and far between.
These cars have been hooned, crashed, improperly maintained, modified, and crashed over again for many years. Cars with blown engines can be had for well under ten grand. High-mile cars are in the teens, if not close to ten thousand dollars. Commonly you'll see quilted floormats, Supreme stickers, and all the telltale signs of deferred maintenance. Sometimes these owners even resort to buying used supercar tires because they cannot afford proper rubber. At all costs, avoid these owners and cars. If the dash looks like a Christmas tree, run. Otherwise, you'll learn exactly (emphasis) why these cars are touted as unreliable—do not buy a budget M5!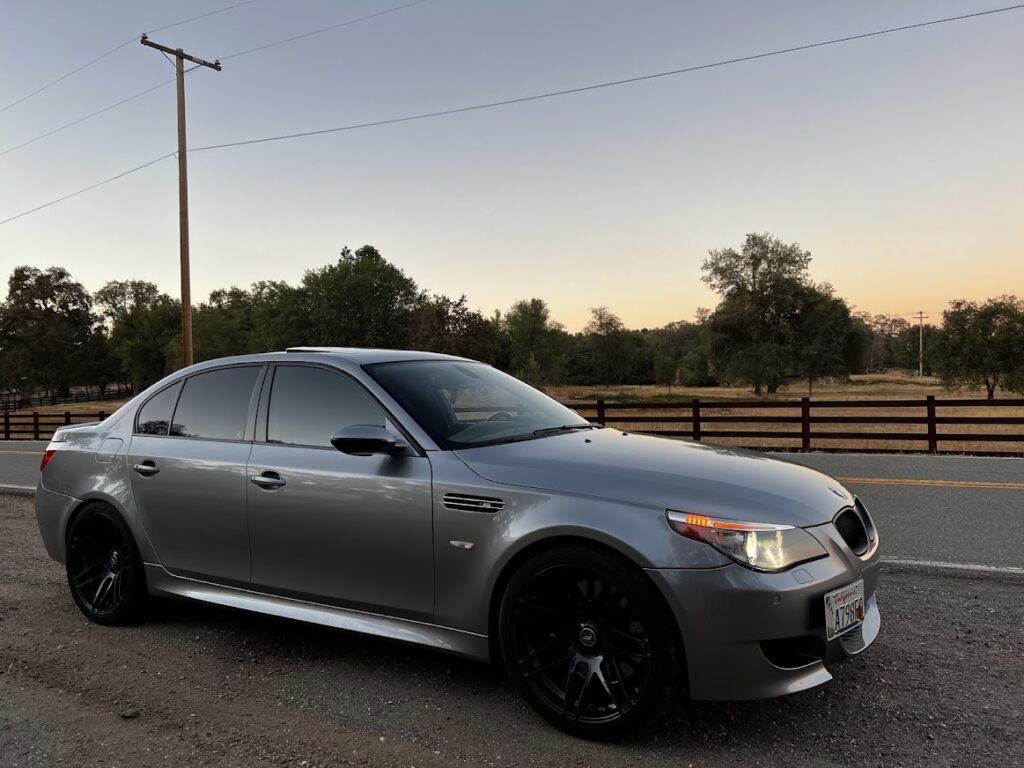 I say this because I went the other route and haven't regretted it yet. (Yet being the keyword as I shout "BEETLEJUICE" three times and furiously begin rubbing my rabbit's foot.) I purchased my 2006 M5 three years ago for just under $20,000. It had 60,000 miles, RPI exhaust, Forgestar wheels with thick 305mm rear tires, Eventuri intakes, and an Evolve tune—roughly $7,000 in modifications. In any other world, I might not have bought this car due to the modifications which usually raise a red flag. However, it was exceptionally clean (read: you can eat off the engine and door jambs and even the factory windshield stickers are present). Best of all, I knew the owner who rarely drove it and mostly just polished the car in the garage.
Most importantly with my purchase, the car had its oil tested for years. All signs of excessive rod-bearing wear were not present. This is THE biggest issue you'll hear about when you research the e60 M5. The engine is notorious for failures, some very early in the car's life. The car's F1-derived engine is a fickle bitch. It takes 10W-60 oil and should always be warmed up prior to any high revolutions. My car had its oil changed early and every year when it wasn't driven much. The car was allowed to warm up prior to setting off. Best of all the oil, tested by Blackstone, consistently shows minimal levels of copper and nickel—the two signs of deteriorating bearings. On top of the engine maintenance, the car had its clutch replaced, brakes flushed every 2 years, and the rear differential serviced.
I bought the best car I could for the money I had. So far—I'm trying not to jinx myself—everything has been epic. I own a 500-horsepower, four-door rocket ship with rear-wheel drive. I've learned to cope with the SMG by using two feet and slightly lifting while shifting. I can transport friends and kids. I've got a V10 that revs to 8,250 at the mercy of my right foot. The stereo is one of the better units I've heard for its age. There is heated and cooled seats and even a heads-up display. This car should not cost $20,000.
And that's exactly my point: this car is too cheap. Prices are beginning to climb as all the junk cars get parted and the reputation for just how much car you're getting gains traction. There will never be another V10 M5—fact. The fact this car was produced in the first place makes it a bit of a unicorn. By fixing all the issues you end up with a well-sorted car that "should" be reliable. The cars that remain are falling into the hands of people like me who appreciate them. I've maintained my car and been the best steward I could be. As the cars increase in value, even the more expensive fixes won't be as big of a deal.
I'm not the only one singing the praises of this car—while providing a cautionary tale. Prices are at an incline at sites such as Bring-a-Trailer and Cars and Bids. Reviews such as Doug Demuro have said it is not only one of the most underrated enthusiast cars but also that it is set to increase in value very soon.
Clean manual cars are already in the thirty-thousand-dollar range, but I'd argue if you're dead set on a manual, a swap doesn't seem to affect the price too much. I'd even argue you're doing a bit of 'preventative maintenance' by transmission swapping the car. This is a special car that won't be affordable for much longer. So, what are you waiting for? Go get your own V10 five-hundred horsepower sedan for cheap… while it lasts.