This afternoon Acura announced that the 2023 Integra will be making it's motorsports debut on June 26th at The Broadmoor Pikes Peak International Hill Climb, brought to you by Gran Turismo. This coincides with the Integra's arrival at Acura dealers nationwide.
The next-gen Integra will be competing at the 100th running of the "Race to the Clouds" along with four production based race cars from Acura. This includes two NSX Type S supercars, all prepped, driven and crewed by a team of volunteer engineers from the company's R&D facilities in Ohio.
The race prepped Integra, to be driven by Pike's Peak rookie Paul Hubers, will rock a red, gray and white livery that pays homage to Acura's first ever race car. First seen in the 1980's, the red, gray and white livery originally graced the first generation Integra that went on to win back to back IMSA Championships, 1987 & 1988, with driver Parker Johnstone.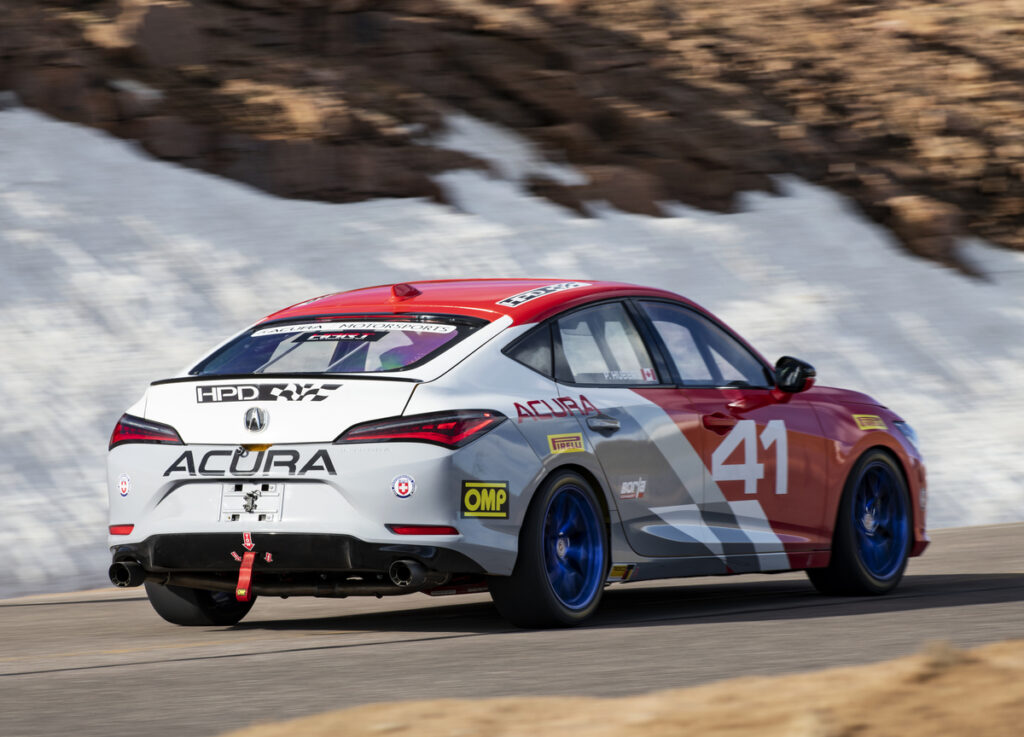 The Pikes Peak International Hill Climb in Colorado is one of America's longest running motorsports competitions. Since 1916 drivers from all over the worlds, in a wide variety of vehicles from multiple motorsports disciplines, race against the clock as they face the 156 turn, 12.42 mile mountain course, that starts at 9,390 feet and climbs to the 14,115 foot summit.
This will be the brand's 12th consecutive year competing in the iconic hill climb with Acura teams amassing 25 podiums, 12 first place finishes and multiple course records.
The next-gen Integra comes with a factory stock turbocharged 1.5 liter engine and 6 speed manual transmission. For this, it's first motorsports competition, it has been given upgraded bakes, suspension and differential, sourced from the Honda Performance Development, HPD, parts catalog. Modifications also include lightweight 18×9 inch HRE wheels that reduce unsprung weight, while 245-series Pirelli racing slicks increase the contact patch and cornering grip.

Also making their debut at this year's event, is two race ready versions of the most powerful, best performing Acura ever. The limited production 2022 NSX Type S. Outfitted with a host of performance upgrades, the mid-engine supercars will be driven by brothers James and Nick Robinson, who are seeking to beat previous records, including the current hybrid fuel class record, (10:01.913), set by James Robinson in 2020.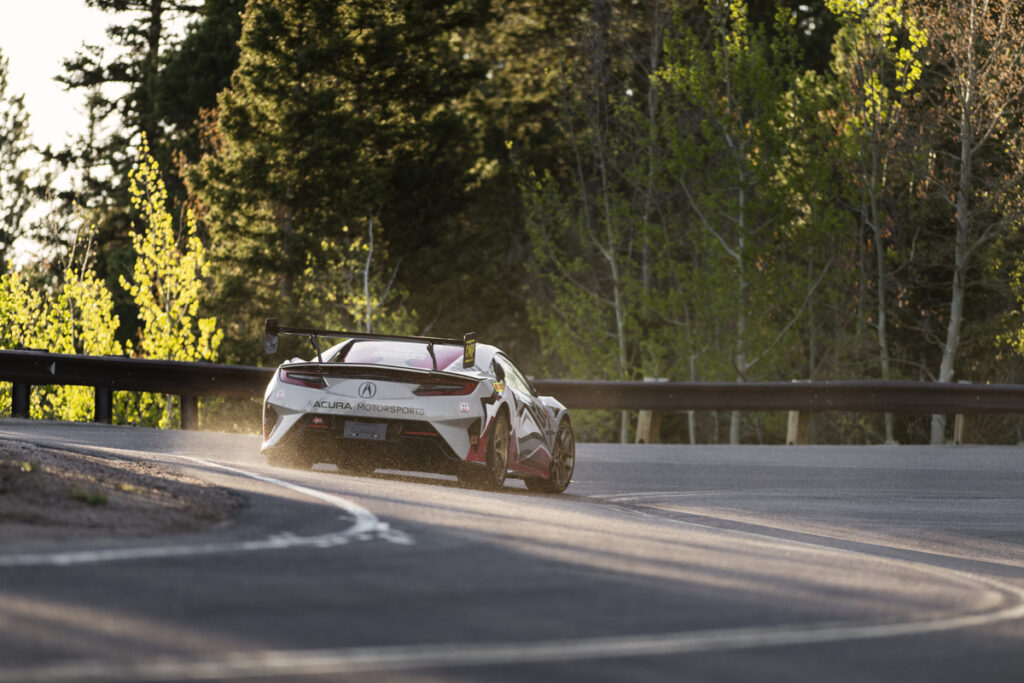 Serving as the official pace car for the hill climb's centennial event, is another NSX Type S. This one will be driven by adventure racer Renee Brinkerhoff. Brinkerhoff, founder of Valkyrie Racing, has competed in racing events on all seven continents, including Antarctica and has found success. Additionally, she is the only woman in history to place in the iconic La Carrera Panamericana Mexican Rally three times, including a class win in her first outing in 2013.
Along with the 2023 Integra and the 2022 NSX Type S's, two 2023 TLX Type S's, driven by Jordan Guitar and Justin Lumbard respectively, round out the Acura roster.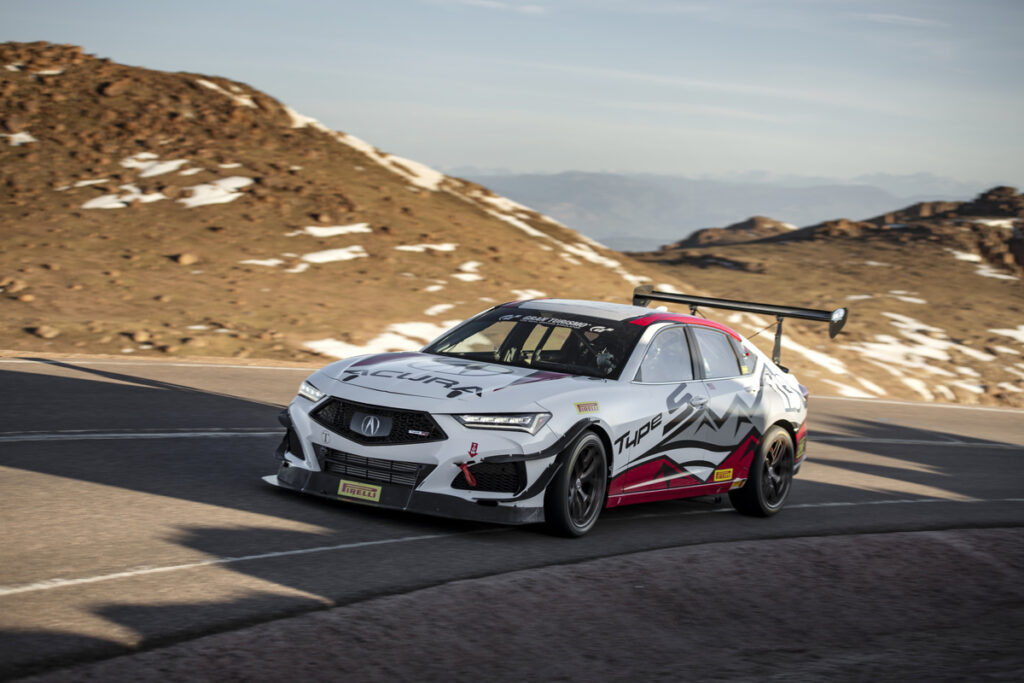 Motorsports are and always have been a key proof point of Acura's commitment to Precision Crafted Performance and it's Pikes Peak efforts are a pure expression of this ethos. For the 12th year in a row, the Acura race team consists of R&D engineers who compete in the hill climb to grow their skills and test future performance technologies for Acura production vehicles. The all volunteer team is responsible for every aspect of the brand's involvement and that includes the development of the race vehicles, race prep, crew support and driving duties.
To see the Acura's take to the hill climb course, you can check out the Pikes Peak International Hill Climb website.