This weekend as IMSA heads into it's season finale at Michelin Raceway Road Atlanta, the Aston Martin Vantage GT3 team of The Heart of Racing, Aston Martin Racing's Seattle based partner team, will be heading in with one goal. Make history.
The Heart of Racing team currently leads to GTD Class Teams Championship with Roman De Angelis on top of the class Drivers standings. Even more, Aston Martin remains firmly in contention for the GTD Manufacturers crown.
If the team, who are the reigning IMSA GTD Sprint Cup champions, find success in clinching any of those titles in the 10 hour race, it will be the first time that an Aston Martin has contributed to an overall IMSA championship class title.
This would stand as this generation Vantage GT3's most significant achievement among the car's ever growing collection of accolades, and would perfectly complement the the excellent season that the Vantage has enjoyed in global GT racing. TF Sport's GTE Am class victory at the most recent round of the FIA World Endurance Championship, which took place at Fuji Speedway in Japan earlier this month, ensured that only they, or fellow Aston Martin partner NorthWest AMR, can take home the title in Bahrain in November. This will be the fifth world championship title for Aston Martin since the formation of the WEC a decade ago and the second for the Vantage GTE, which is derived from the highly acclaimed four liter V8 turbo charged road car.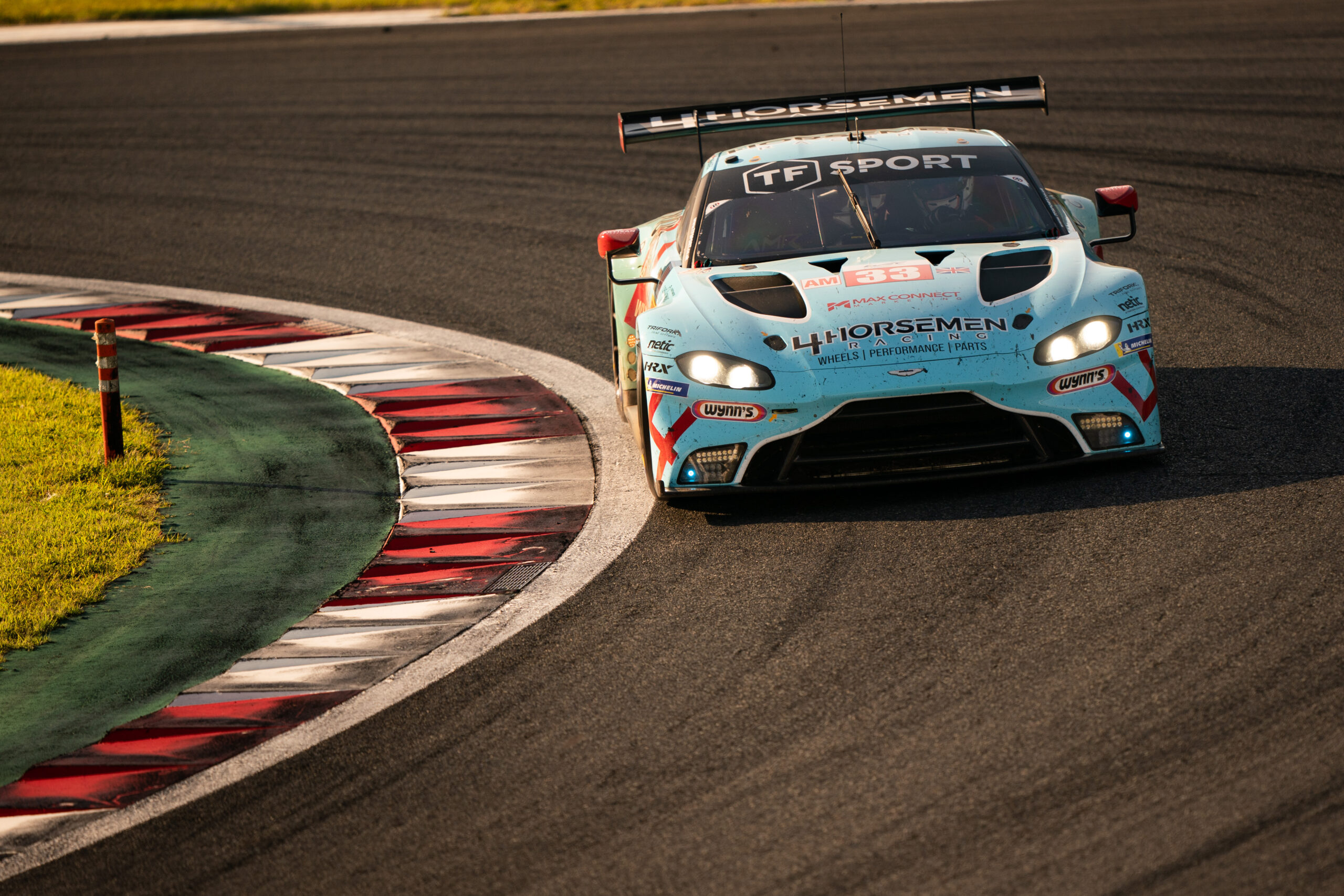 The Heart of Racing runs a two car operation, one in GTD with Roman and his co-driver Maxime Martin and another in GTD Pro with Alex Riberas and Aston Martin Racing works driver Ross Gunn. And the two teams have been in top form all season long.
De Angelis and Martin, who will be making his last start as an Aston Martin Racing works driver after an incredible five year stint that has included multiple world championships, IMSA race victories and the 2020 FIA GT World Manufacturers title, have enjoyed an epic run of five podiums in six races. That includes two class victories at Watkins Glen and Mosport and three second place finishes. These results have ensured that De Angelis enters the final round with a 45 point lead over nearest rival Stevan McAleer. And for the final round, he and Martin will be joined in the #27 by Team Principal Ian James.
Gunn and Riberas, in the #23 have not given up on a top three finish in GTD Pro and will be looking to add to their win total for this year after victories in Long beach and Watkins Glen. They will be joined by team regular Tom Gamble.

Though all eyes will be on The Heart of Racing team, they aren't the only ones running an Aston Martin Vantage GT3 at Road Atlanta. Magnus Racing will be returning for their fifth outing of the season, having focused predominantly on the long distance events in their first year with the British brand. They started this season with a brilliant second place finish in the Rolex Daytona 24 and drivers John Potter, Andy Lally and Spencer Pumpelly will aim to finish the year in similar fashion in the #44.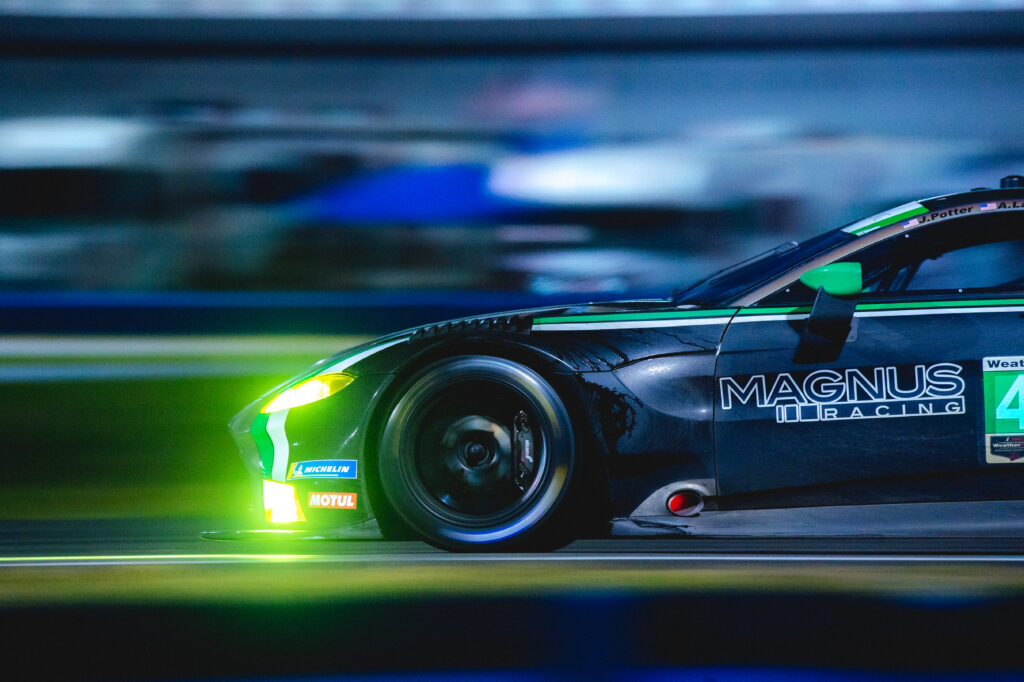 Three more Aston Martin Vantages, of the ultra successful Gt4 variant, will be taking part in the IMSA Michelin Pilot Challenge finale, which supports Petit Le Mans. Among them are championship leaders Alan Brynjolfsson and Trent Hindman in the Volt Racing #7 Vantage GT4, who are sitting atop the points in the Drivers, Teams and Manufacturers, following a victory at Laguna Seca and a run of podium finishes elsewhere.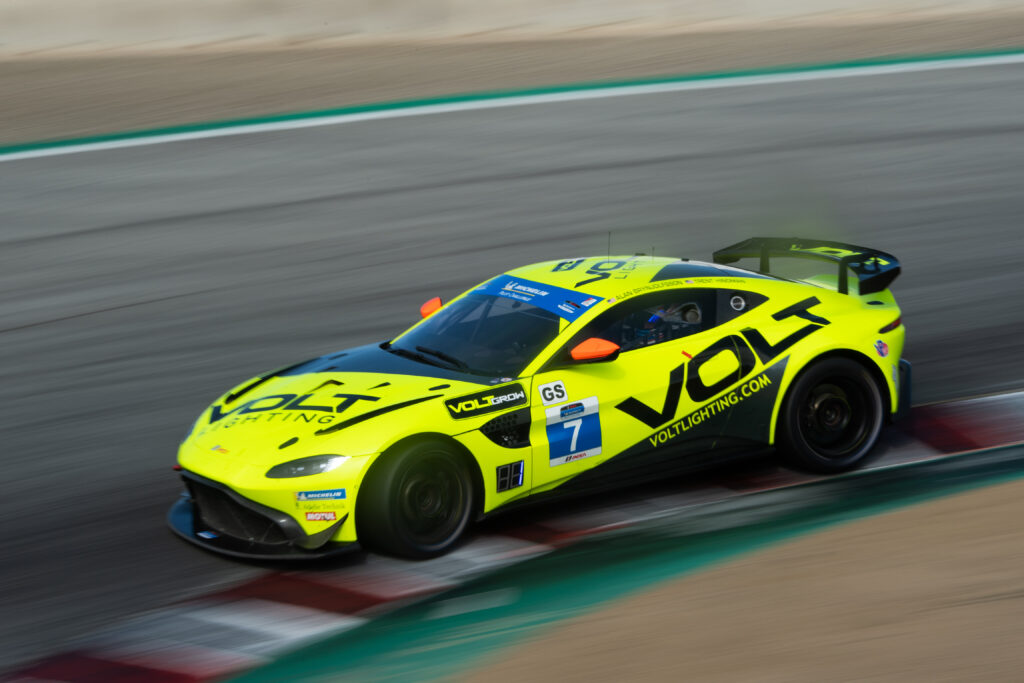 They are joined by series debutants Accelerating Performance, fresh off wins in the SRO run Pirelli GT4 America and GT America series at Sebring last weekend with driver Moisey Uretsky, who will be joined by Justin Piscitell in the #39. Aston Martin stalwarts Automatic Racing, will once again field their #009 Vantage GT4 with Ramin Abdolvahabi and Casey Carden.
"This is a hugely significant weekend for Vantage," Huw Tasker, Head of AMR Partner Racing, said. "We are incredibly proud of our partners The Heart of Racing and the work we have all done to bring Roman, the team and vantage to the brink of overall GTD championship success. It's a clear statement of the potential of the GT3 and its ability to contend for the most important GT series in the world, and clearly demonstrates what can be achieved through the partnerships we nurture with our customers. Not only that, but the Vantage GT4 is showing once again in the Michelin Pilot Challenge, just as it has everywhere it competes around the world, that it is among the very best options available for gentlemen drivers and up-coming talent in GT racing. Finally, I would like to take this opportunity to thank Maxime for the huge contribution he has made to the Vantage programme. He's been a integral part of Vantage's development and actually gave the GT3 car its race debut at the Nürburgring in 2018 alongside Darren Turner. He won the 2020 24 Hours of Le Mans with us and played a vital role in our Manufacturers World Championship in 2020 and came close to clinching the Drivers title as well. We wish him well in the future."
The 25th annual Motul Petit Le Mans will drop the green flag on Saturday, October 1st at 12:10 EST. The two hour IMSA Michelin Pilot Challenge finale will take place on Friday, September 30th at 1:30 EST. And for live updates on all events and any changes that may occur to the weekend schedule, you can follow IMSA's official social media and website.