If you've been following the auto news recently, you know that the New York International Auto Show is next up in major global auto events and it start with press days this Wednesday. Shifting Lanes will be there and this will be our 3rd consecutive year there.
[ads1]
This is arguably the most important show on the calendar. Sure other shows like Frankfurt, Detroit, Geneva, and Tokyo get all the press for getting the best reveals and the most ridiculous cars, but NY gives the general public a forum to see the autos that us, the mere mortals, might actually purchase and drive some day soon.
There will be many reveals as all auto shows have, but there are a few that are worth noting. Here's the full schedule.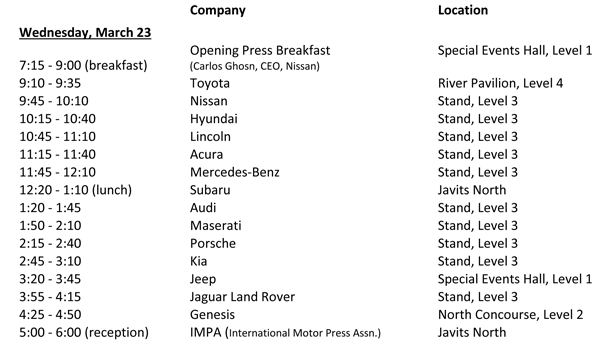 Day 1 sees some big names like Maserati, Porsche, Mercedes, and Jaguar Land Rover while Day 2 gets Nissan, Koenigsegg, Spyker, and the much maligned Elio Motors.
We're particularly looking forward to Mercedes as they always put on a good show, Nissan as they announce a potential final edition R35 GTR, and Koenigsegg which will bring the One:1 and the Regera.
We will be there, broadcasting from our Facebook page so if you'd like to see a few reveals as well as a full show walk through, click the link and watch Wednesday at 8 am Eastern Standard Time (USA).