In the early 1990s the unwieldy conglomeration of  car companies owned by GM built something very special. Picture a small 2,700 lb all wheel drive turbocharged coupe with a suspension tuned by Lotus, and a price tag of only $15,000. The engine was built and designed by a crack team of Japanese engineers, while the important fine tuning of the chassis was done by a company whose reputation was built on cars that handle well. This match made in heaven occurred when a team of engineers from the recently acquired Isuzu approached Lotus and offered to design them an engine if they would help chassis tune a car. This inter-company bartering resulted in the creation of the Isuzu Impulse RS the AWD sport compact we all forgot about.
In 1991 when Isuzu imported 800 Impulse RSs to America it completely changed what a sport compact car could be. This small AWD sport coupe was a technological marvel for the time boasting features like 3 differentials to modulate power to the rear wheel bias AWD system, and an intercooled turbocharged engine that revved to 7,000 rpm, and passive rear-wheel steering. The 160 horsepower Impulse RS was able to sprint to 60 in 7 seconds thanks to its AWD system and slick 5-speed manual. Today when we look back at the Impulse RS it came at the perfect time to introduce new technology but still retained the raw characteristics of cars from the past.
This light sport compact lacked sound deadening to cover up the whine from the drive train, and was difficult to drive at the limit creating a raw driving experience that is all but extinct in cars of today. This wasn't a car that needed to be tuned to feel raw or give feedback because instead of playing the game this was the real deal. Today we can easily look back at these flaws as mementos from a bygone era, but at the time it hurt the sales potential of this ground breaking sport compact allowing it to slip our memories until today.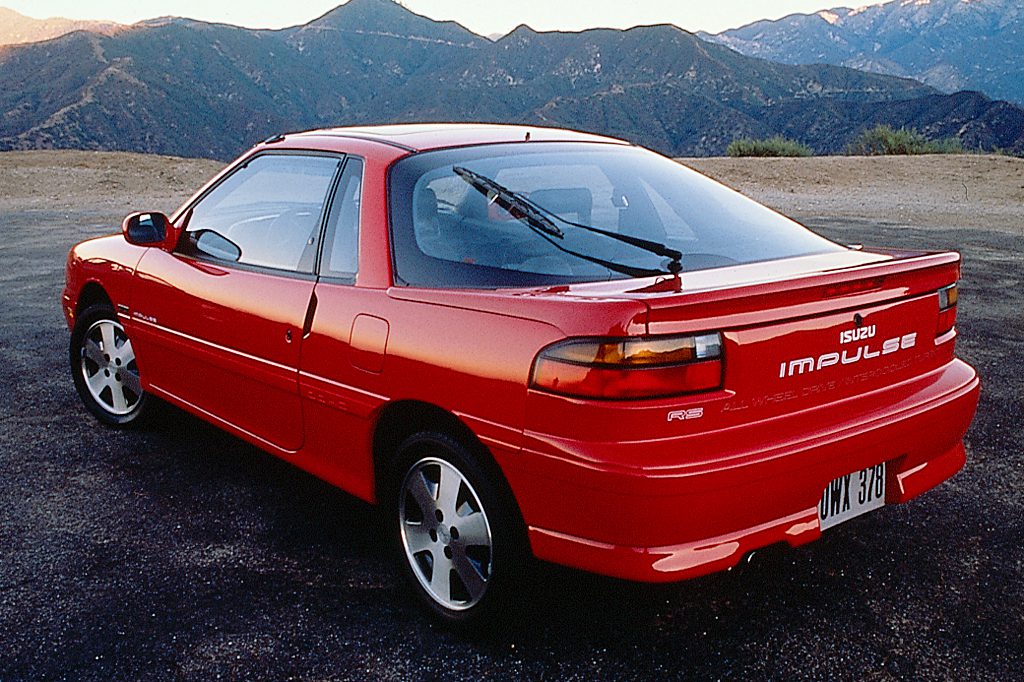 When we look back at the now defunct Isuzu car brand, its hard to remember they were capable of building anything but rebadged GM SUVs. The brand is best remembered for building strange SUVs like the Vehicross, not groundbreaking performance cars. The Impulse RS was meant to bring GM into the sport compact market which was dominated by Honda at the time. This frankenstein creation of GM was built to take down Honda during its prime, and bring real performance credentials to the Isuzu brand. These impossible tasks meant that after one year of production the turbo charged Impulse RS was gone. After selling only 800 units in North America production ended and the memory of the Impulse RS slowly faded.
Today when we look back at the short story of the Impulse RS its very easy to see why we all forgot about it. With lower production numbers than a Lamborghini Diablo, and a car brand with no real performance heritage its amazing we still remember it at all. The Impulse RS is a car we should still appreciate for what it offered. We had a turbocharged AWD sport compact Long before the WRX or EVO hit our shores making these advanced features mainstream.
If you can find and Impulse RS for sale they offer a very special driving experience for the price of a used N/A Mazda Miata. Since there was such a small number of Impulse RSs sold in North America for such a sort period of time its extremely difficult to find a usable one for sale. To make matters even worse, getting Impulse specific parts can be almost impossible unless you find a donor car. Since the Impulse was based on the Geo Storm you can still find many replacement parts for general wearable items but Impulse specific parts offer a challenge. There is a very tight-knit community of owners who drive the dozens of remain Impulse RSs and work together to keep them on the road.
The Impulse RS brought us the AWD sport compact years before the EVO or WRX landed on our shores. This plucky sport compact was a technological revelation with the weight of GM behind it but production ended long before its potential was reached. The 800 examples that made it to North America changed what a sport compact could be and offered us a glimpse into what they would be.