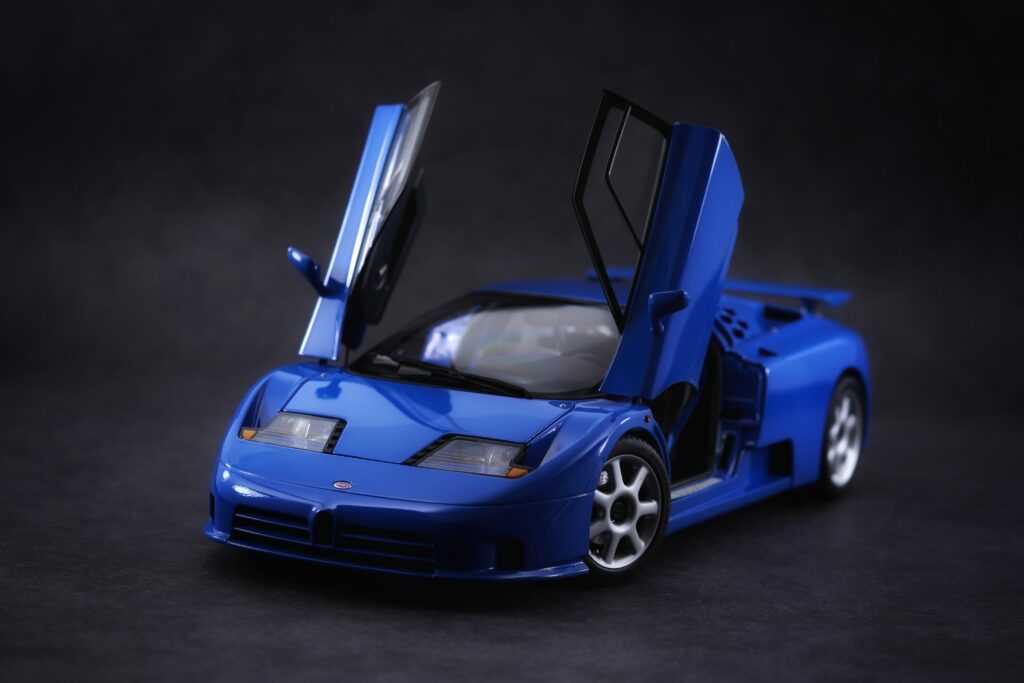 Finally, AutoArt's long anticipated Bugatti EB110 Super Sport has found its way onto my shelf. If you are a RAD-era supercar fan such as myself, you've probably had a Bburago 1/18 EB110 sitting on your shelf for years; decades even. Every time I glanced over at it, I wondered when the EB110 would get its chance to shine in the high-end model limelight. Sure, I've had AutoArt's EB110 GT model for quite some time too, but that's not as iconic as the insane Super Sport model.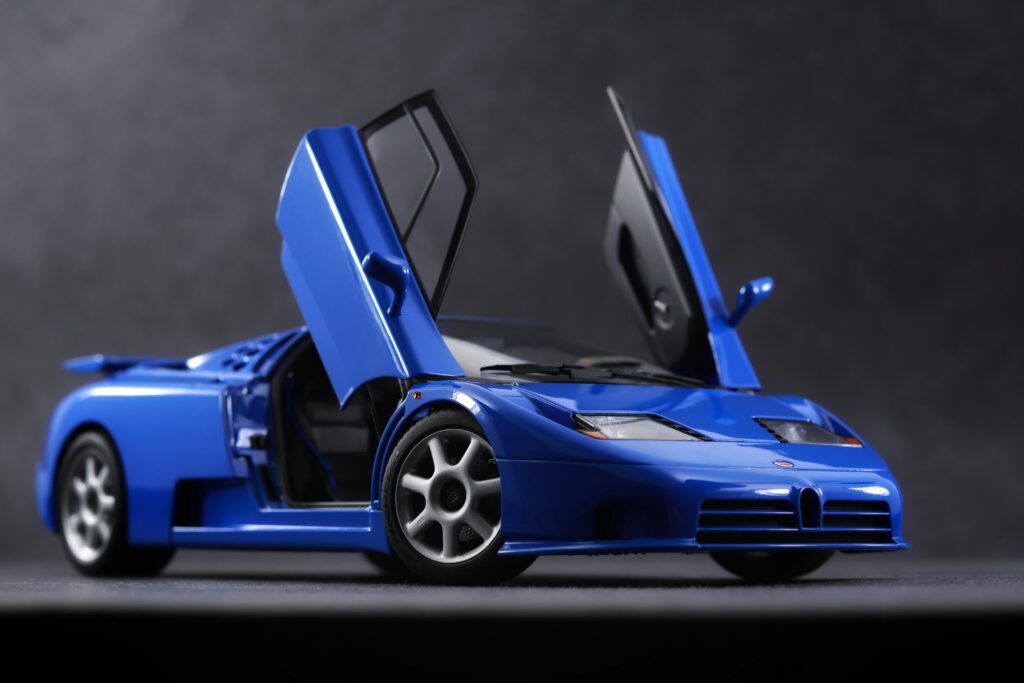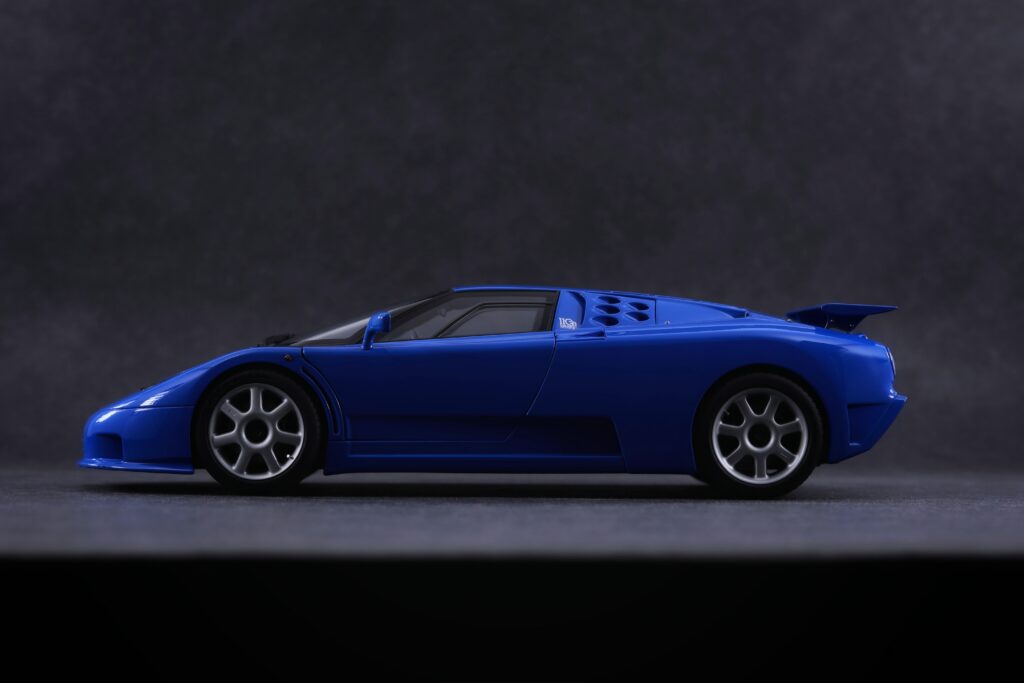 The EB110 Super Sport, or "SS" for short, was the resurrected Bugatti's extreme version of their road-going supercar. It was both lighter and more powerful than the GT model, which was named for the 110th anniversary of the founder Ettore Bugatti's birth. Of the 150 or so cars built during the EB110's short lifespan, only about thirty were Super Sports. This car was also, albeit briefly, both the fastest and most expensive production car in the world until the McLaren F1 came along. It even went on to compete at LeMans! You can throw a dart at the wall to get a number of explanations as to why Bugatti 2.0 went under in the mid-90s, but the EB110 is such an important chapter in the book of Bugatti.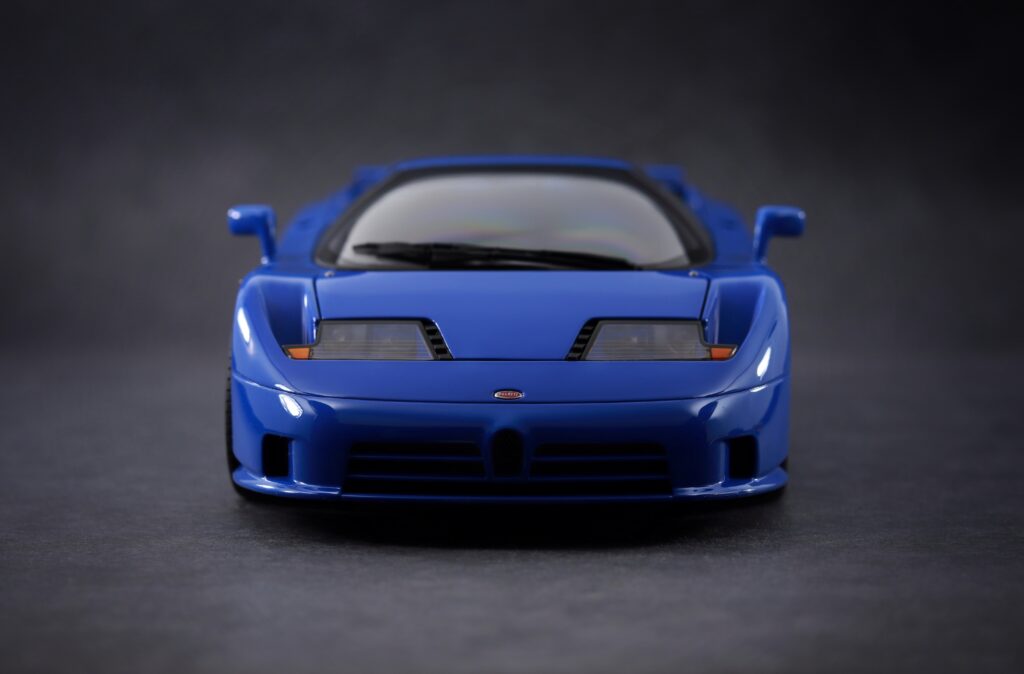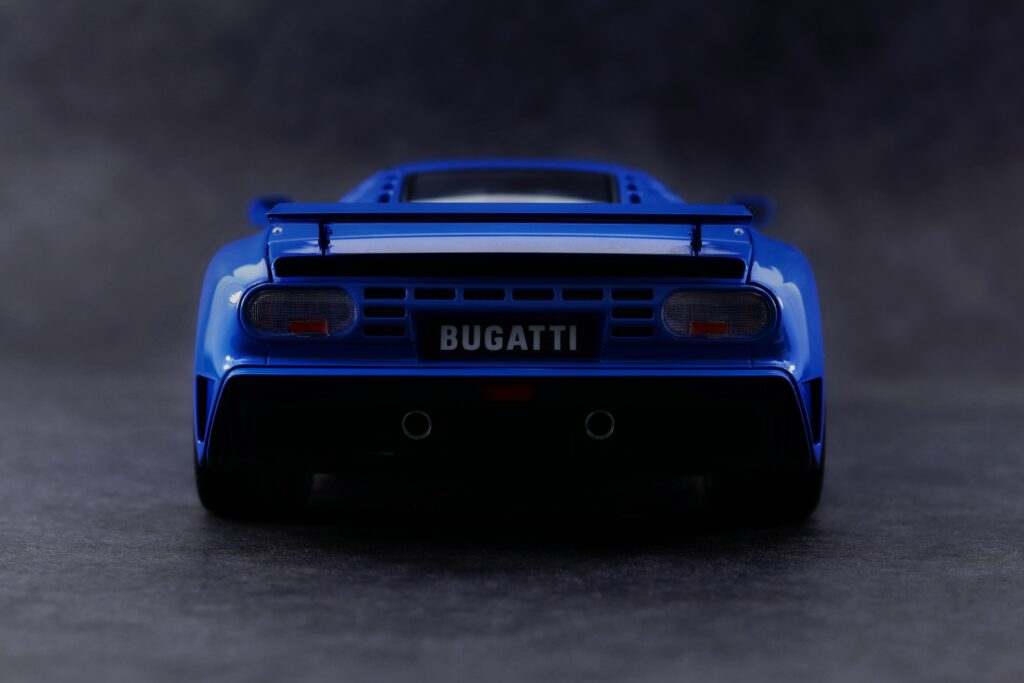 The changes from the GT are not only below the surface; the Super Sport model has several visual differences that separate it from its EB110 stablemate. Most noticeably are the iconic, 7-spoke magnesium wheels and the cheese-grater side vents behind the windows. The SS model also got a giant, fixed rear wing. Surprisingly, the same luxurious interior found in the GT was shared with the SS. Usually that's one of the first things to go on a performance oriented supercar.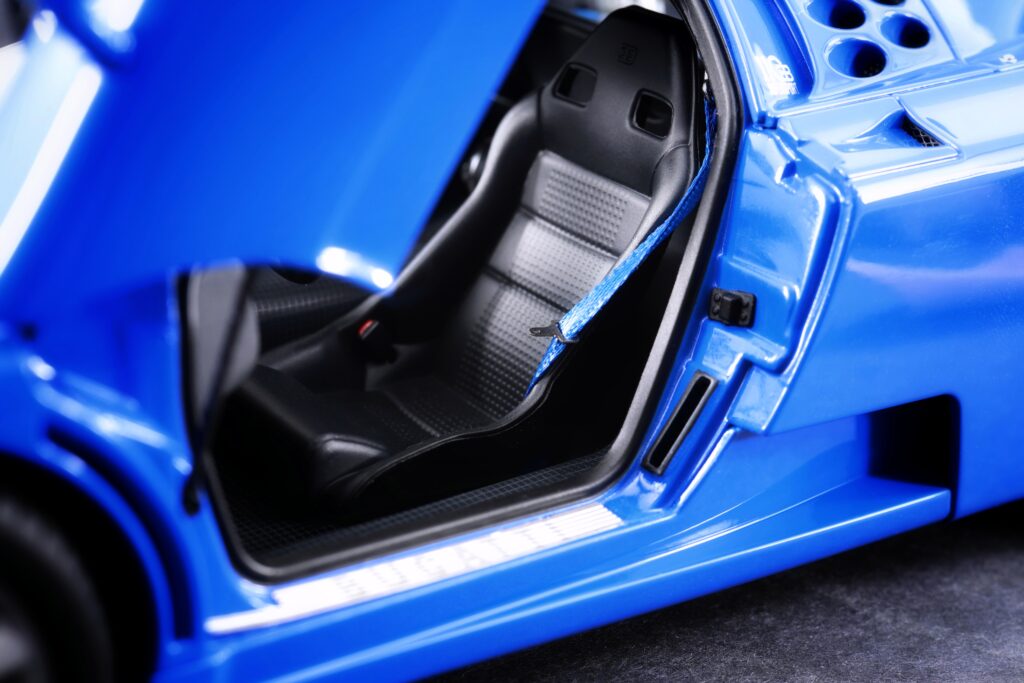 As with all new AutoArt releases, this EB110 SS features composite ABS body panels. The older GT EB110 is diecast, and was much easier to handle in my photo booth. This is my fifth or sixth composite bodied model from AutoArt, and I still feel scared to handle these cars. I think it's time to accept that I just never will be 100% confident in the structural integrity of these car models. Both of the scissor doors are spring loaded and pop open when you activate the handle button under the side scoop. The rear engine hatch lifts to show off that glorious quad-turbocharged V12 with individual throttle bodies and their sexy little linkages. AutoArt included a prop in the box to keep the hatch open, should you choose to display it that way. My favorite detail though are the valve stems on the wheels; check them out!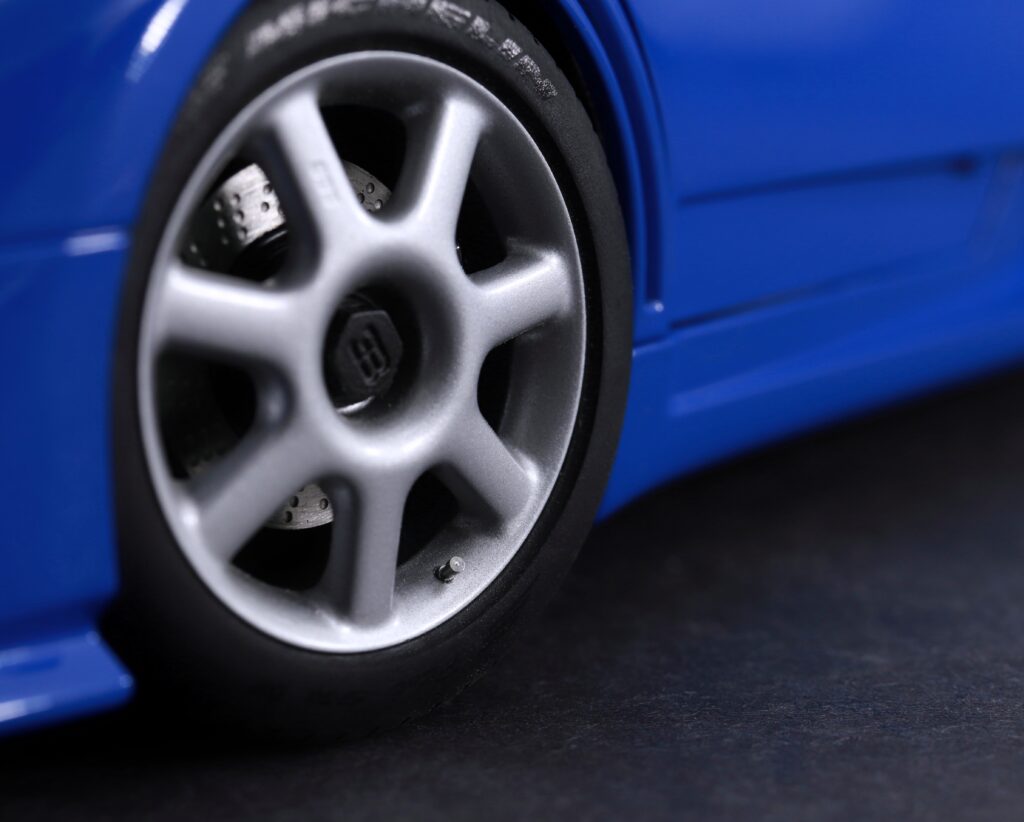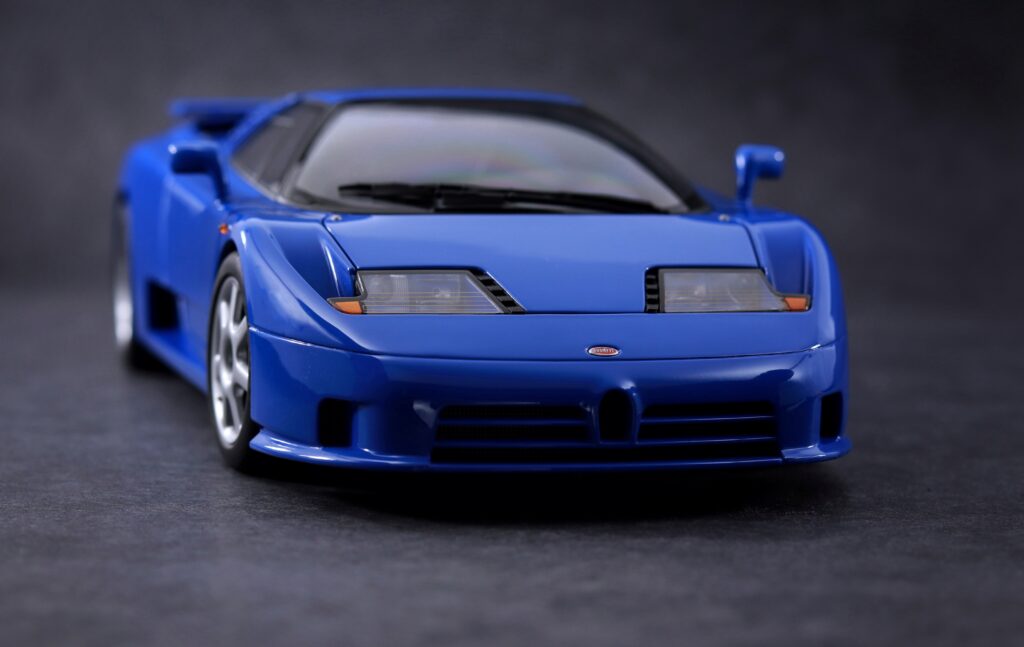 As far as quality goes, my car had a paint chip on the lower front splitter that looks like it was poorly touched up at the factory. It is a return-worthy offence, but I had left this model unopened in my office for weeks on end. Missing the return window is such an inexcusable move on my part. Weirdly too, this model is such a dust magnet! I don't think I can place the blame on AutoArt for that, but it was such a strange thing that kept happening. Every time my camera lens brought the car into focus, there would be more dust! I haven't seen anything like it with my other composite AutoArt models. Maybe the air in my office was too dry or there was some static electricity built up.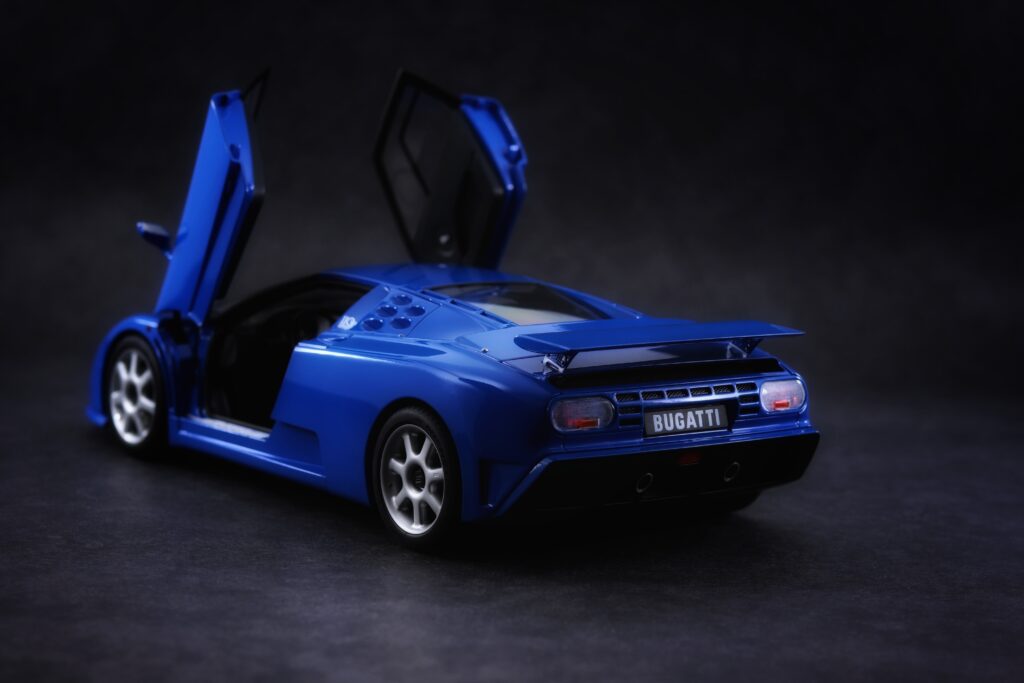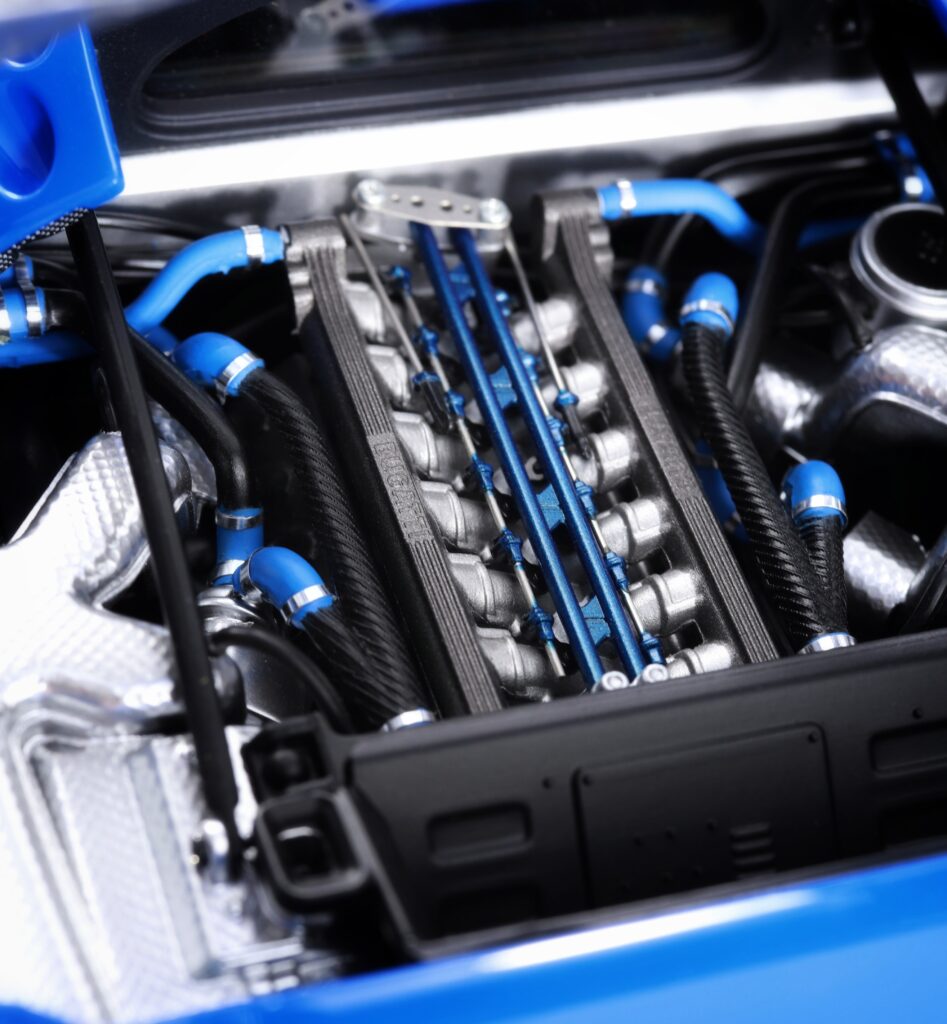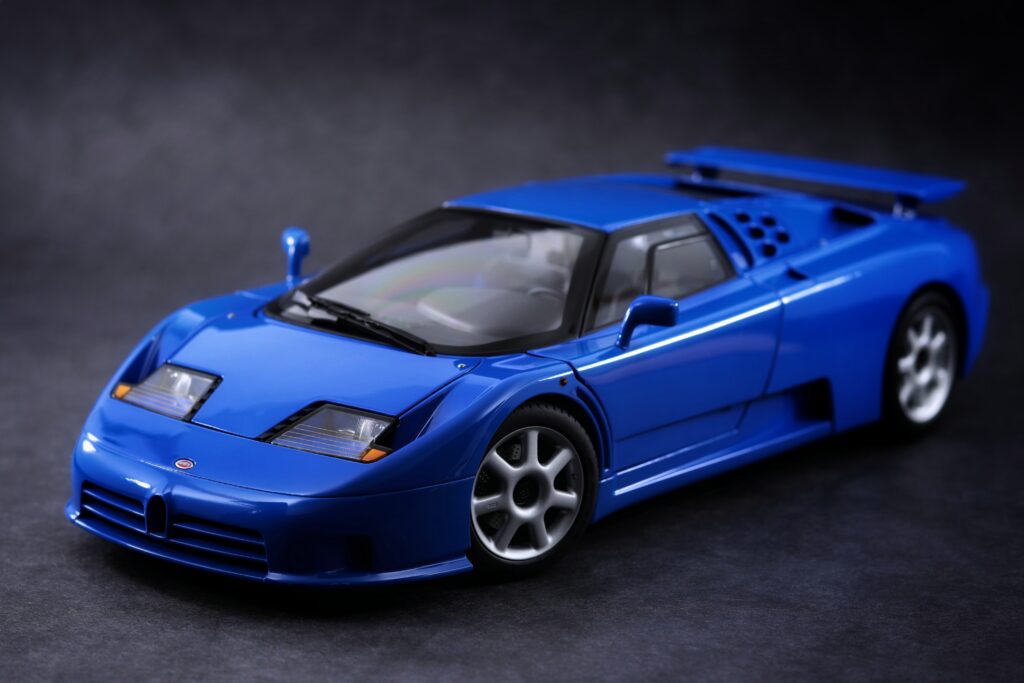 Overall, I'm still undecided if I like this model or not. I had high expectations for this model, being a big EB110 fanatic, but something about it left me wanting more. I can't put my finger on it, but it just feels like, a car model. What I should do is dig my trusty old Bburago out of the closet and get a good side by side look at the two! It's worth mentioning too, that the Saratoga Automobile Museum up in Saratoga Springs, NY just opened a RADwood exhibit on April 1st. They have a silver EB110 GT on display, so it would definitely be worthwhile to make the trip!