Highs: Simple, gorgeous exterior styling, dead silent inside during operation, drives like a sports car
Lows: Slower than most of the competition to 60, no option for third infotainment screen on base 2021 models
Many people view the entry-level trim of most vehicles as the runt of the pack. These "base" models come with the fewest features, are the generally least aesthetically pleasing, and the least performance-oriented. Unless that base model is the Porsche Taycan — the least expensive of Porsche's electric vehicle range.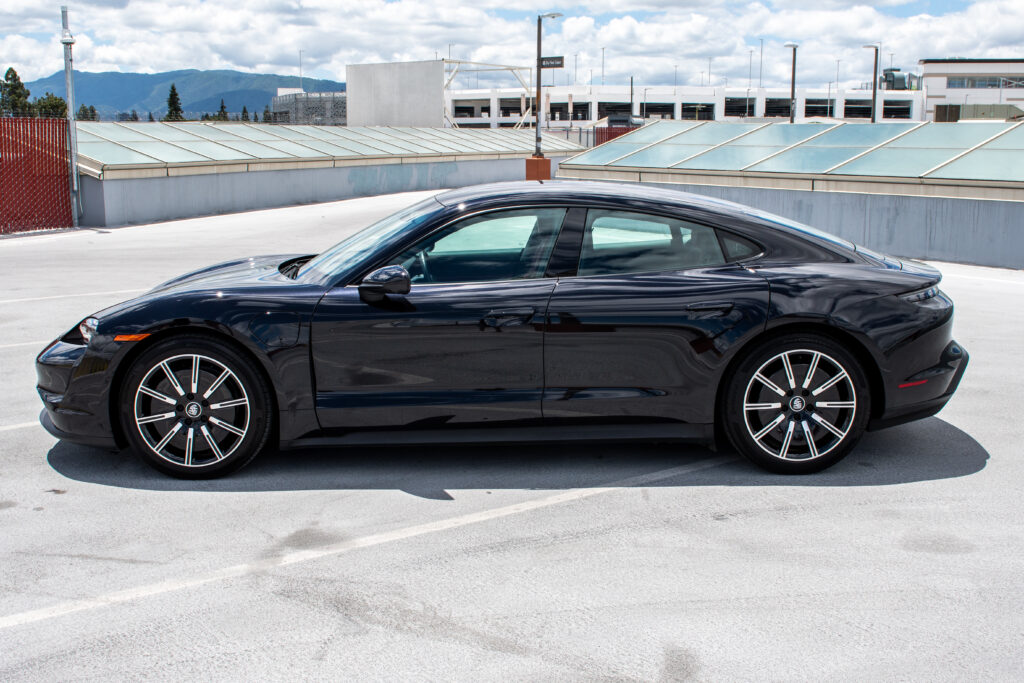 Porsche has rewritten the rules for what it means to be the entry model, as I learned during my test drive with the Taycan courtesy of Porsche Steven's Creek in San Jose, California. While it won't be accelerating to the 60 mph mark in 2.4 seconds or tearing up the Nüburgring Nordschleife like the flagship Turbo S, it still checks most all of the boxes as a proper, well rounded sports sedan. Just how Porsche manages to pack so much into a car that costs well under other company's offerings is nothing short of astounding.
Where form meets function
The auto industry is in the early stages of a transition to electric vehicles. Manufacturers have gone out of their way to make new EVs look as, how shall we say, different as possible in an attempt to differentiate from their internal-combustion-engine-powered counterparts. Between BMW's fake grilles, Tesla's textureless bodies, and Hyundai's extreme desire to make the most "futuristic" looking car possible, many new EVs have forgotten that they still have to look… well, attractive. Porsche's design team is one of the few that stayed sane enough to produce one spectacular looking EV.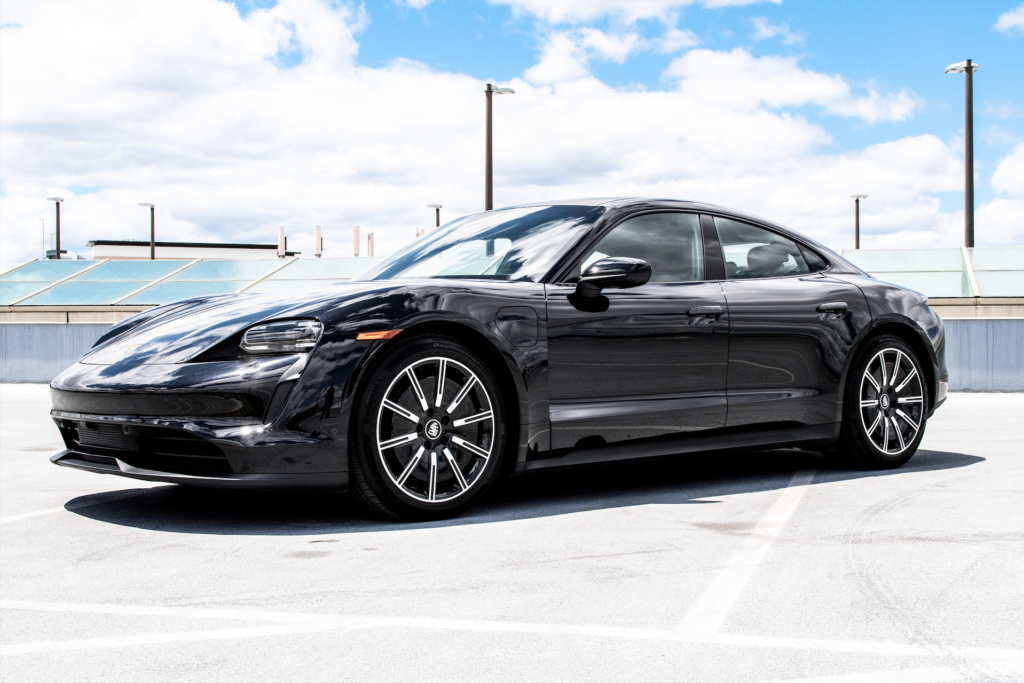 Porsche based the Taycan's design philosophy off of the Mission E concept, along with some fine tuning to create a truly exquisite vehicle. The Taycan has been given a series of vents above its splitter in exchange for the Mission E's low-mounted grille; these increase airflow through the vehicle as opposed to solely around it. Air directed through these vents get sent to the wheel well where they are met with an escape route to the side of the vehicle. Once the rear spoiler engages at 56 miles per hour, dirty air is aided in progressing away from the car, or as Porsche puts it: "it demonstrates where an electric vehicle becomes a sports car and a sports car becomes a Porsche." Aerodynamics this intelligent equate to a drag coefficient of 0.22 — one of the best ratings of any EV on the market today.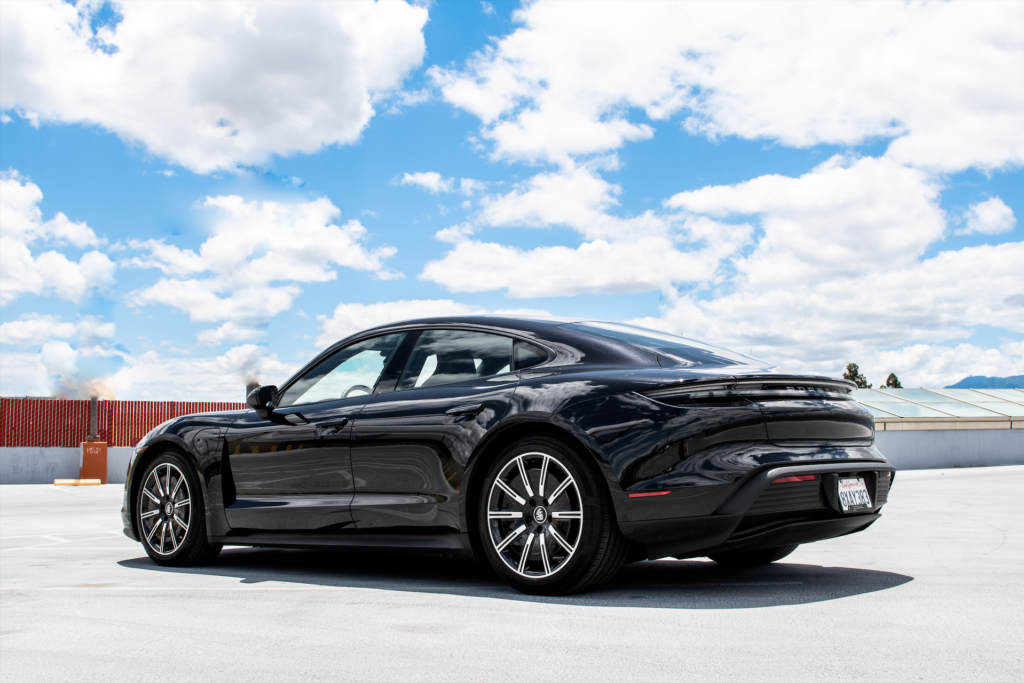 Better still, the Taycan's emphasis on aerodynamic efficiency didn't compromise appearance, it is still drop-dead gorgeous. Our test vehicle sat on 20″ Sport Aero Wheels which have rapidly become my favorites for the Taycan. They are subtle but perfectly stylish — as they should be as a nearly $3,000 option. A Jet Black Metallic coat of paint further compliments the Taycan's buttery-smooth body lines, especially as the California sun emphasizes the wide, fluid fenders. Porsche completes this smooth, effortlessly modern design with a colorless light bar enhanced with the automaker's signature script and the easily recognizable "Taycan" badging.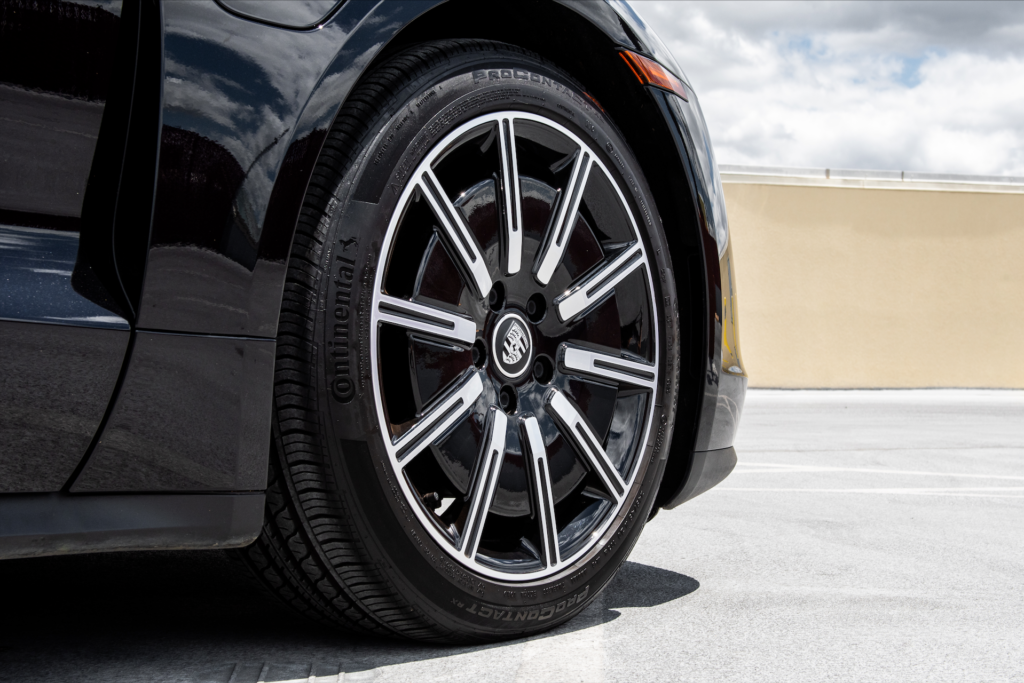 A little bit of everything inside
It wouldn't be an interior of a Porsche without a divine balance of luxuries, creature comforts, and the low, tight feel of a sports car. The Taycan is no exception. The 8-way Power Seats clad in Bordeaux Red leather firmly gripped my body around narrow turns allowing me to remain as comfortable and focused as possible. These easily-configurable seats are just as useful in the rear as I had the perfect amount of legroom, headroom, and stability when I played passenger during the test drive.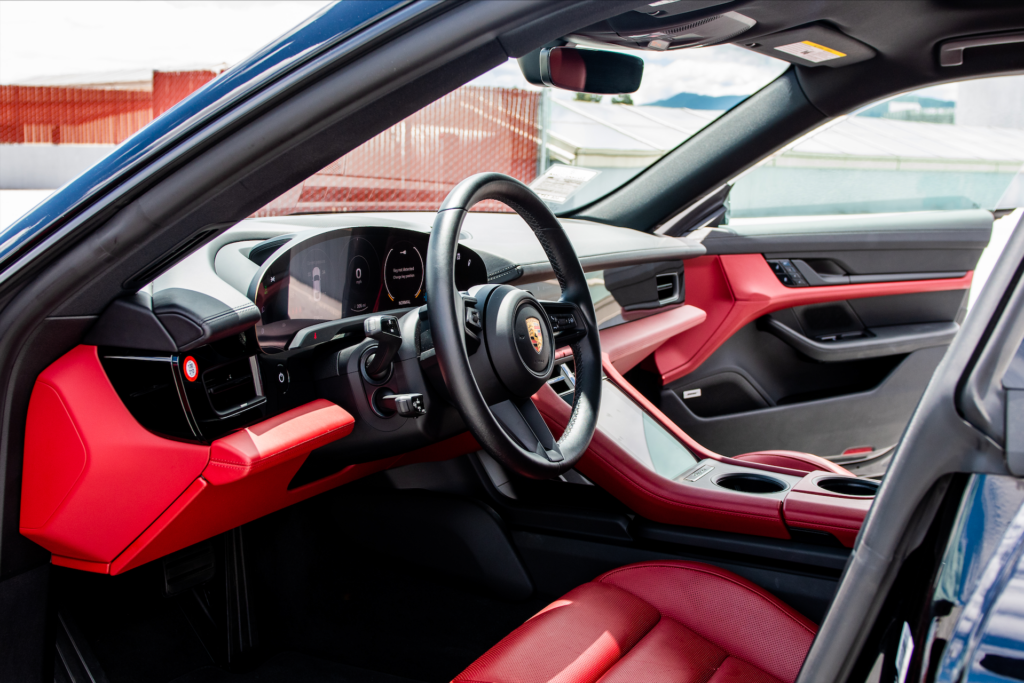 Feeling a bit hot as summer begins? Indulge yourself in the multi-way climate controls. The air conditioning system had no issue cooling us down from the day's 80-degree heat. This, and other controls, are operated via the Taycan's two-screen system in the dash and center console. Three screens are available as an option for 2022 Taycan models, and standard for 4S models and above, meaning the base model I tested is the only Taycan that leaves the third screen section of dash empty. Of all the corners Porsche could have cut, this is one cuts a bit deep.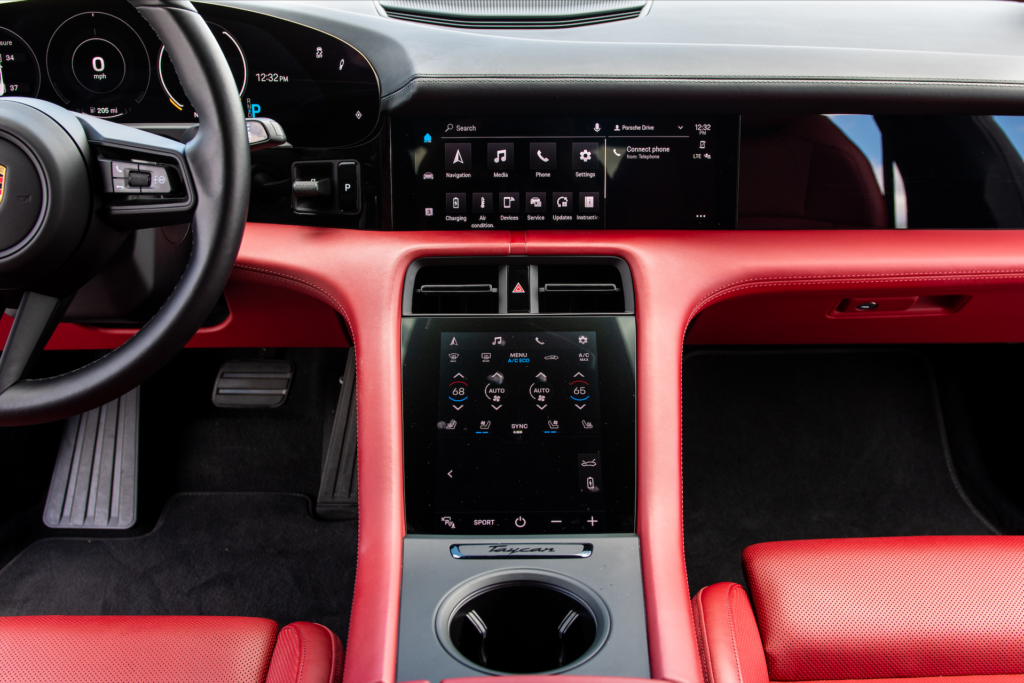 The blank section is filled in with what appears to be just a blank piece of the would-be screen's glass which is rarely a good look. Ease of operation for the front seat passenger is also compromised as they now have to lean over to their side to navigate menus and operate functions. It may be a first world inconvenience, but one that people spending almost $100,000 would rather do without.
An underwhelming spec sheet
Torque rules when it comes to performance EV specs. The amount of instant torque that powers 0-60 sprints, quarter mile times, and rivals even the fastest Italian supercars is a critical selling point. After all, why else would buy a performance EV? Certainly not for the noise it makes during acceleration.
The Porsche Taycan has some clear rivals in the torque department and the race from 0-60. Tesla's $100,000, base Tesla Model S and $62,000 Model 3 Performance both only take 3.1 seconds to hit 60 mph from a standing stop. Contrast that to the $86,700 Taycan (almost $96,000 as tested) which requires 5.1 seconds to get to 60 — a whole two seconds slower than the aforementioned Teslas. In 0-60 times, two seconds is an eternity.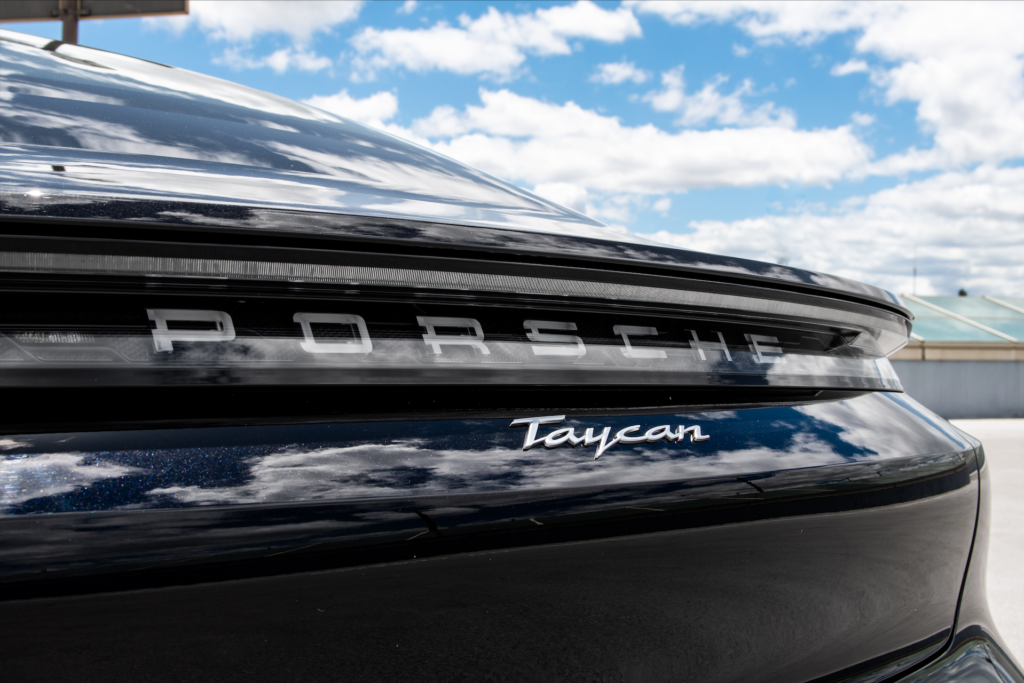 Porsche models usually don't have many challengers in the performance category, and the Taycan is no slouch getting up and going as I found on the test drive. But its single, rear-mounted motor produces only 321 horsepower (402 with 254 lbs/ft of torque you engage launch control) which might leave you looking at the back end of a Tesla once the light turns green. If that turns you green with envy, you might consider the $5,780 93.4-kWh Performance Battery Plus option which can increase maximum horsepower all the way up to 469 while also increasing range.
Range, of course, is the other currency in EV bragging rights, and is often a reason why buyers steer clear of certain vehicles. Low range numbers often give cause for pause in the buying decision for fear of "range anxiety" on longer drives. Porsche went to AMCI Testing for official range numbers where the Taycan was rated at 252 miles during a "real-world city/highway route" — considerably less than the approximately 400 mile range offered by the comparable Tesla Model S. The Performance Battery Plus option increases range to almost 300 miles following the same city/highway route.
Just as nimble as a sports car — even with four doors
Maybe the Taycan is a tad slow to 60. Perhaps its range figures are a smidge lower than others. However, the Taycan has something the no competition does: it's a Porsche, and that means it possesses sports car qualities that even with four doors shine brightly once it stretches its legs on the road. No doubt about it, the Taycan feels closer to a sports car than any performance EV vehicle I've experienced including the Tesla Model S and the Lucid Air Dream Edition Performance.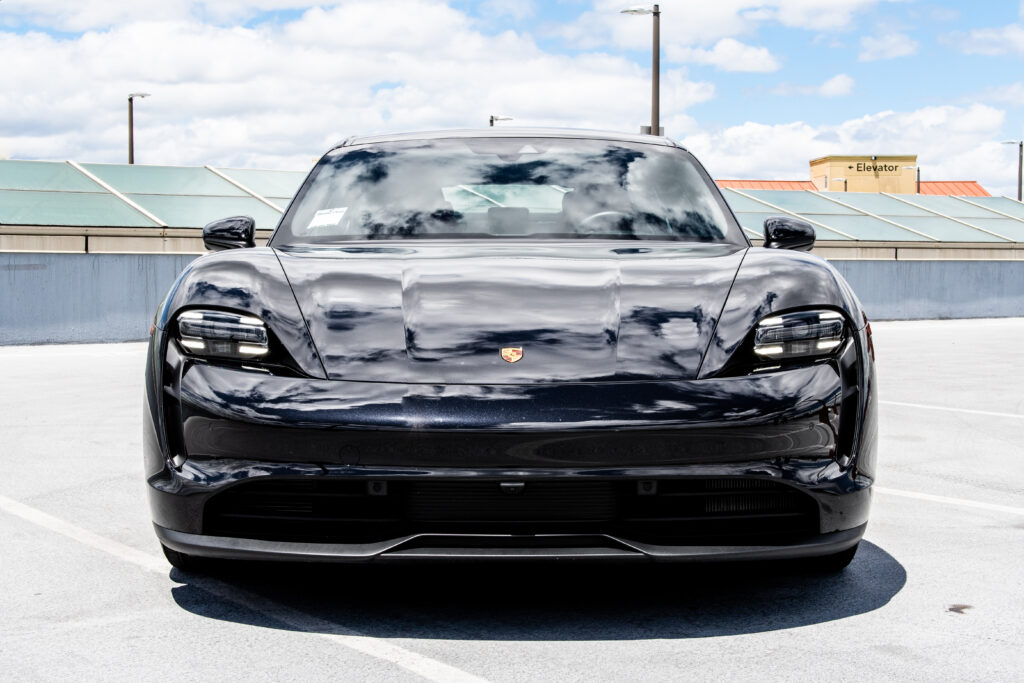 Porsche allows drivers to choose between a series of drive modes — Range, Normal, and Sport — for optimal comfort and performance. The available power and performance increases as you work your way up the modes, and by the time Sport is enabled all power is available and the Taycan becomes most agile. Sport also provides sharp, on-point steering in high and low speed corners, and relatively quick acceleration while still remaining nearly dead-silent inside… even at over 100 miles per hour. Matter of fact, the only way I realized the Taycan had reached triple digits was the subtle noise of wind beating down on the windshield. That's how quiet its acceleration is!
Some of our rear passengers were frightfully gripping the roof handles as the speedometer read increasingly higher figures past 100-mph for the sake of the road test, but they certainly weren't uncomfortable! The Taycan's silky-smooth Porsche Active Suspension Management (PASM) isn't excessively tuned for front-row comfort. Passengers in the rear, myself included when I sat in the back for a portion of the test drive, noted a smooth ride on imperfect Californian city roads and at freeway speeds. The Taycan certainly is an ideal choice for any drive.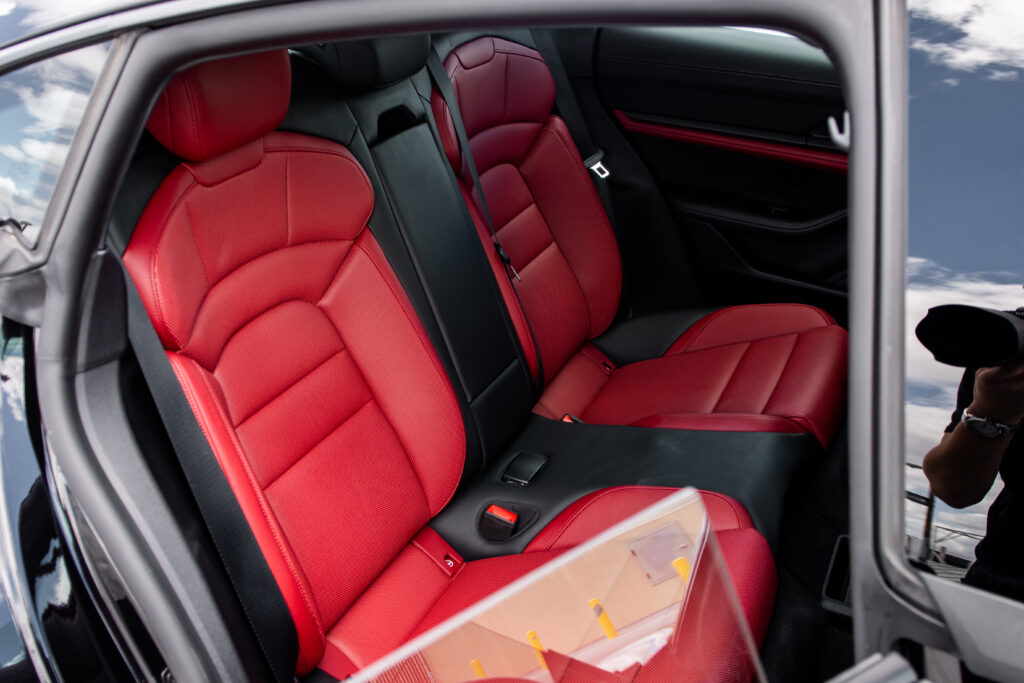 As well-rounded as it gets
Is the Porsche Taycan a perfect car? No, it has room to improve on certain aspects down the road. Yet even with its imperfections, the Taycan proves to be the best electric vehicle I've experienced to date. Outside of being extraordinarily nimble, sporty, and luxurious, it has a second-to-done driving experience. It's also a Porsche!
I believe Porsche has changed the definition of the base model. This entry-level Taycan is just as significant as the flagship Turbo S despite costing half as much at $86,700. It almost makes you wonder why anyone would opt for anything more expensive.
***
Special thanks to AJ Marucut and Chelsea Stewart of Porsche Steven's Creek for organizing my test drive and photoshoot with the Taycan. They've made this review possible and I look forward to collaborating with them in the future!
***
All photos by Mason Bloom