When it comes to holiday shopping, we all have people in our lives that are super easy to buy for and people who are super difficult to buy for. However, if that person happens to be an automotive enthusiast, Mopar has you covered this season with everything from branded apparel to lifestyle products and holiday themed items. It is important to note that shoppers can receive free shipping within the continental US by using code FREEDEC100 on orders of $100 or more from Dec. 1st – Dec. 31st, 2022.
Now, without further ado, let's get into some of the items. Starting with the holiday themed ones, if you're after an ugly sweater, you have two options. The first, I believe is new for this year, it's blue and white with a touch of red, follows the traditional ugly sweater pattern with a Mopar touch and will run you $79.95. The second option is less of a traditional ugly holiday sweater and more of a Mopar sweater with some snowflakes. It's blue and white, says 'Mopar Or No Car' and has more automotive touches. This one will run you $46.78.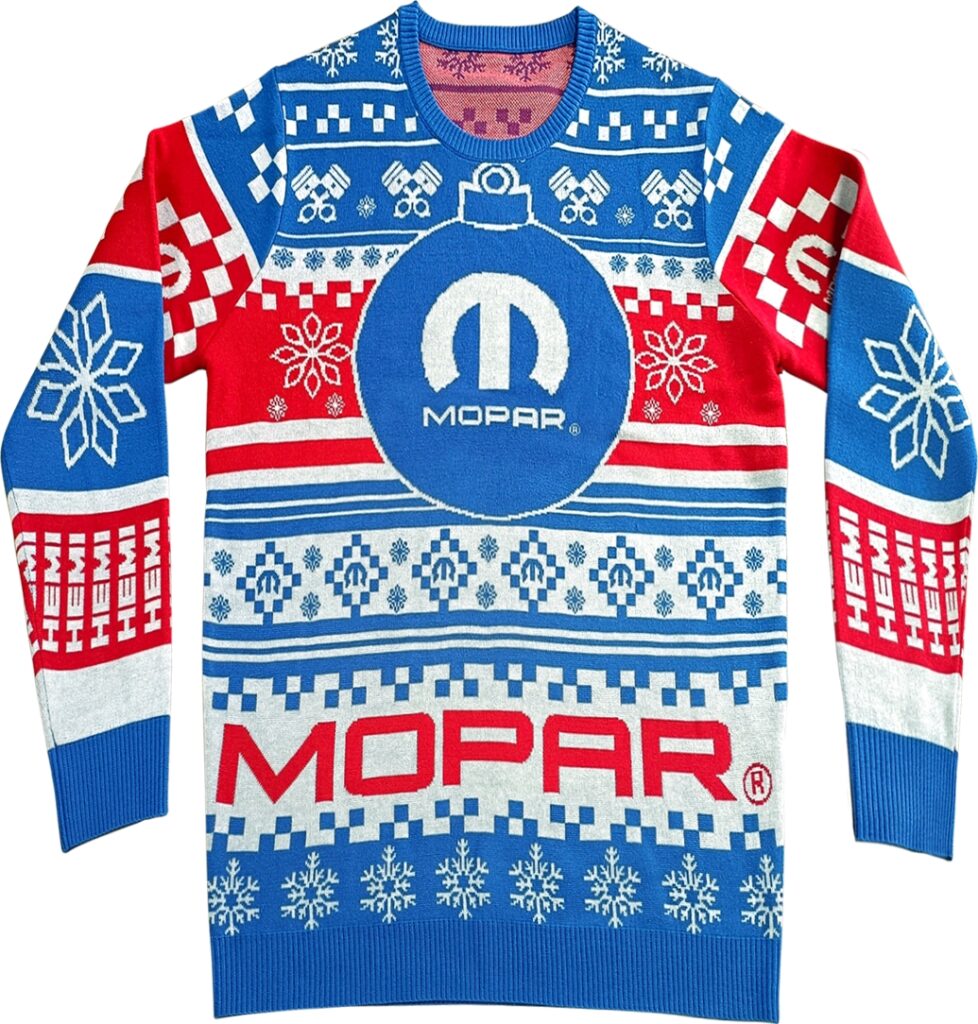 If you like the idea of an ugly sweater but don't want to be quite so out there, Mopar has the solution for you. Holiday socks! These come in a pack of two and feature two different patterns. The first is more of the ugly sweater vibe with the Mopar logo and the same pattern as the first sweater in the same colors. The second pair also features the Mopar logo, but the pattern is a more subtle argyle style pattern in red and blue on a white sock. These will run you $29.95.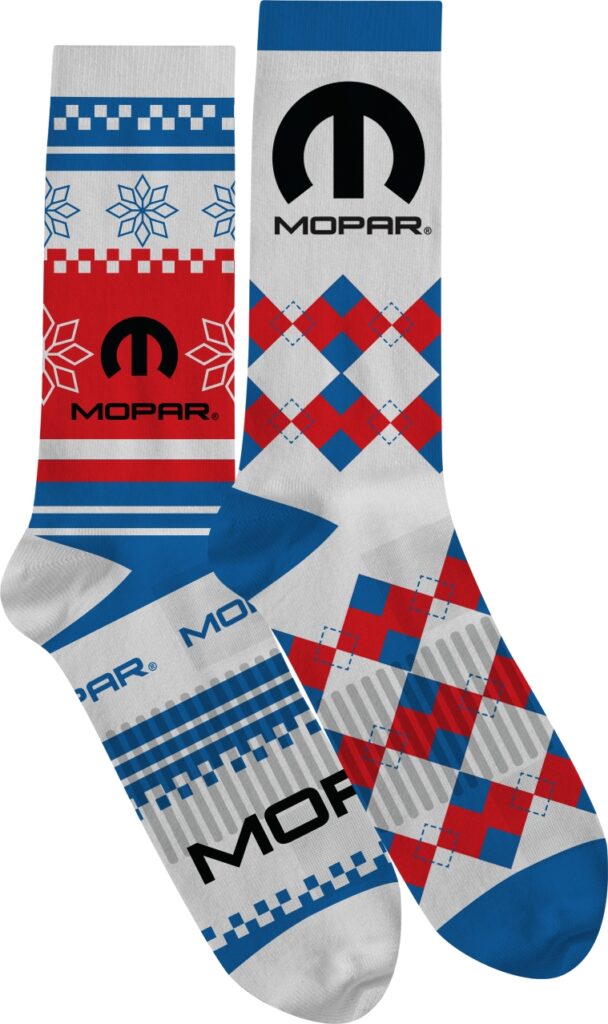 The last holiday themed item they have apparel wise, is a pair of fuzzy slippers. These slippers are actually pretty cute. They feature a blue and black check pattern, black fur and a white Mopar logo on the top. These will run you $24.97.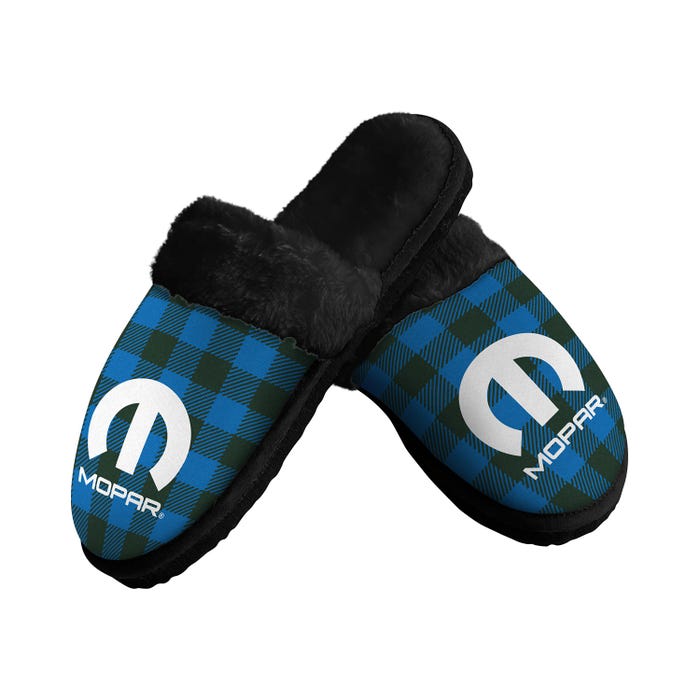 There are a couple of really nice drinkware sets in their holiday section. The first is the Mopar Sierra Copper Drinkware Gift Set. This set includes a 17 oz bottle and a 20 oz tumbler made from stainless steel and copper insulated. They both have Mopar written on them in blue and promise to keep cold drinks cold for 24 hours and hot drinks hot for 8 hours. This set will run you $54.95. The second drinkware item is a Mopar 20 oz Insulated Snowflake Tumbler. This tumbler is stainless steel, has double wall construction, is spill resistant, has a non slip bottom and it BPA free. It features a blue background with white snowflakes and Mopar written front and center, also in white. This will run you $32.95.

The last of the holiday themed items come in the form of two cute items. The first is a Mopar Snowflake Light Up Glass Ornament. This ornament is cool because it's not your everyday tree ornament. It's blue and features Mopar written in white, but it has laser etched snowflakes, that when you press the button on top, allow color changing light to shine through and really highlight the design. This will run you $8.95. The second of two items we have is some very cute Mopar Custom Holiday Wrapping Paper. This paper is a lovely shade of blue, features Mopar written in black and has the Mopar logo in white, made of snowflakes. This is an 18 foot roll, with 19.75″ W x 216.75″ L dimensions, the grid lines on the back and is made from 60# gloss text paper. This will run you $49.95.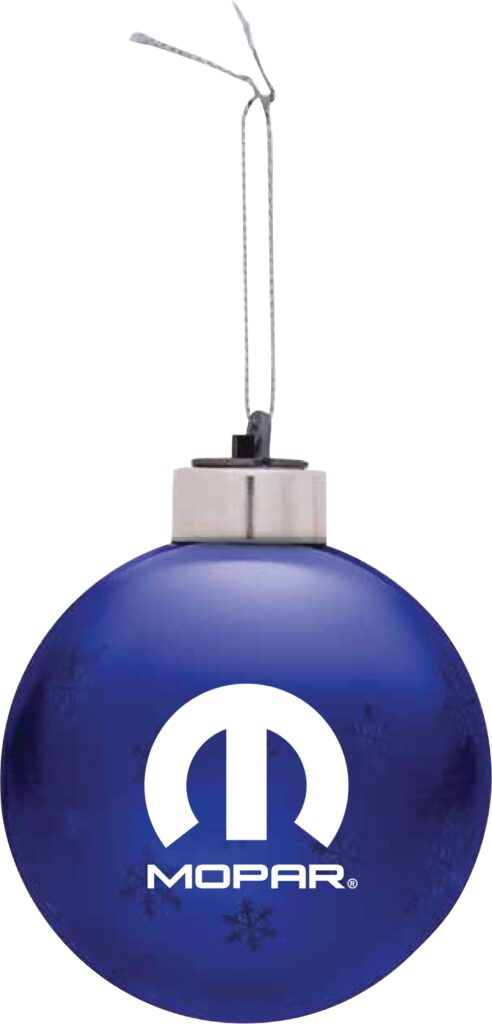 Now, if you're looking for some Mopar gifts that aren't holiday themed, I can help you with that too. You can obviously go check out their website for all the items available, but if you want a little bit if a gift guide, here we go.
For the ladies, we have the Mopar Women's Idealist Wind Vest. This vest is black with the Mopar logo in white and blue zipper pulls. It's wind proof and water resistant, has a drawcord on the lower hem and has to side hand pockets as well as a zippered front chest pocket. This will run you $76.95.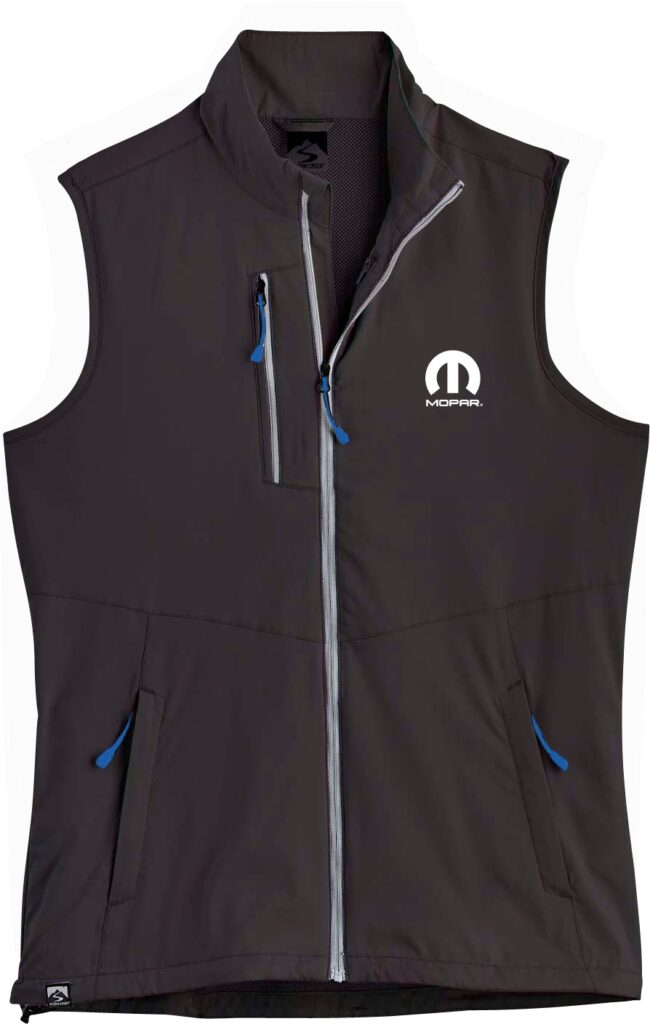 For the men, we have the Mopar Men's TravisMathew CrestView Indigo 1/4 Zip. This is the perfect thing to throw on whether you're being active or leisuring. It features the Mopar logo in black and blue, has a zip through collar with a reverse coil zipper and will run you $104.95.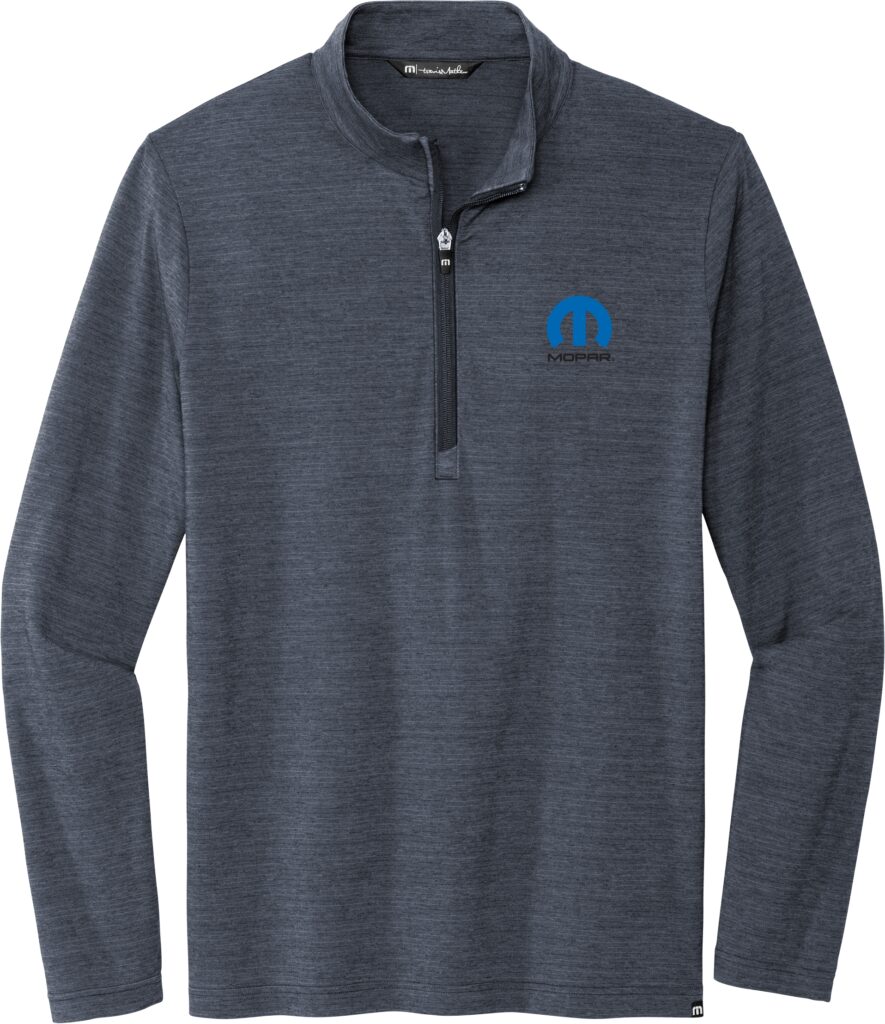 Now we're into the 'for everyone' section of apparel/accessories and we have three items. The first is the Mopar Heather Black Buckle Closure Cap. This hat is one size fits all and has the buckle and grommet closure. This cap is made from performance interlock knot fabric and features the Mopar logo on the left side in the form of a 3D rubber applique in black, blue and white. This will run you $21.95. Next we have the first of two bags. This is the Mopar Nike Duffel Bag. This is a soft sided bag with both the Mopar logo and the Nike logo. It has a large main compartment with a mesh divider, multiple interior pockets, an outer zip pocket, an adjustable shoulder strap and perforated zones for ventilation. The capacity of this bag is 34 liters and the dimensions are 18″ L x 9.5″ H x 8″ W. This will run you $119.95. The last bag we have is the Mopar Oasis Backpack. This backpack has a large main compartment, internal laptop compartment that fits up to a 17″ laptop, external zippered pockets, ergonomic padded shoulder pads and a padded air mesh back panel. There are easy snap and adjustable straps for the main compartment and headphone access. It features the Mopar logo on the middle on the center flap in white and will run you $114.95.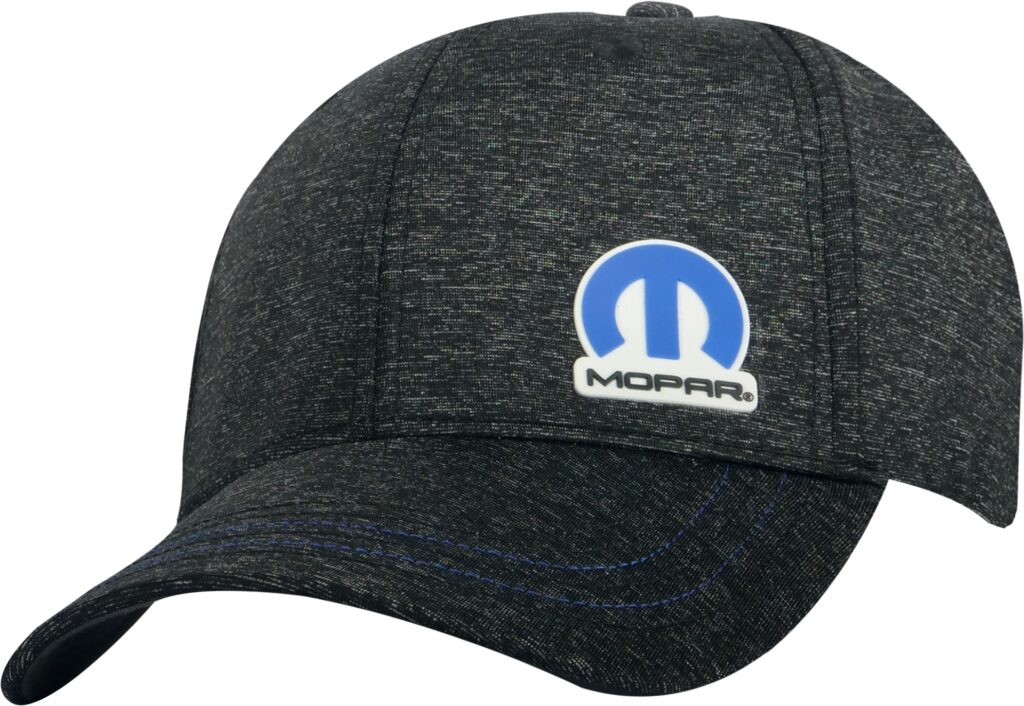 To finish off this gift guide, we have three lifestyle items. The first is the Mopar Double Retro Speaker. This is a portable, wireless dual speaker cabinet with built in dual woofers, and premium sound quality with built in controls. 3 hours of charge time will give you 10 hours of audio and it works up to 25 feet from a connected device. It has dimensions of 5 7/8″ L x 3 3/8″ W x 3″ H, is made of composite wood and available in bamboo with the Mopar vintage word logo imprinted on the top in black. This will run you $49.95. Next up we have a set of 4 Mopar 85th Anniversary 16 oz Beer Can Glasses. These feature the Mopar 1959 – 1963, Mopar 1937 – 1947 logo, Mopar 1972 – 1984 logo and Mopar 85th anniversary logo. These logos were sandblasted onto the glasses, therefore are hand wash only and will run you $79.95. And the last item we have in the gift guide is a big one, it's the Mopar 85th Anniversary 48 Quart Cedar Cooler. The frame of this cooler is made from hand cut cedar with a nested cooler. It has a steel handle and hinges, a bottle opener on the front and an easy drain faucet on the side. It holds up to 48 quarts, has dimensions of 19.5″ W x 27.25″ L x 27.5″ H and weighs 48 pounds. It features the Mopar 85th anniversary logo on the front and it has been laser etched. This will run you $625.95.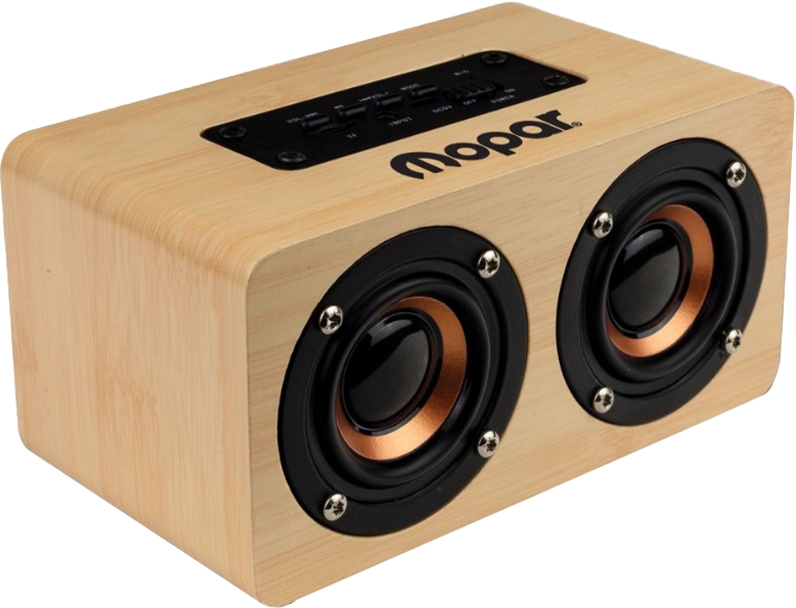 That about wraps it up for the Mopar Gift Guide 2022, I hope this was helpful and gave you guys some inspiration. Have a wonderful holiday season and happy shopping!