Just about one year after the 'fracas' between Jeremy Clarkson and BBC producer Oisin Tymon, the sacked Top Gear host has finally spoken out about the incident and the tumultuous relationship between himself and other executives. In The Times magazine article, Clarkson explains that the relationship degenerated via issues ranging from politics, the naming of Clarkson's West Highland Terrier, and to the BBC's lack of support through the death of Clarkson's mother:
I said, 'My mother's just died. Please leave me alone.' But they wouldn't. And it was bad. We were doing the TV show and the live shows, and three newspaper columns a week and endless investigations into whether or not we'd said this or done that or whether or not my hair was straight or my teeth were cleaned. It went on and on and on. It was very tricky. So there was quite a lot of pressure that year even for a jovial soul like me to handle. I was very close to my mum… In one year I lost my mother, my house, my job.
Clarkson also singled out BBC former Director of Television, Danny Cohen in the article:
Danny and I were, and I suspect will remain for ever, very far apart on every single thing… Normally, you could find some common ground with somebody, but I think Danny and I could probably only get on perfectly well so long as we absolutely never had to think about each other for the rest of the time… Because I don't mind anyone having an opinion that's different to mine, just so long as they don't mind my opinion either. So long as it doesn't impinge on what I want to do.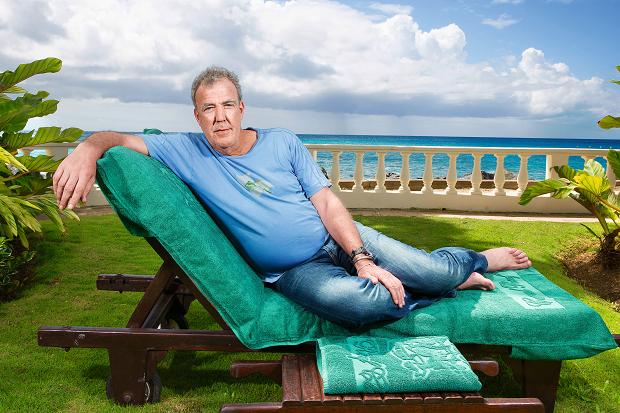 Jeremy Clarkson in Barbados for The Times interview
[ads1]
The 'fracas' between Clarkson and Tymon was apparently over the lack of steak. At the end of filming in Yorkshire, the Top Gear host was not served steak at which point he subjected the producer to a half-minute physical and verbal attack. The producer then filed an injury claim along with a racial discrimination suit against the presenter and BBC, which has been settled in February to the sum in excess of £100,000. Clarkson has since apologized to Tymon:
I would like to say sorry, once again, to Oisin Tymon for the incident and its regrettable aftermath… I want to reiterate that none of this was in any way his fault… I would also like to make it clear that the abuse he has suffered since the incident is unwarranted and I am sorry too that he has had to go through that.
Source: The Times