I made a hand drawn poster of the MKIV Toyota Supra in high school. It was almost life size, it was in black and white, and it looked pretty damn good, if I do say so myself. Last night I attended a private unveiling of the next generation Toyota Supra, the A90, the GR Supra, the MKV Supra, among other invited journalists. Let's just say that this reveal tugged at some emotional heart strings.
There has been plenty of leaks about this car leading up to the scheduled press conference on Monday, January 14th 9:40am. From Toyota Mexico flubbing a video social media posting, to pricing leaks that made its way into enthusiast forums. But what Toyota has been capable of doing seemed to be keeping the horsepower figures under wraps. Now that the embargo has been lifted and all of the livestreaming sessions have ended, I can safely post that the 2020 Toyota Supra will make 335 horsepower and 365 lb-ft of torque.
But… the Z4?…
But doesn't the BMW Z4 make 382 hp and 369 lb-ft of torque? Despite the lower hp figures, Toyota claims that the 2020 Toyota Supra will go from 0-60 mph in 4.1 seconds compared to the BMW Z4's 4.4 second time. This is most likely due to differences in power band, engine tuning, and the Supra's lack of convertible hardware to carry around.
The Z4 and the Supra does share some similarities. That's because in May 2012 Supra's Chief Engineer Tetsuya Tada had a secret meeting with BMW, and what followed suit was a 2 year collaboration, where they agreed upon the hard points of the design, the engine, the transmission, the wheelbase etc. And given that BMW has an affinity to inline sixes, and that Toyota Supras have always been inline sixes, this was the perfect collaboration
The result is pure bred sports car that might be cheaper than you'd think.
Considering the MKIV Supra was priced in the $40,000 range back in the mid 90's ($69,500 in 2019) the GR Supra's $49,990 starting price seems like a pretty decent bargain. Especially since this latest Supra comes equipped with modern day safety equipment and standards, clever suspension, a more powerful stock motor, more amenities, the list goes on.
The Rollers
The 2020 GR Supra will be riding on a staggered setup with 19″ forged wheels. Wrapped around those wheels are 275/35R19 Michelin Pilot Super Sports and 255/35 for the fronts. Behind those forged alloys reside 4 pot Brembo calipers grabbing on to a set of 13.7″ rotors. As an added benefit for track day enthusiasts, the steel rotors have an aluminum hat to help reduce unsprung weight.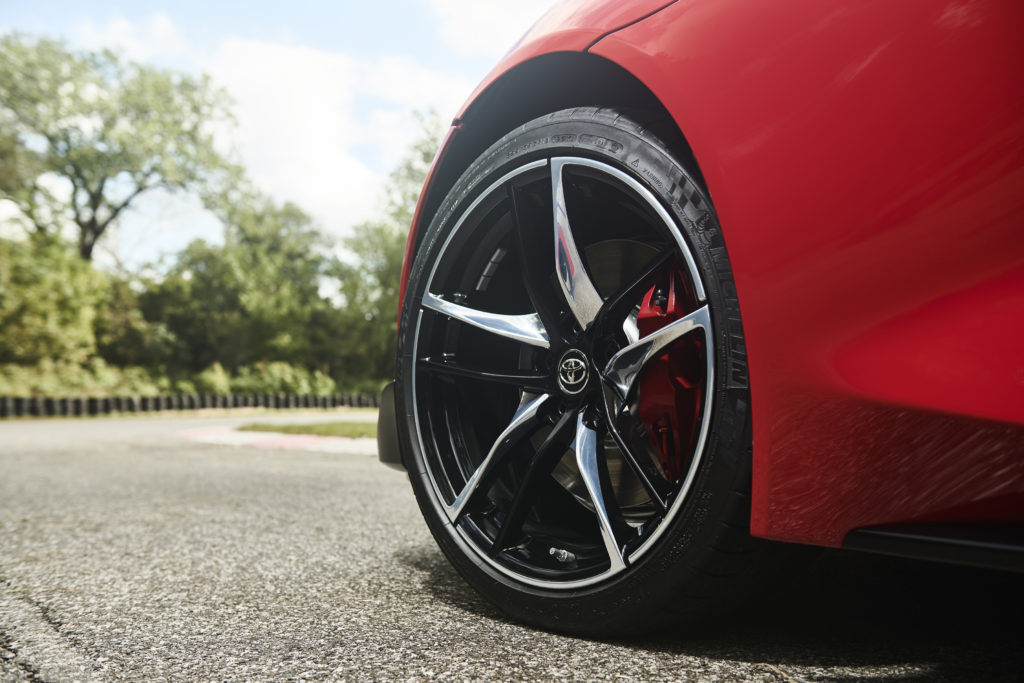 When it comes to suspension, the new Supra will have a double joint spring strut front suspension and a multi link rear. Standard on all Supras is Adaptive Variable Suspension that can instantly adjusts damping force. and that depends on whether you set this car on Normal or Sport modes. This is where you'll get a true Dr. Jekyll and Mr. Hyde.
Pushing the Sport mode button allows you to change different things:
Reduces traction and stability control
sharpens throttle response
increases steering weight
crisper transmission shifting
Sportier suspension damping
louder exhaust sound
more aggressive active differential tuning
The Active differential can precisely control torque distribution between the rear wheels – There is stepless variable locking from 0-100 percent, and it can distribute this torque during acceleration and braking. Essentially, this is the ultimate differential because it can generate torque vectoring, creating a yaw moment. so this is going to be perfect for track use and is inline with the pure sports car mentality that Toyota is gunning for.
No 4 Cylinder Turbo
As for a four cylinder turbo option, that certainly is a possibility, just like how the BMW Z4 has a four cylinder turbo variant making 255 horsepower. Unfortunately, that is currently not in the plans for Toyota at least in 2020, and at least not in the US market just yet.
3 Trims
"3.0": $49,990
"3.0 Premium": $53,990
Launch Edition (Based on the 3.0 Premium): $55,290
The first 1,500 examples of the 2020 Toyota Supra will be done in the Launch Edition guise. You can tell you have one because it'll have a high contrast red side view mirror caps, uniquely numbered, and you also get Akio Toyoda's signature on a piece of carbon fiber trim. Fancy!
8 Colors To Choose From!
Renaissance Red 2.0
Nitro Yellow
Downshift Blue
Phantom Matte Gray
Absolute Zero White
Tungsten Silver
Turbulence Gray
Nocturnal Black
Despite all of the performance niceties, ample amenities and high tech goodies, the worst thing going for this all new Supra is the fact that it isn't the old one. The MKIV will always live on as a legend, and this new Supra will just have to live under its shadow for a very long time.