Owning an exotic car makes you stand out, there are no ifs or buts about that. It's a showpiece that leads people to assume any number of things, whether true or otherwise, about your personality even before they've met you. That's the power of an exotic car. For some though, purely owning one is just the first rung of the ladder. Now that they stand out among the commonfolk, they need to be unique within their own circle of supercar enthusiasts and CEOs. That's where car wraps come in. Chrome-wrapped Bentleys or psychedelic Lamborghinis that look like they've spent too long listening to Pink Floyd's "Dark Side of the Moon" are all-too-common sights among lavish stretches of pavement like Rodeo Drive or The Strip.
Therein lies the issue: common themes among uncommon cars. It's a bit of an oxymoron really. It seems I'm not alone in my thinking either as Patrick Adair (@adair_auto), who you might know from numerous VINWiki videos, his custom hand-made rings, or his YouTube videos, has created the world's first Taco Bell-themed McLaren 720S. If you keep up with Patrick or have read my DRIVETRIBLE article (RIP) about his 720S, then you'll know this is the one he bought from Post Malone earlier last year. As is to be expected from a guy who makes rings out of meteorites, carbon fiber, and rose gold, a plain ol' 720S was just not up to snuff. After slapping the craziest-looking DarwinPro body kit on it, it was time for the wrap, and oh boy, did he match the out-of-this-world nature of the kit!
Q: Why did you decide to wrap your 720S in a Taco Bell-themed wrap?
A: I was wanting to wrap my car in something really unique that I also really liked. Supercar wraps these days are starting to become a bit stale. I wanted to do something different. I absolutely love the highly detailed and multi-colored liveries that Pagani has been doing on their vehicles lately. I think they're super unique and look absolutely incredible. I wanted to do something similar that has highly contrasting complementary colors, but instead of being super classy and formal, I wanted to take it in the exact opposite direction. I really like the irony of taking an amazingly beautiful vehicle then juxtaposing it with something completely out of left field. That's not to say I wanted to take a beautiful vehicle and just ruin it. I wanted the end result to look amazing, but completely unconventional, and I think I pulled it off.
I've always been a huge fan of Taco Bell. Not just of their food, but more of their personality as a company. They're always doing interesting, funny, and innovative things. Yes, they're just a fast-food brand, but they have such a massive impact on our culture, especially here in America. Everyone knows what Baja blast is. Everyone knows about the Doritos Locos Taco. They're constantly doing fun new things and I just love it. I also love the visual branding of Taco Bell, like their awesome logos and amazing color schemes. They create a ton of iconic stuff and I think in 50+ years when we look back, Taco Bell will stand out as one of the most iconic brands from this era. That's a bit dramatic, so to make a long story short: I think Taco Bell is cool so I wanted to wrap my car in a Taco Bell livery.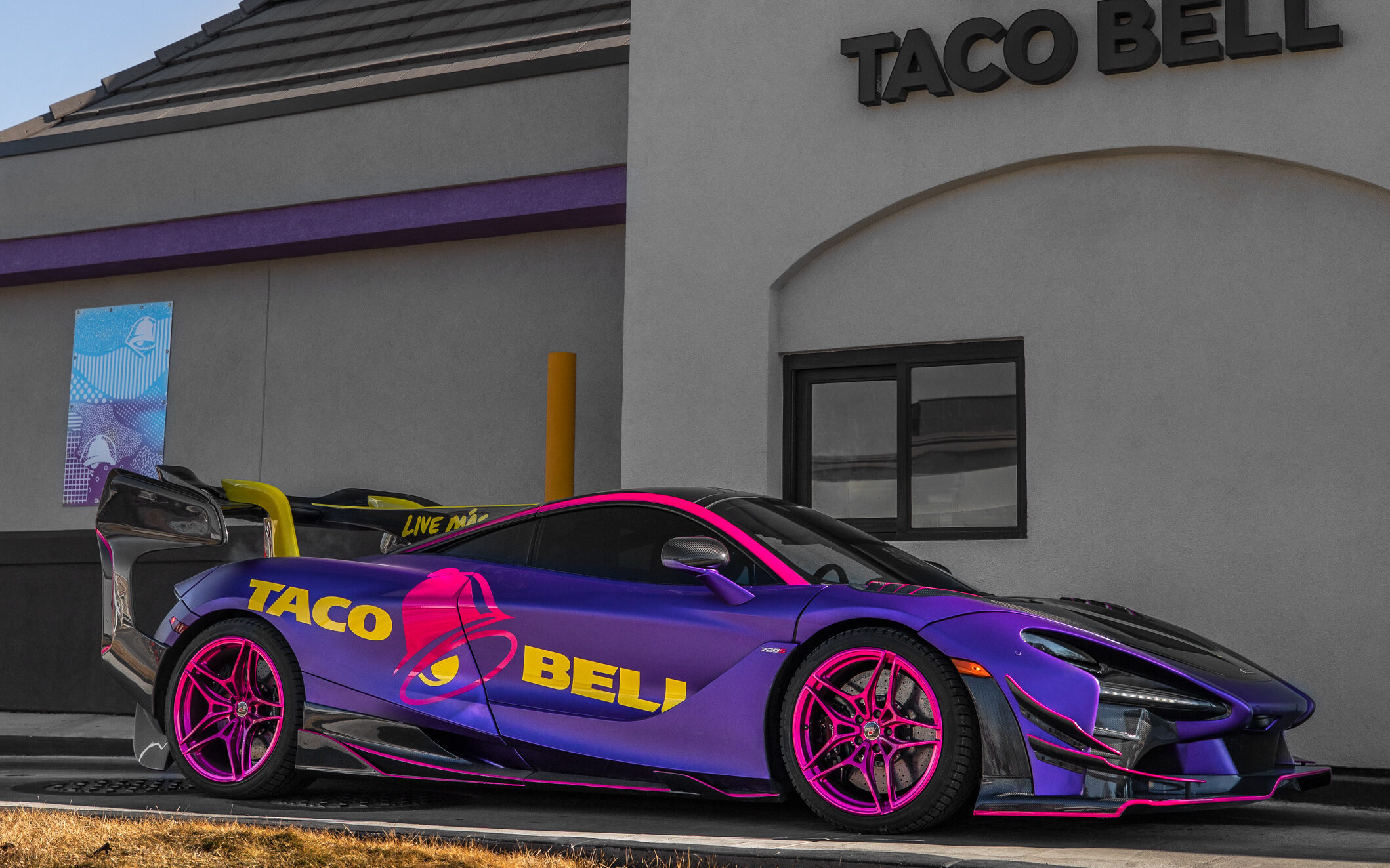 Q: Who created the design and how long did it take?
A: I designed it myself in photoshop. I tried 2-3 different designs and they all looked terrible so I started over and put some real thought into how I wanted to make a good-looking livery. I looked at 100s of other supercar liveries that I thought were cool and Pagani and Koenigsegg consistently stood out as some of my favorites. I love how they are able to use multiple colors and get aggressive with accents without completely ruining the look of their cars, which is a lot more difficult than you might think! I also did a decent amount of graphic design research on how to make a multicolored design work. Finally, I was able to put together a design that I thought was super cool and would also be: 1. Physically possible to install on my car 2. Look good from any angle and 3. Possible without the use of a vinyl printer (part of my goal for the project was to showcase different vinyl options from my sponsor KPMF and I wanted to use their solid vinyl colors rather than printing designs on a boring white vinyl).
Hive Garage and I wrapped it all by hand in one week. We put over 250 man-hours into it (the 720S is a beast of a vehicle to wrap). I filmed behind the scenes of the whole process which I'll actually be posting as its own video on my YouTube channel sometime in the next week or two.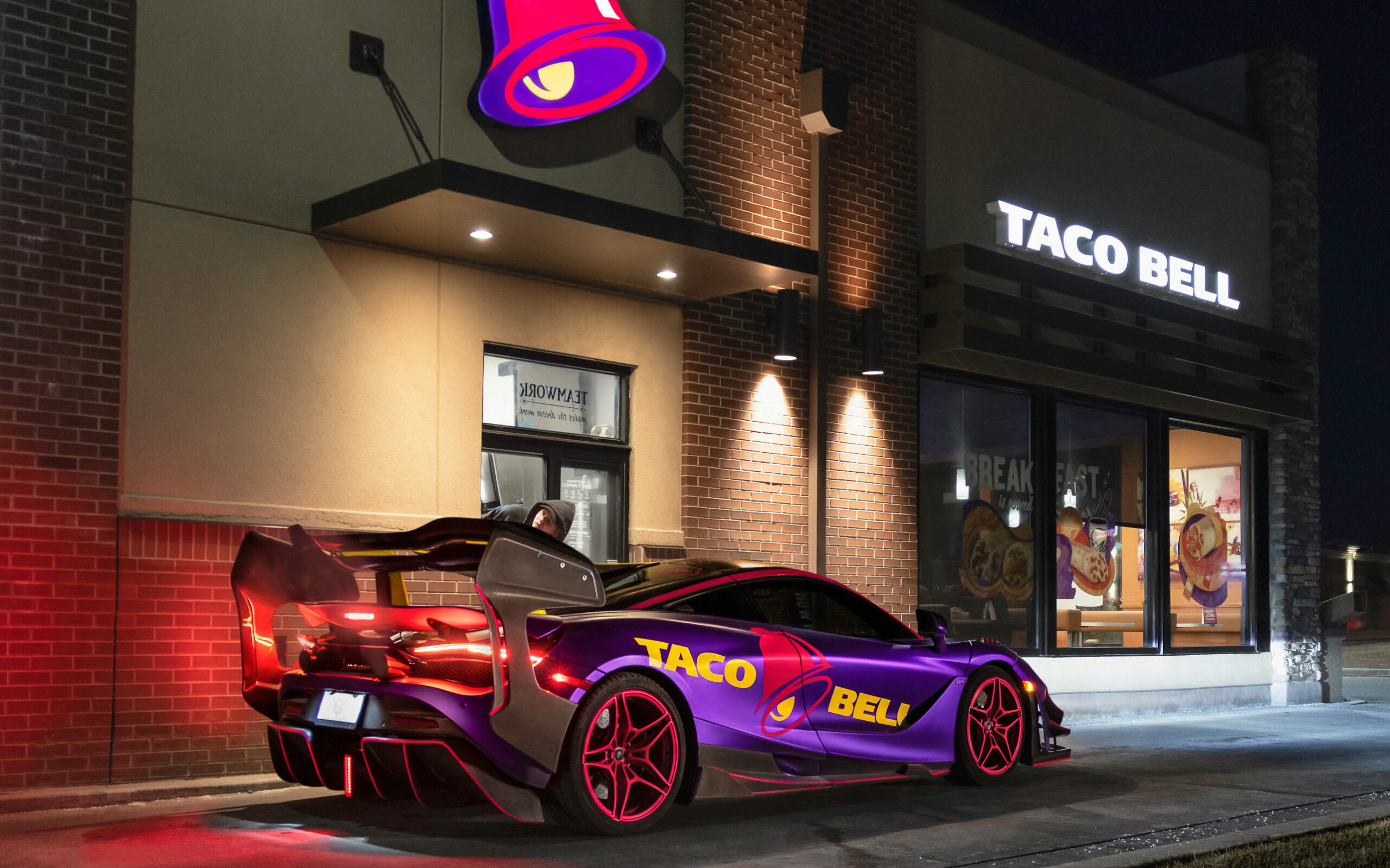 Q: Are you going to get a Taco Bell sponsorship now? Free tacos for life?
A: Taco Bell did not sponsor it in any way, it's just something I wanted to do myself. That being said, if Taco Bell reached out I'd definitely be interested in working together on some sort of content 😉
Q: Do you plan on changing the wrap often?
A: Not sure often but yeah, I'll probably switch to just a solid color wrap sometime in the next year or so.
Q: How do you plan on dealing with the inevitable wave of haters?
A: Response to haters? I really genuinely don't care, I think some people are going to absolutely hate it and that's fine. It's totally okay for someone to dislike the way it looks, personal taste is always going to vary greatly from one person to the next.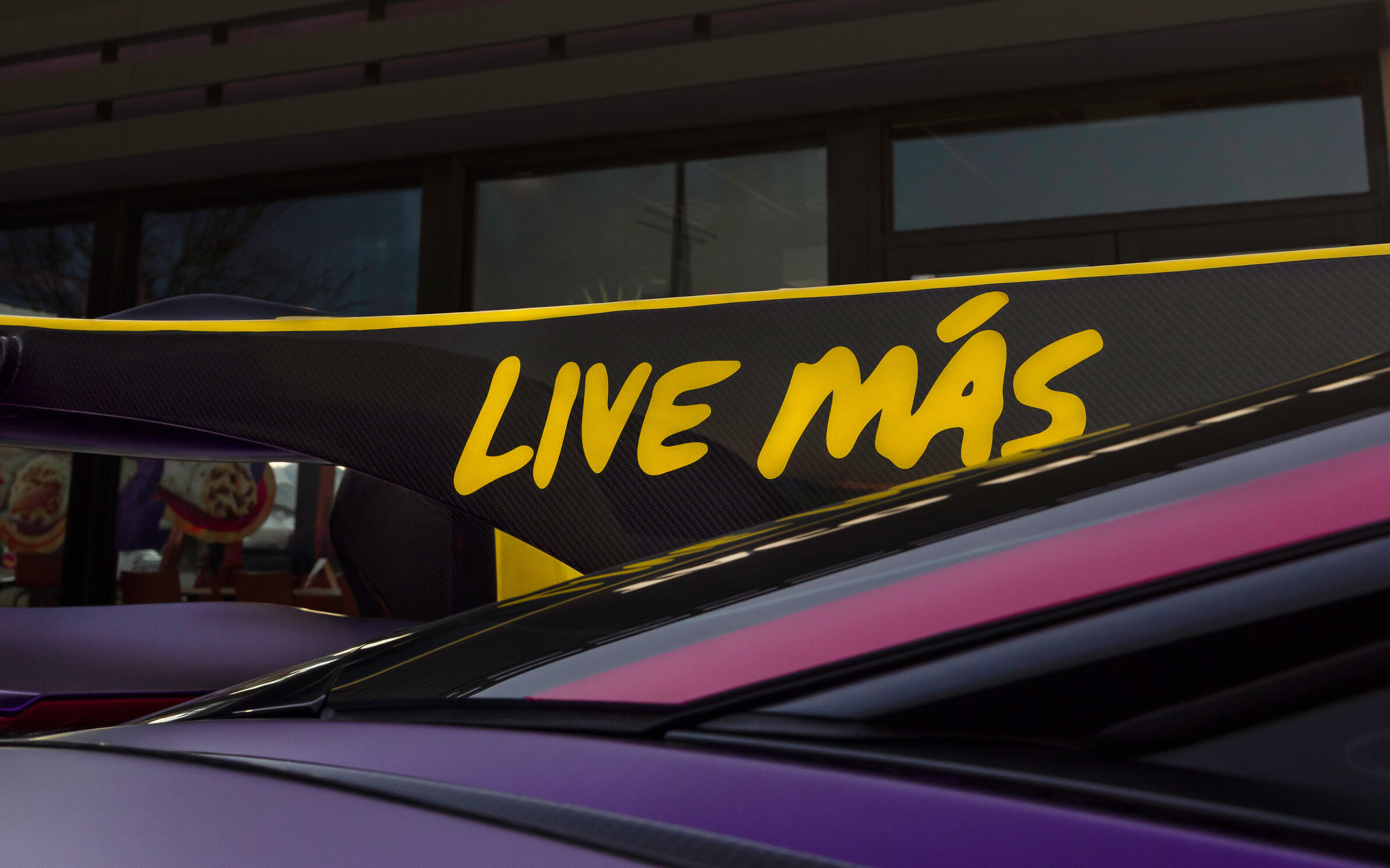 At the end of the day, it's a wrap that I created using solid design principles: complementary colors, a more toned-down base color with much brighter and vibrant accent colors, branding/logos that are clean and bold, etc. I know at the end of the day that there will be a lot of people out there that think it's pretty cool – plus I love that it's unique, no one has ever done anything even remotely similar (at least that I know of).
Personally, I dig the whole idea. When Patrick first described the design idea to me, I thought it was the most horrendous thing ever done to a McLaren. Now that I see it in action though, it's not that bad! It sure is unique, he's got that right, and I'm a huge proponent of standing out from the crowd. In short, I'm all for this idea! If you want to see more of the Taco20S, keep your eye on Patrick's channel for more content in the next few weeks! Live Más!