'Let's go four-wheeling,' he said. 'It will be fun,' he said! I was a bit skeptical. Breaking down in the middle of nowhere and trying to fix—or worse: not being able to fix—a vehicle is possibly my worse nightmare. I don't want to be stuck sleeping inside a Jeep, waiting to be discovered by some deranged hillbillies, intent on murder and stripping our precious rig.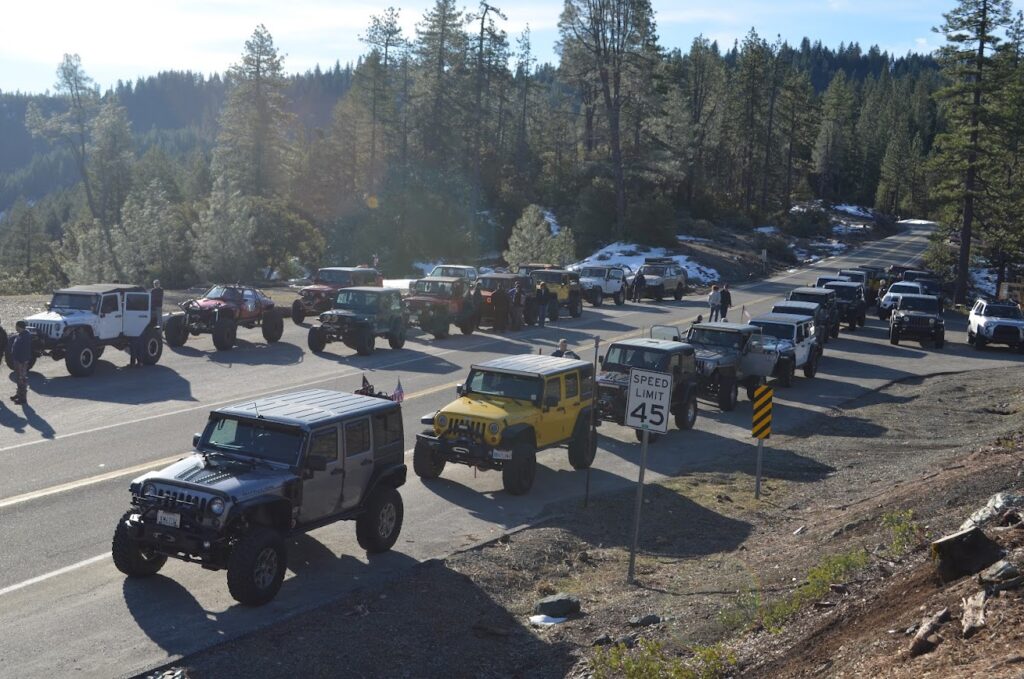 That might actually make for a decent Hollywood blockbuster. Imagine the crowds a film called, 'A Jeeping Adventure into Death' could bring! While my mind might resemble something more of an adult 'Calvin and Hobbes' adventure than reality, these are things I think about when trusting someone to get me out of the wilderness—one where cell service is non-existent and no one showed me a map prior to launch.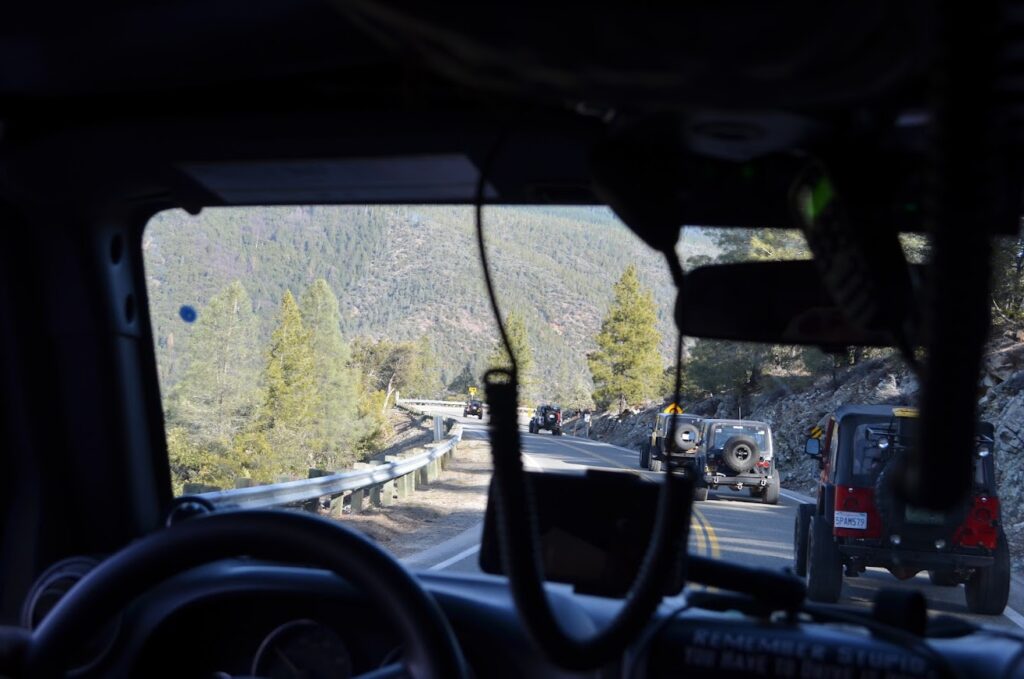 This trip wasn't to some exotic location, it was a trip into the wilderness outside my window. The wilderness I've known my whole life. The wilderness I've explored. You know my wilderness as the Sierra Nevada Mountains, I know them as the backdrop to my daily commute.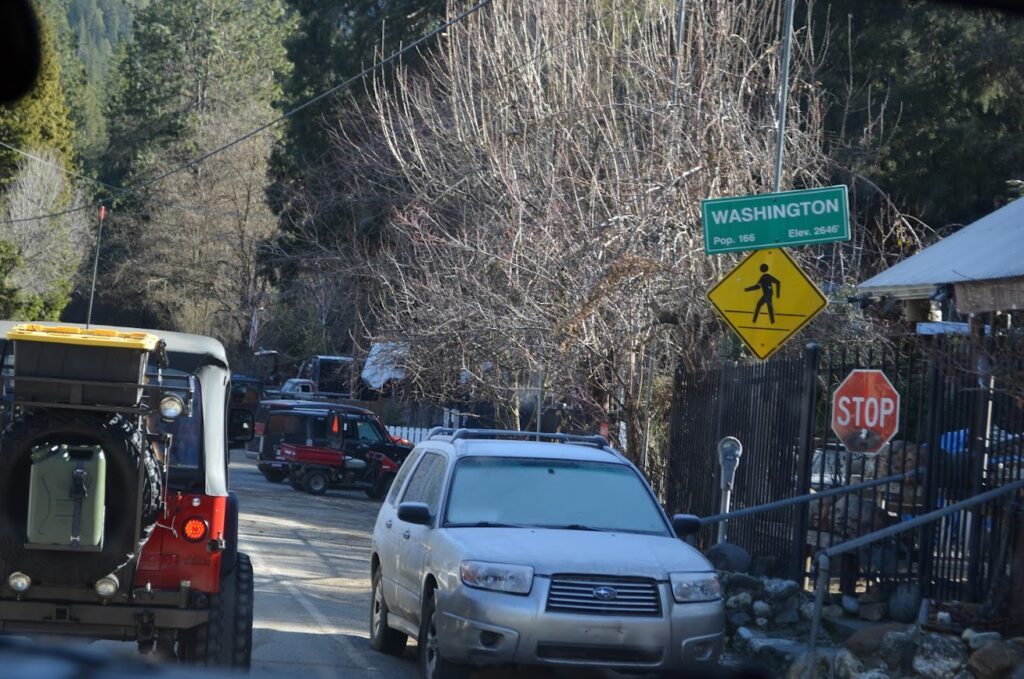 But like most locals, I never use the resources in my backyard. Instead, I fanaticize about off-road treks into jungles in exotic locations. I make inchoate plans to explore Moab, when the Rubicon and Fordyce trails are both within a two-hour drive from my front door.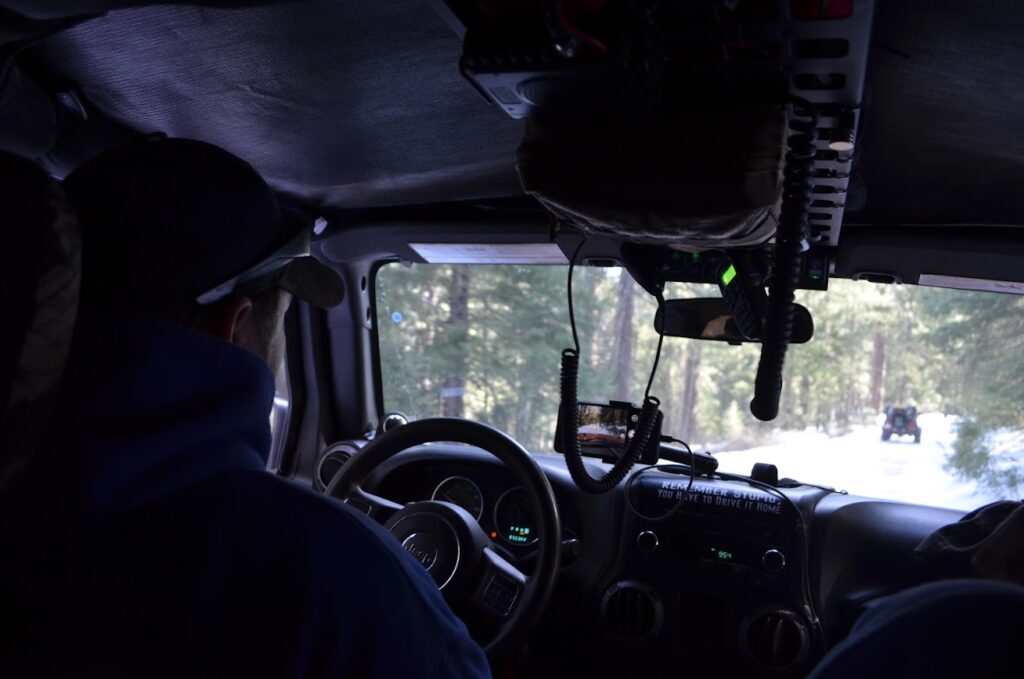 This trip is then a reminder of the exploring I haven't done in my backyard. It sure didn't sound sexy to me, but seeing the sea of Jeeps—enough to give David Tracy wet dreams—was a reminder that I'm in the minority. Several hundred participants showed up. This wasn't just any event, it was the Cal4Wheel Winter Fun Festival, run every year outside Grass Valley, California.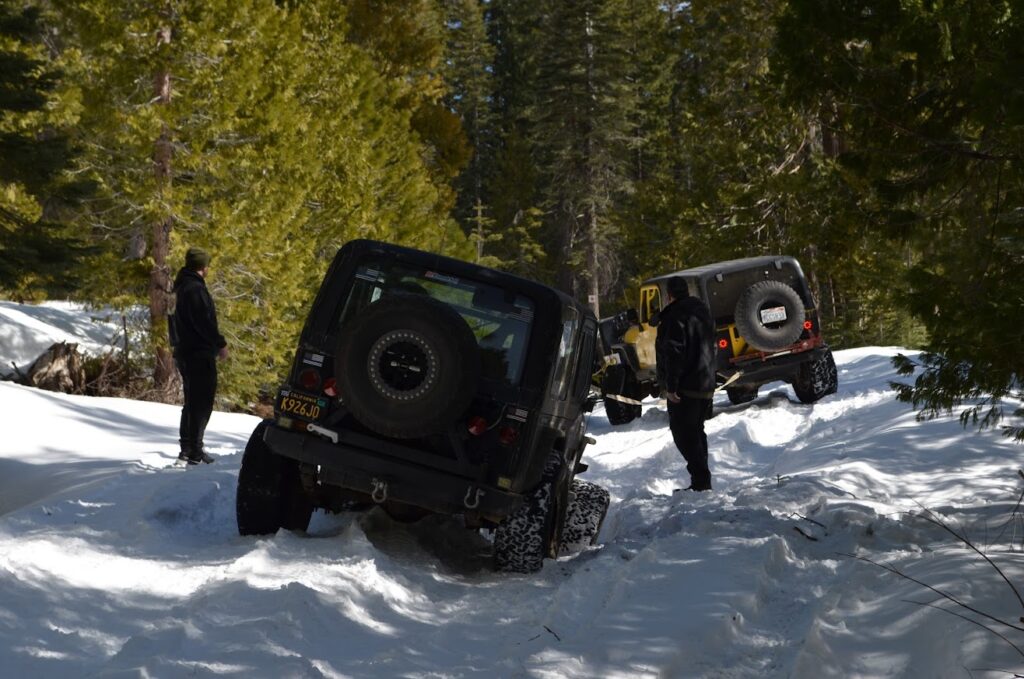 I had never participated in an organized event. The four-wheeling I've ever done is haphazardly planned and disorganized. This event proved to be guided, with the trail pre-run to avoid most unforeseen hazards for the forty rigs signed up.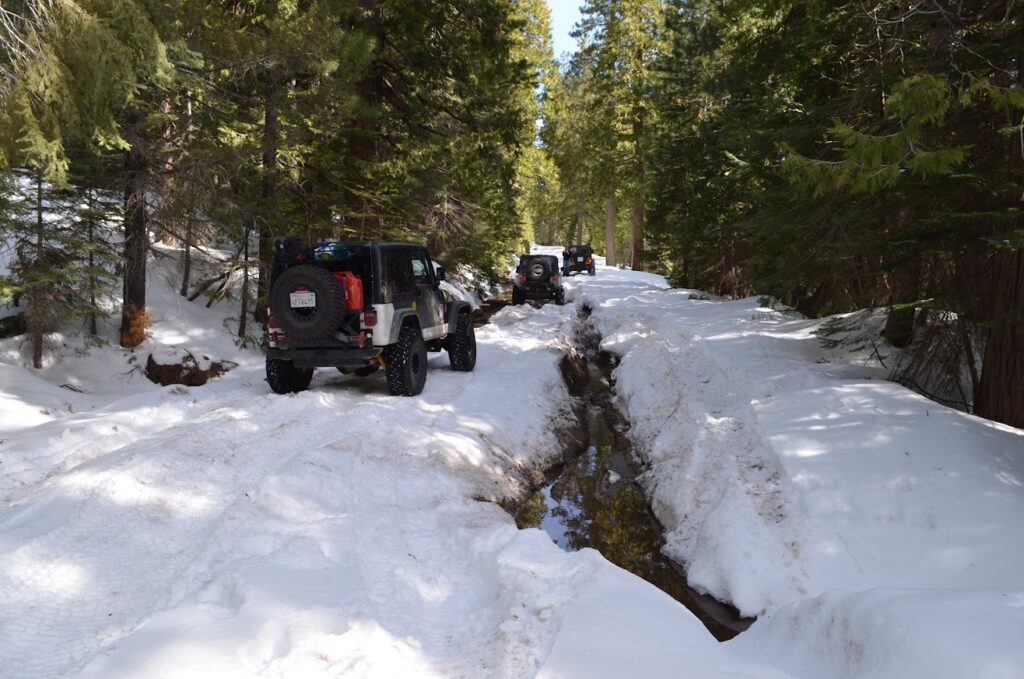 Our steed for the day was a 2011 Jeep Wrangler Unlimited, piloted by one of nearest and dearest friends. This rig has a mere 3-inch lift allowing 37-inch tires. I'll save you it's laundry list of modifications and just say it has all the highly recommended items (on-board air, lower gearing, rear locker, radios) and even a 2wd low kit installed in the transfer case—which ended up being the gear of choice for a good portion of the run as 4wd low was only required for obstacles.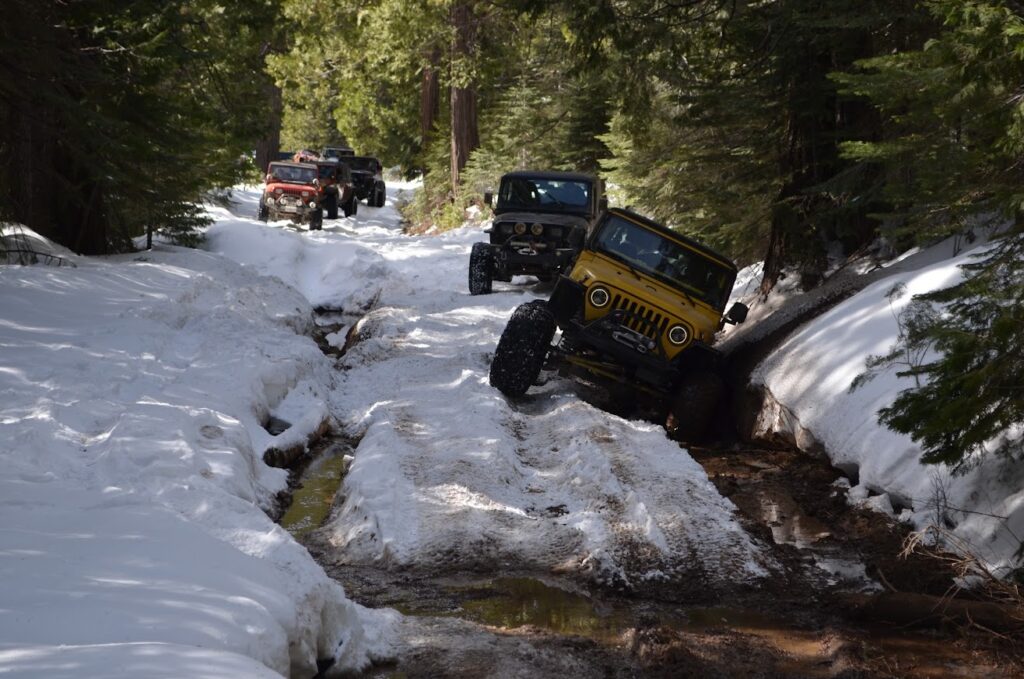 The run started from an overlook about 20 minutes outside of town, on a ridge top, overlooking old mining diggings. The vast majority of the rigs were Jeep Wranglers, mostly TJ and JK chassis. There were a couple Toyota 4Runners and FJ Cruisers. The wildest rig participating was an Opel GT body bolted on top of an 80s Toyota frame and running gear. The engine in the "Opel" was jokingly said to be from a Pinto, but it sounded like a 22R(e) to me.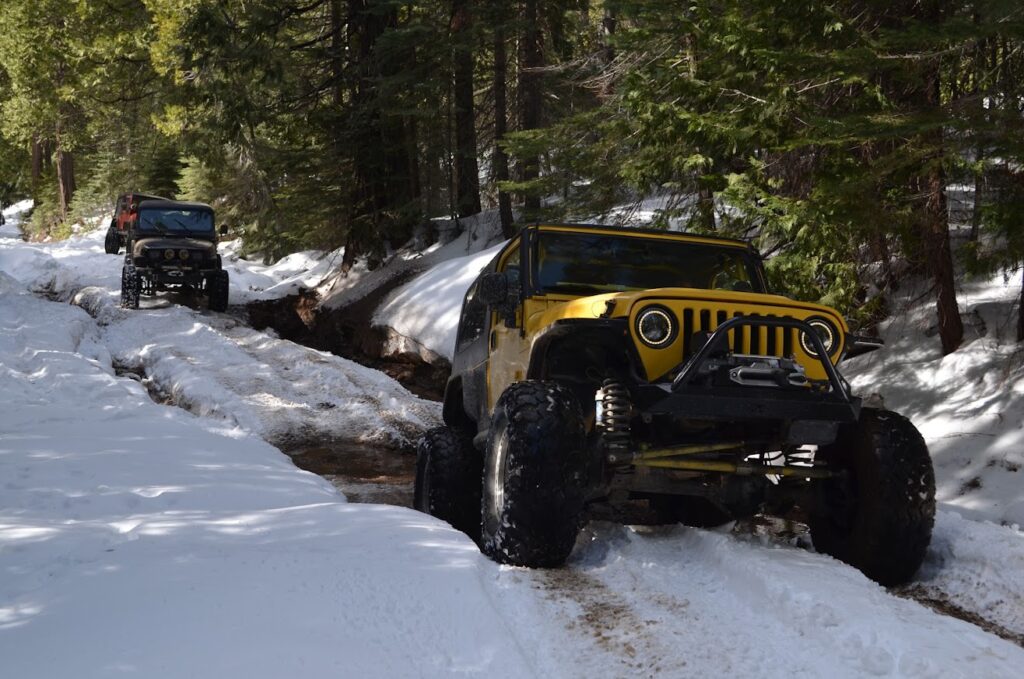 The drivers meeting continued with a safety inspection—a self-administered safety inspection, no one really checked to make sure you actually had all the items; they expected you to be honest. There were reminders of, "Make sure your D-rings are loose," and "Bubba Rope is far better than a tow strap if anyone has one handy."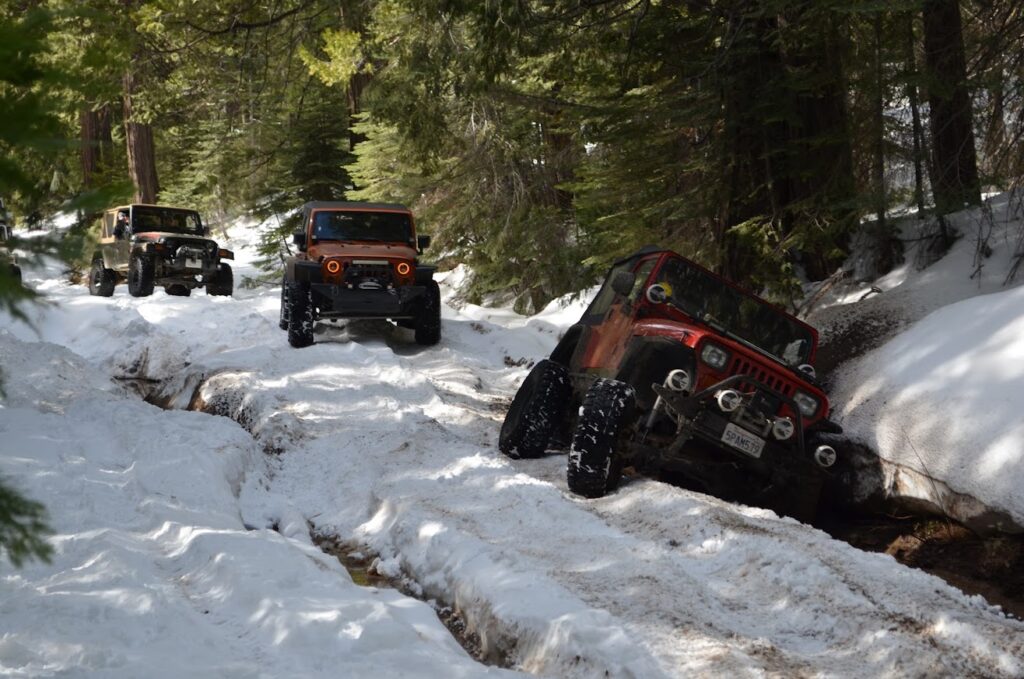 Once everyone checked off or lied about having all the required equipment, the group made their way down a steep road into the gold rush town of Washington, California. One paved street, hotel and bar, general store, volunteer fire department, and two-hundred or so people encompass this secluded and bohemian town in the Tahoe National Forest. This town is mostly unknown to the world—except for those river hole seekers and locals. I happen to know this town: half my family has a cabin here, or is buried in the cemetery. But where I didn't know was where we were going. We drove through down, across the river, and parked on the way back out of the river canyon to air down.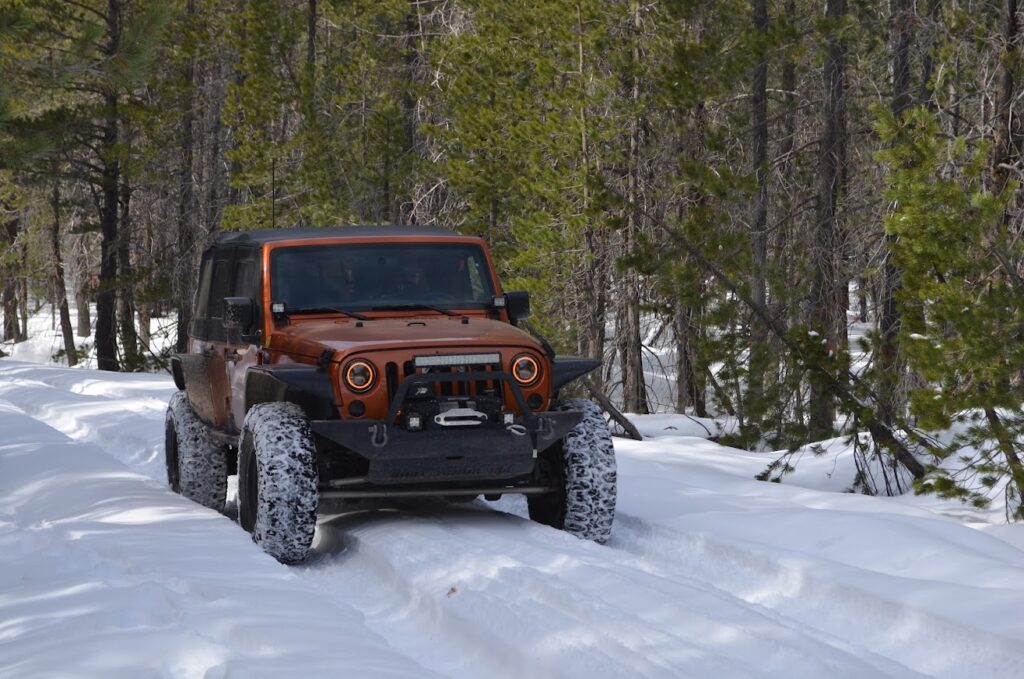 Ten pounds of pressure was the target. Awfully low but supremely comfortable and efficient. Another piece of required kit (automatic tire deflators) made hitting 10 PSI on each tire simple. It was here that the journey really began. But where was the snow? We were on rutted out, dusty road, mostly just one and a half lanes. As we climbed back out of the river canyon from Washington, we had to go another 20 minutes until the snow began to appear—first in patches, finally encompassing four to five feet.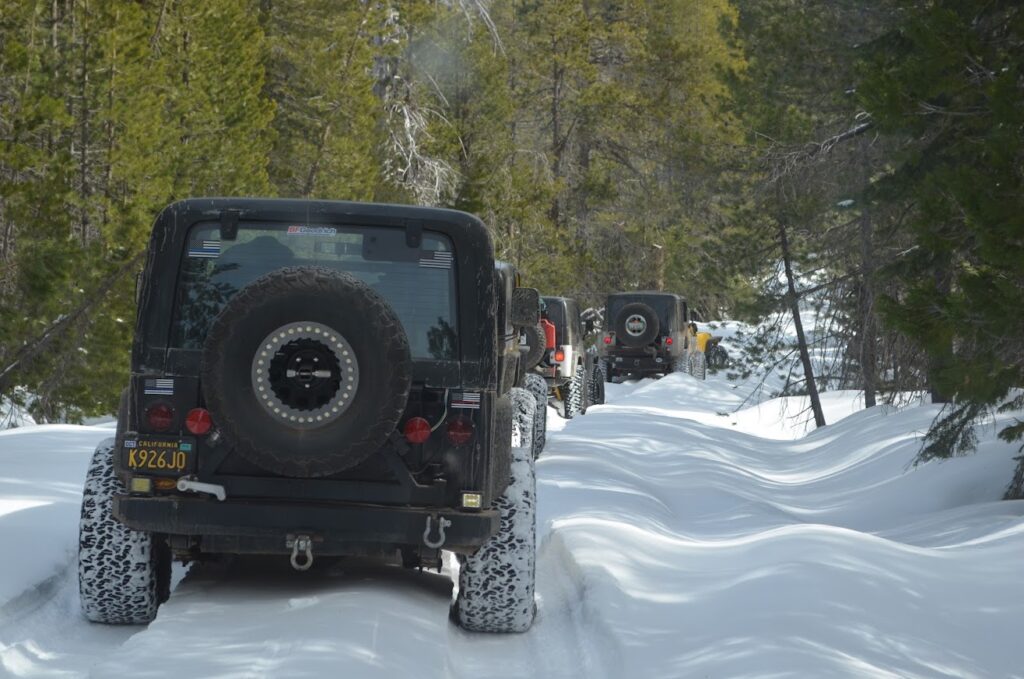 The first obstacle proved to be the most testing: a collapsed ice bridge, revealing a deep rut back to the dirt road surface. At first glance, it was a mere hump, but upon closer inspection, it was off-camber and would cause any rig to slide into the embankment. The rut at the embankment was mud and around two feet lower than the snowy surface.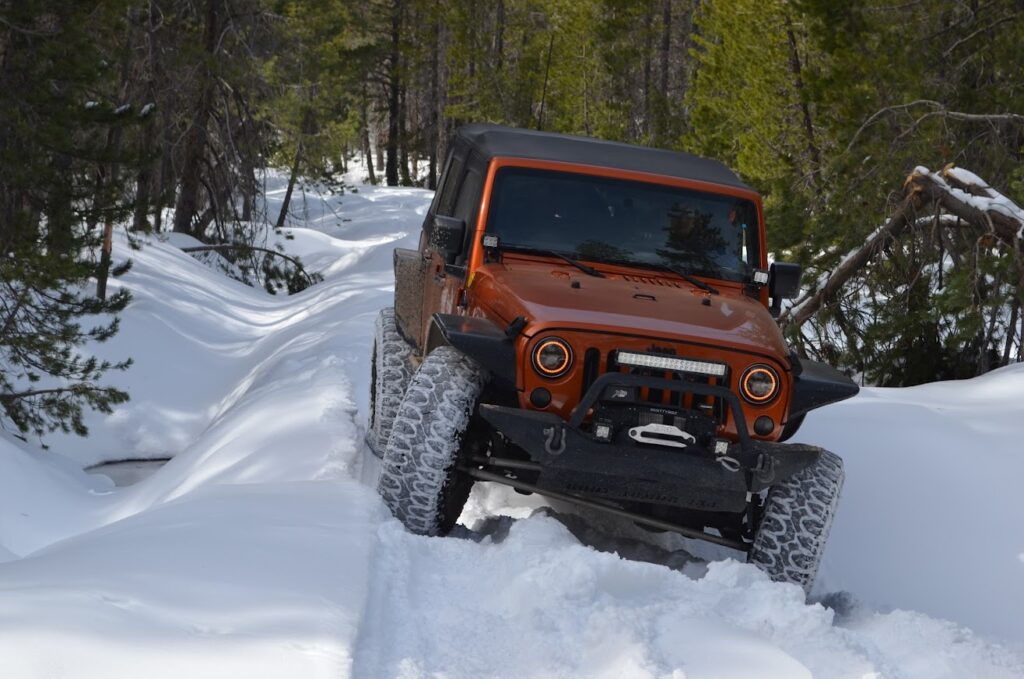 The first victim of the collapsed ice bridge was comical: a YJ without working 4wd. The YJ received a tow strap that stayed affixed until lunch; it was now a moving obstacle in front of the group; those at the rear began to complain—rightfully so, this was the FIRST obstacle.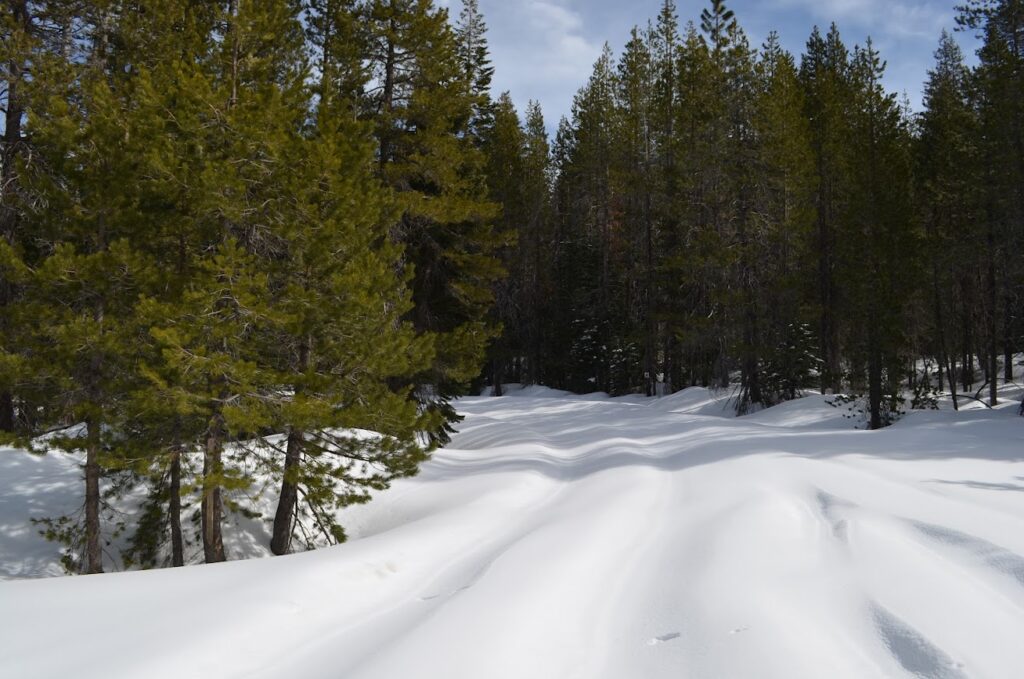 With the YJ strapped and tugged out of the way, we got our chance. My ride for the day—a JK on 37" tires—had no difficulty; going slow and avoiding wheel spin in these conditions was the best strategy—the tomfoolery would come later. But after us, another Jeep (this one had working 4wd) fell victim to sliding into the rut. After the driver stalled the engine a few times, he got the hang of it and slowly slipped and slid his Jeep forward.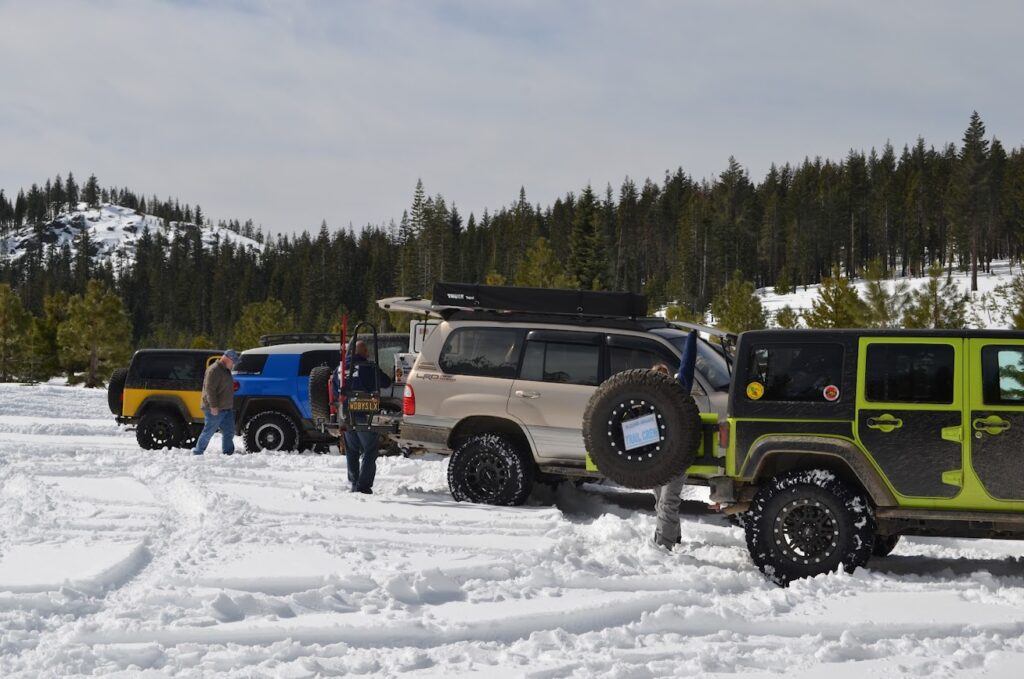 And that's how the day continued. Another obstacle, another briefly stuck rig, and onward we went. Some of the obstacles in the snow were comically small that caused a stuck rig—proof of the hazards of snow, especially if four-wheeling by yourself, and proof of the comradery between the participants.

By the time we hit the lunchtime stopping location, we'd entered the high sierras; we were among the tall pines, with few bushes or shrubs—either buried by snow or non-existent due to the elevation. Lunch was BYO(L) and for me, was served on the flat fender of our ride. Everyone had made it to lunch, except for one unlucky soul who'd broken the housing on their Jeep. Even the 4wd-less YJ ended up fixing the issue in about 20 minutes. The eating and fixing all occurred over debates and discussions about Jeep chassis acronyms and who had the superior Dana axle.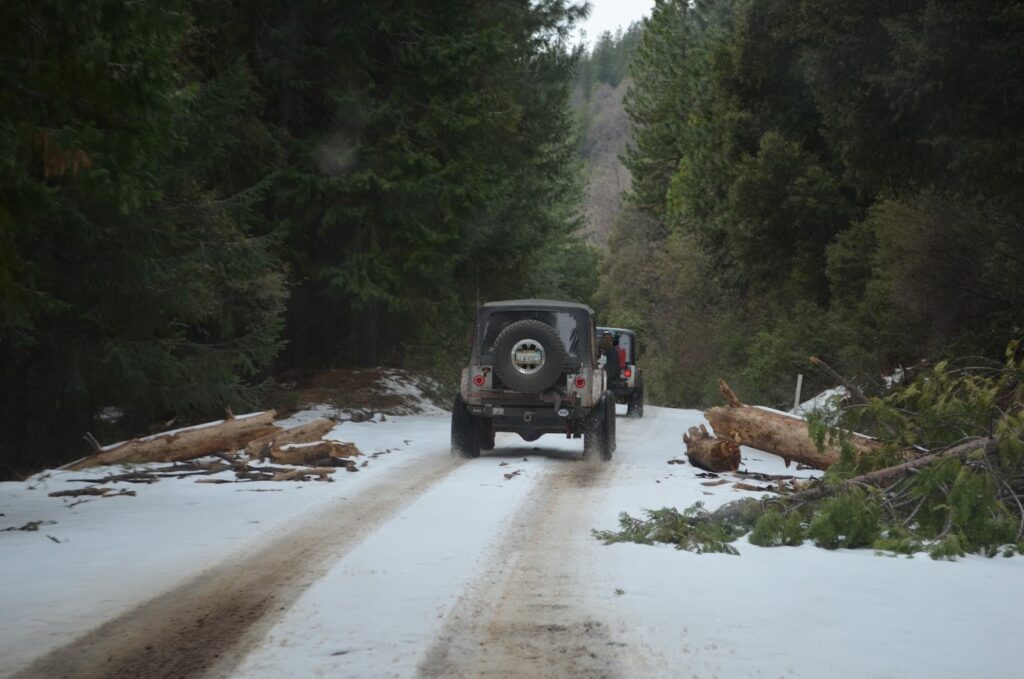 The trip back to civilization would not be a point A > B trip. We'd continue back towards the starting point, but turn off before the ice bridge and go through Graniteville and Malakoff Diggins State Park (which, fun fact: the diggings were the site of the first environmental lawsuit in US history, in order to stop hydraulic mining, which was filling up San Francisco Bay at a rate of three feet per year).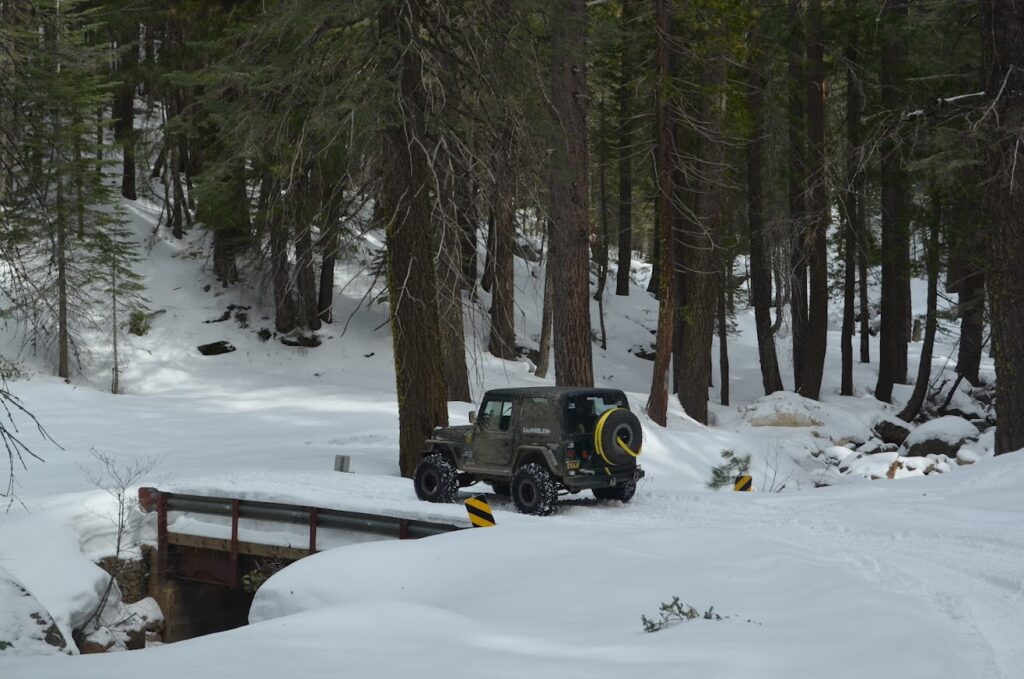 By journey's end we'd have journeyed from 2500' to around 7000' in elevation, through dirt and mud and snow, from the low chaparral to the high pines, and through some of the most devastatingly beautiful country to the most environmentally devastated. All the while, forty rigs would pass, mostly unscathed, at the good grace of ability and a helping hand of a fellow enthusiast.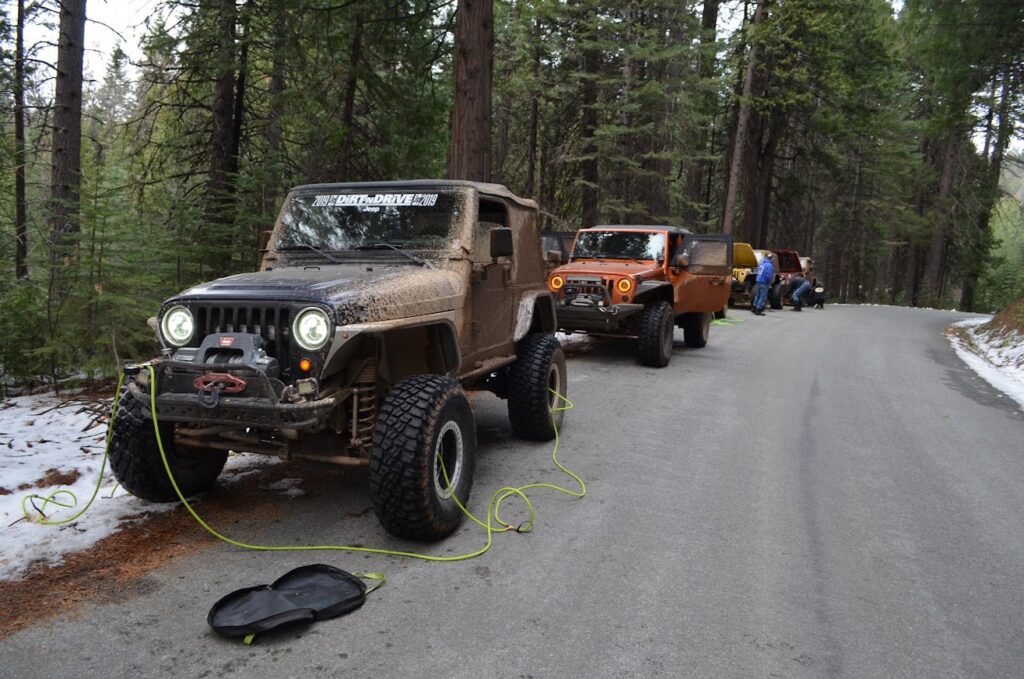 I'd like to believe my stock Tacoma could have made this trip. With the help of a group, it is entirely possible. By myself, I have doubts. Far too often, the road seemed easy and without issue; far too often someone got stuck, stuck in a place that seemed difficult to get stuck in! The snow, like the mud, is something to respect for it's ability to make a road impassable—without straps, winches, and friends that is. Trips like this prove that it doesn't take much to get out there, off-road, into the wilderness. It was more motivation for me to get my toys out there, and hopefully not get too stuck!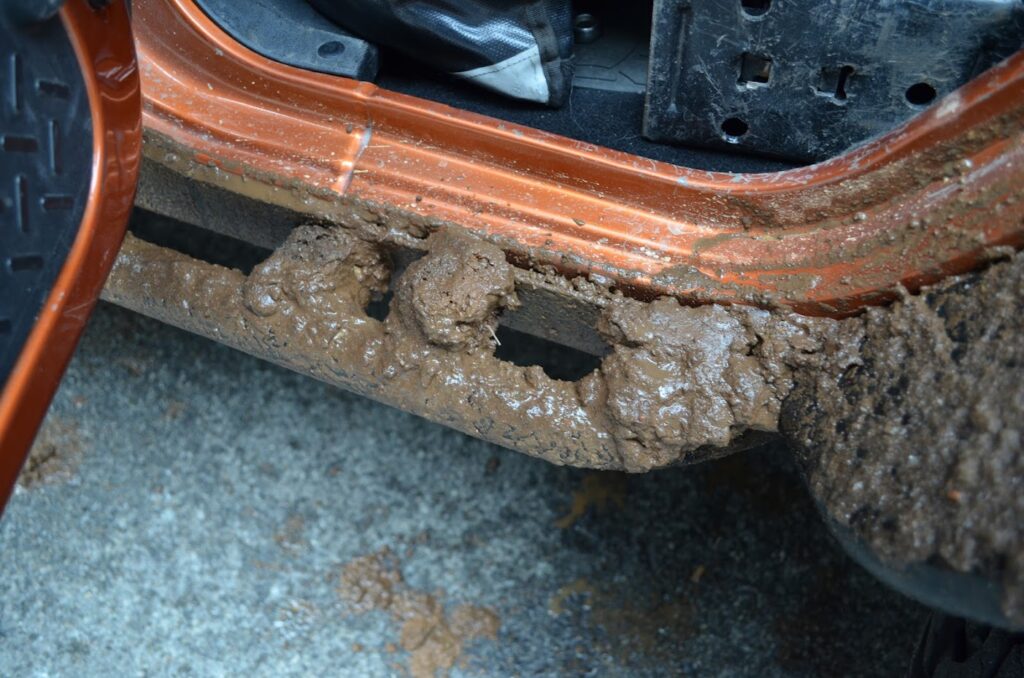 Cheers! M. T. Blake (www.mtblake.net & _mtblake on IG)