Pagani Automobili has announced their latest, from-the-ground-up flagship for merely the third time since the automaker opened their doors in 1999. The Pagani Utopia has progressed forward with highly sophisticated, artistic bodywork while retaining a classic V12 engine, manual gearbox, and analog interior. This combination is a rare one that for many will achieve automotive utopia.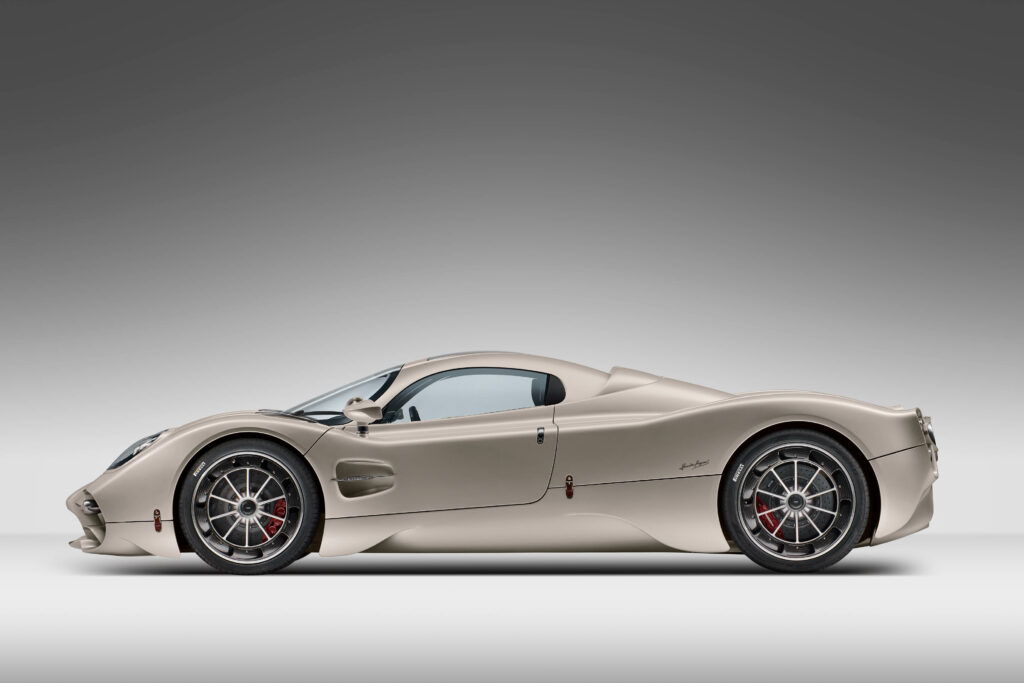 The average automotive enthusiast might ponder the Utopia's design and wonder what new elements have been brought to the table. A number of design cues — including the stacked tail lights, bulging rear fenders, and quad exhaust — have been borrowed from Pagani's past Huayra and Zonda flagships. That said, founder and CEO Horacio Pagani begs to differ. The CEO said the vehicle's structure is brand new and was focused around simplicity, lightness, and pure driving pleasure.
Simplicity comes into play with the Utopia's minimal and purposeful design, fusing together pieces from the brand's origins and modern day design language. Pagani has blended certain aspects from past models, such as the slim, rounded front grille and curvature of the cabin with original cues that make the Utopia its own vehicle. The arches supporting the front splitter, monumental ellipse connecting the two rear fenders, and air-channelling side vent are among the many that propel Pagani vehicle design into the 2020s. More recent special edition Paganis still retain the original Huayra's styling from 2012.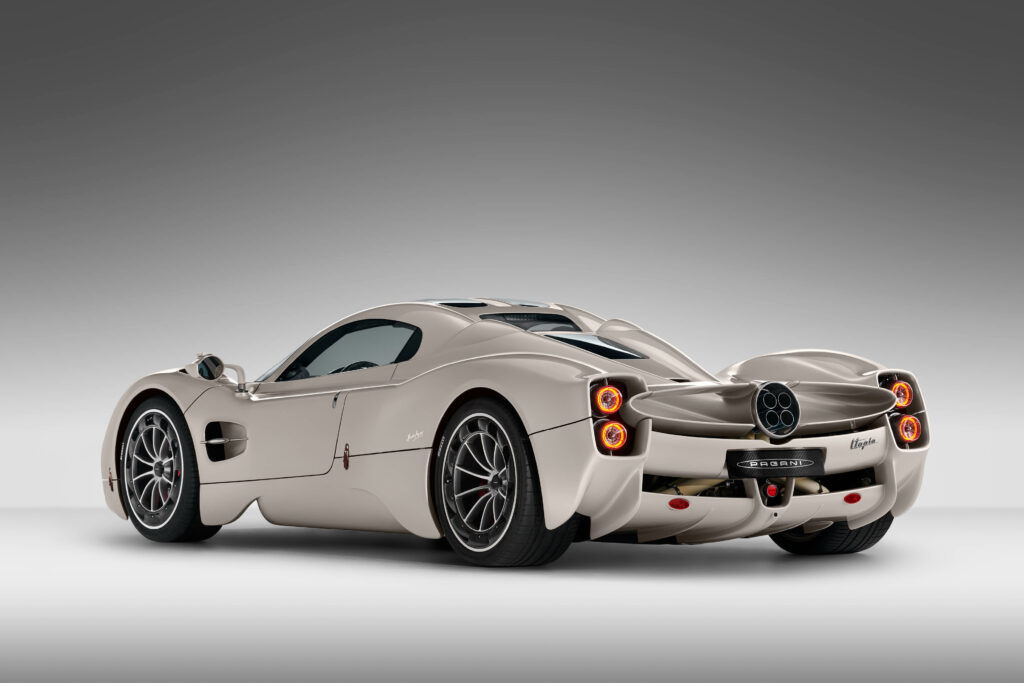 Such a striking exterior design commands only the most advanced performance, where Pagani has enthusiasts covered. Hybridizing models and replacing traditional transmissions isn't something the Italian automaker is in a hurry to do. Pagani continues to source their 852-horsepower, twin-turbocharged 6.0L V12s from Mercedes-AMG and grant customers' wishes and throw a six-speed manual into the mix. For the icing on this $2.16M cake, all this power is sent to the rear wheels solely.
It's easy for automakers to have astounding performance yet struggle to keep the weight down. Multi-million dollar flagships like that of the Ferrari Daytona SP3 or Lamborghini Sian weigh north of 3,200 pounds, which contrasts the Pagani Utopia's dry weight of only 2,822 lbs. Its all-new structure isn't traditional either. Instead of utilizing carbon fiber, Pagani opted for Carbo-Titanium, a new mixture of composite and ultra-durable metal patented by Pagani and carbon. When paired with carbon fiber bodywork and chrome alloy subframes, the Utopia weighs some 150 lbs less than its predecessor.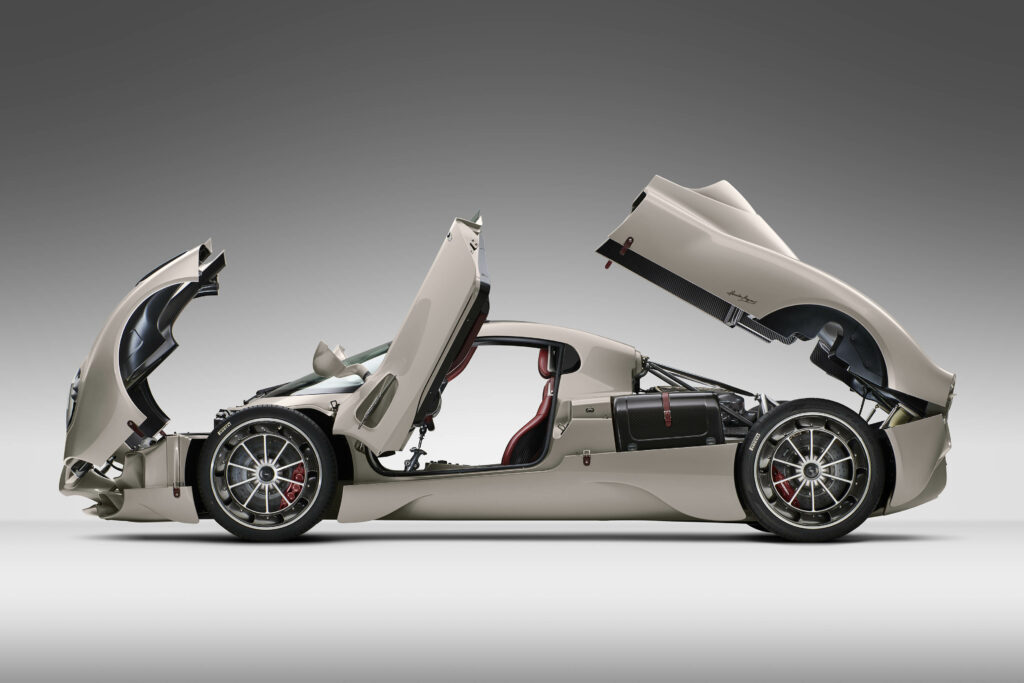 If there is a utopia, its one where modern day performance cars spare the 10-foot long touch screen for analog displays. That's exactly what Pagani's Utopia has done. A single screen positioned in between the mechanical speedometer and tachometer is the only of its kind in the Utopia. The rest of the interior lives up to Pagani's past creations and is drowned in leather and aluminum. Parts like the steering wheel, gated shifter, and pedals have all been carved out of a single block of aluminum, not molded or bent to fit a shape. If that's not Pagani at its finest, then I'm not sure what is.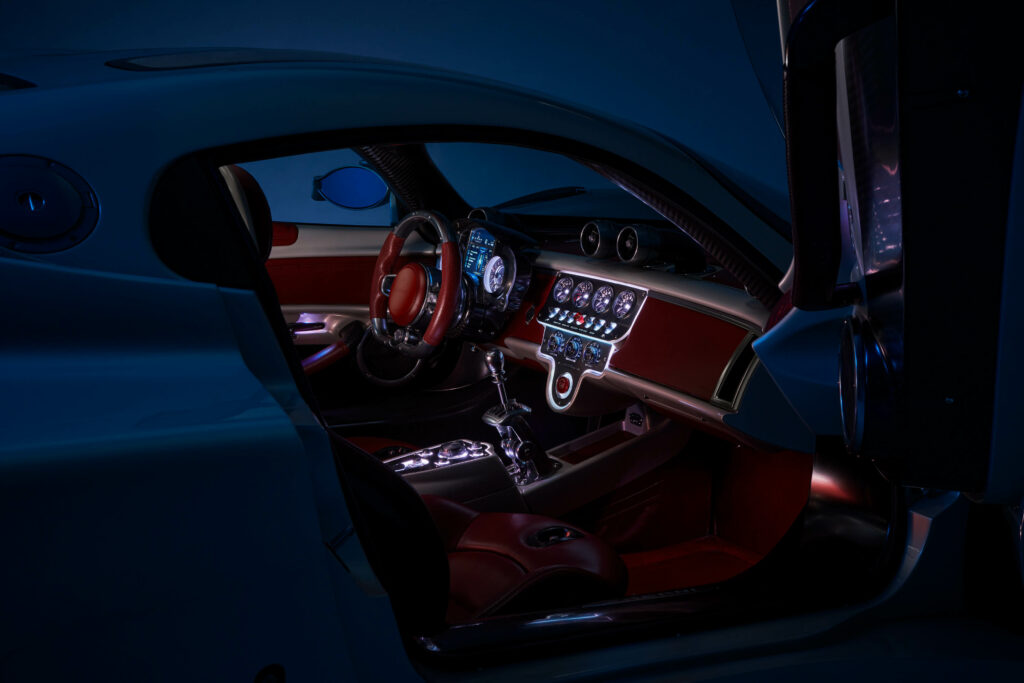 A vehicle like this is certainly a hot commodity among buyers with enough money to afford the €2.17M Utopia ($2.16M USD with current exchange rates). All models have already been sold, and will be delivered some time next year. Production for the 99 examples will occur at Pagani's factory in San Cesario sul Panaro in Modena, Italy.