Audi recently confirmed its 2026 entry into Formula 1 and almost simultaneously lifted the veil off of its wildly redesigned rally raid competitor, the RS Q e-tron E2. Highly improved efficiency and aerodynamics will assist the second iteration of the RS Q e-tron in its debut at the 2022 Morocco Rally in October followed by the Dakar Rally in January 2023.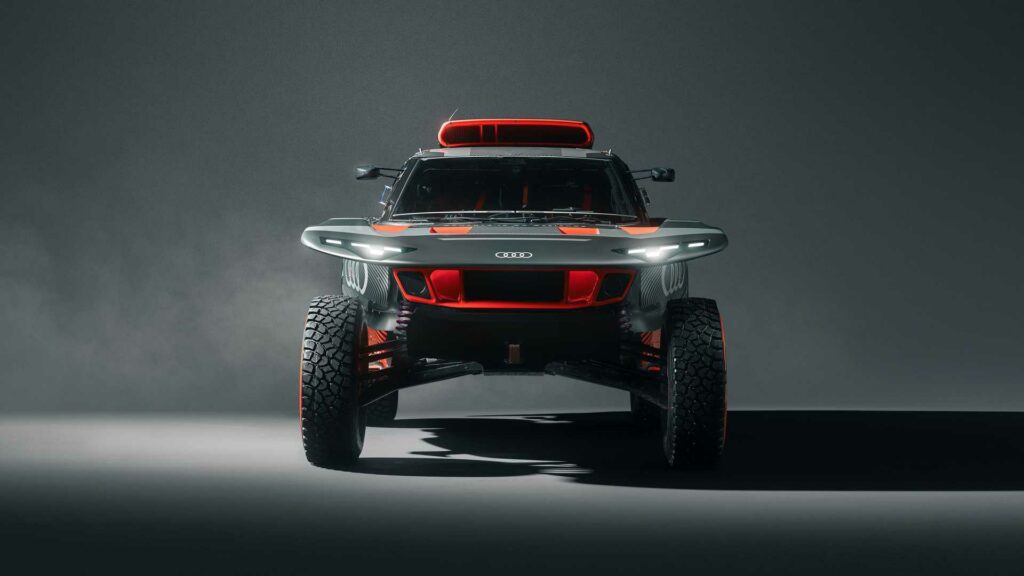 Audi started from scratch with the second generation design despite being only a year removed from the reveal of the original RS Q e-tron. Every body panel on the second generation vehicle has been altered to improve aerodynamics, create optimal space use, and meet the increased minimum weight requirement for rally classification. This means that the cabin has been widened to allow the driver and co-driver to better navigate the rough terrain and increase comfort.
"The Audi RS Q e-tron E2 does not adopt a single body part from its predecessor," said Axel Löffler, chief designer of the RS Q e-tron E2, in a statement. "We are now doing away with the underflow of the rear hood to the left and right of the B-pillars. In conjunction with modified lay-ups, i.e. optimized fabric layers of the composite materials, this solution reduces weight."
The second-coming of the RS Q e-tron opts for a more open-wheel design, largely by getting rid of its fenders, eliminating its flying buttresses, and adopting a shape Audi says is similar to the "shape of a boat's hull." In doing so, aerodynamic drag is estimated to be reduced by 15%.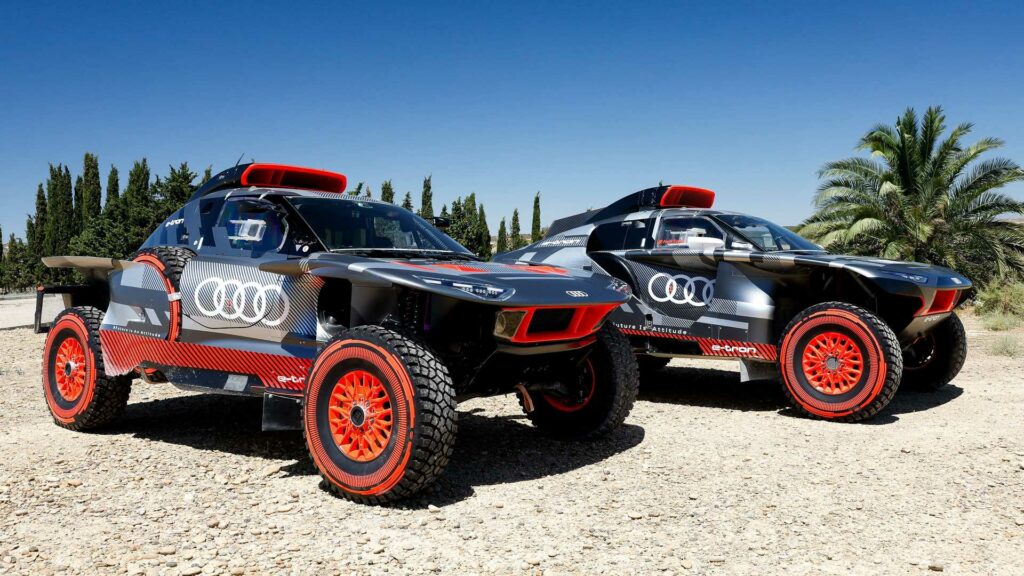 Just as Audi did last year, energy converters are utilized to charge the high-voltage battery while driving and braking, in addition to a 2.0L, turbocharged four-cylinder. Motor-generator units (MGU) taken from the Audi's Formula E car are mounted on both axles, too.
Audi won its first race last year with the first-generation RS Q e-tron, so be on the lookout for the second iteration this year's debut at the 2022 Morocco Rally.